Intel 12th Gen i5, i7, and i9 Alder Lake Specifications Leak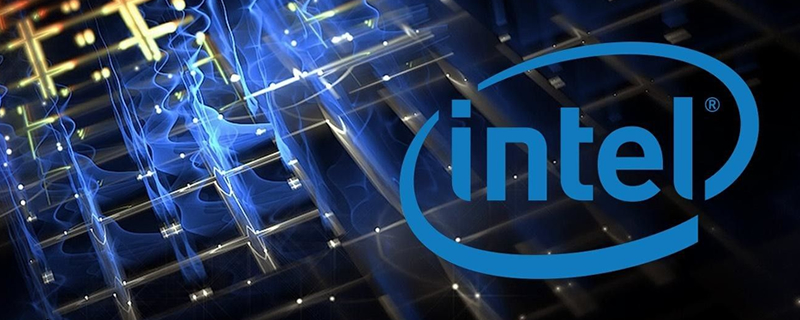 Intel 12th Gen i5, i7, and i9 Alder Lake Specifications Leak
Intel's 12th Generation Alder Lake processors are due to launch later this year, offering desktop customers their first look at Intel's hybrid x86 Core Architecture.Â
Golden Cove is unique amongst Intel processors for offering a combination of High Performance (P-Core) Golden Cove CPU cores and High Efficiency (E-Core) Gracemont CPU cores, a factor that should allow Intel to deliver increased performance/watt characteristics for the company's newest processors.Â
Thanks to La Frite David on Twitter, who cited the Chinese website Zhihu, we have our first look at leaked Intel Alder Lake specifications, which highlight the core configurations and core clock speeds of the company's 12th Generation Alder Lake Core i5-12600K, Core i7-12700K and Core i9-12900K processors.Â
Core i9-12900K
Like prior rumours have suggested, Intel's i9-12900K will feature eight high-performance Golden Cove CPU cores and eight high-efficiency Gracemont CPU cores. This gives Intel's i9-12900K sixteen CPU cores in total, though each set of CPU cores will have different performance characteristics.Â
Intel's eight high-performance cores will reportedly feature 1-2 core Boost clock speeds of 5.3GHz and an all-core boost clock speed of 5.0GHz, while Intel's efficiency-focused cores will feature lower 1-4 core boost clock speeds of 3.9GHz and an all-core boost of up to 3.7GHz.Â
Based on Intel's leaked specifications, Intel's i9-12900K will feature 30MB of L3 cache. Based on the leaked specifications of Intel's other Alder Lake processors, Intel is offering 2.5MB of L3 cache per Golden Cove (High-Performance) CPU core and 1.25MB of L3 cache per Gracemont (High Efficiency) CPU core.
Core i7-12700K
Intel's next-gen i7 will reportedly focus on high-performance core performance, offering users eight high-performance cores and four high-efficiency cores. Intel's high-performance Golden Cove cores will reportedly boost to 5.0GHz on 1-2 cores and feature an all-core (8-core) boost of 4.7GHz. With the CPU's four E-Cores, a 1-2 Core boost clock speed of 3.8GHz will be available alongside a 3.4GHz 4-core boost.Â
This processor will feature 25MB of L3 Cache, matching the core/cache configuration of the i9 above.
Core i5-12600KÂ
Â
With six high-performance Golden Cove cores and four high-efficiency Gracemont cores, the i5-12600K will offer moderately lower clock speeds than the i7 model and two fewer high-performance cores.Â
Like the three unlocked K-series CPUs above, the i5-12600K has a PL1 TDP of 125W and a PL2 TDP of up to 228W. This i5 model will feature 20MB of L3 cache, which is more cache than today's i9-11900K (which features 16MB of L3 Cache).Â
 Â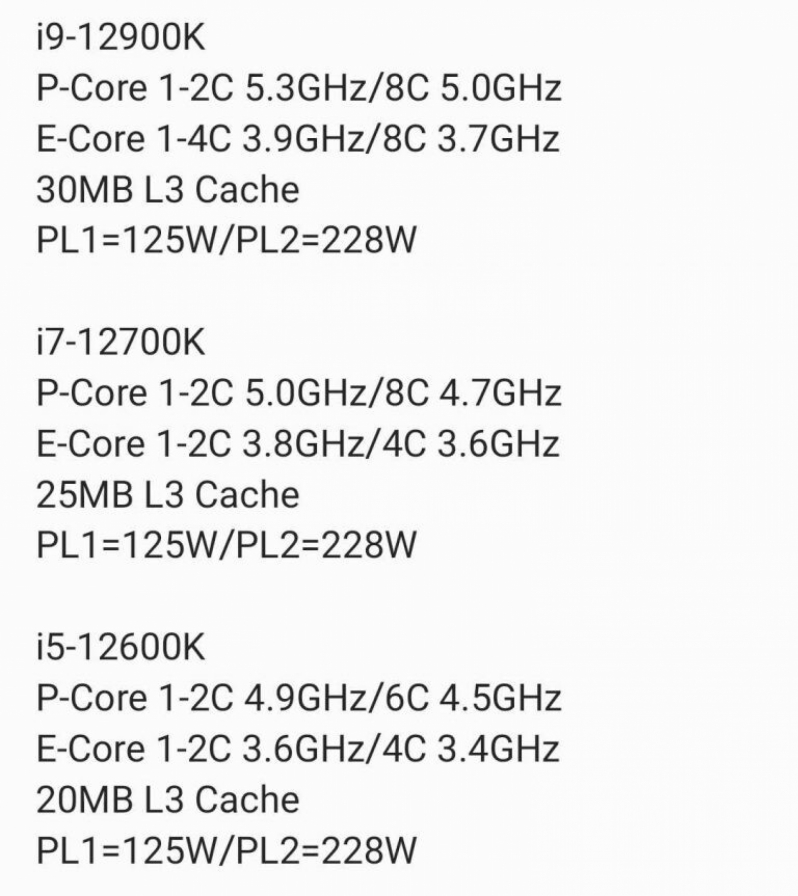 Â
Intel's Alder Lake lineup will deliver a tonne of new features to Intel's K-series product stack, especially with regards to overclocking. New memory ratios will be available for fine-tuning, and per-core overclocking will become more important than ever, thanks to Intel's hybrid CPU designs.
Windows 11 should also prove to be a vital component of Intel's Alder Lake push, as Microsoft's latest OS is designed with hybrid x86 CPUs in mind. This should allow Intel's hybrid CPU architecture to suffer from fewer performance issues when compared to their earlier, now discontinued, Hybrid Lakefield processors.Â
You can join the discussion on Intel's leaked 12th Gen Alder Lake specifications on the OC3D Forums.Â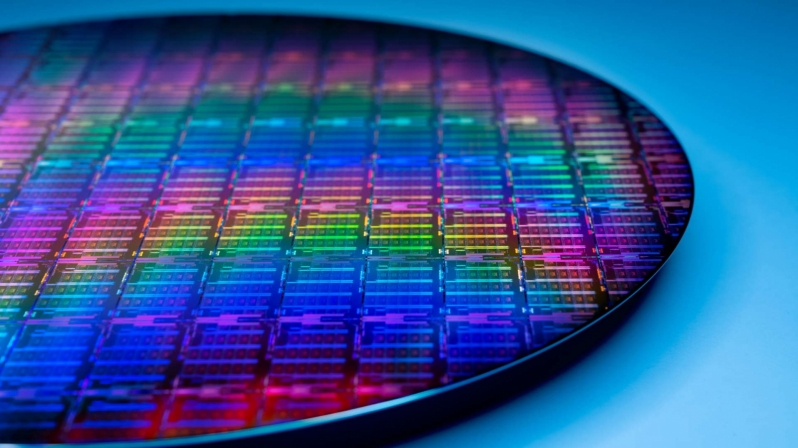 Â