V-Cache for Mobile – AMD officially announces their Ryzen 9 7945X3D CPU
Huge performance gains in games, especially at lower TDPs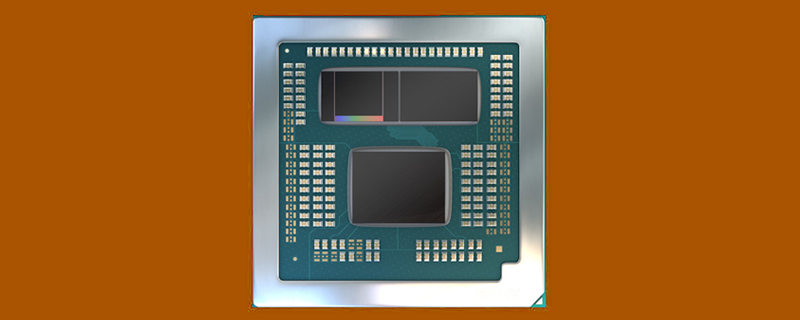 AMD has released "the new ultimate mobile gaming processor", the Ryzen 9 7945HX3D
AMD has updated their Ryzen Mobile CPU lineup with their first V-Cache enabled processor, the Ryzen 9 7945HX3D, which features 144MB of L3 cache, sixteen cores, and boost speeds as high as 5.4 GHz. 
Like its Desktop Ryzen 7000X3D counterparts, AMD's Ryzen 9 7945HX3D processor features 3C V-Cache on one of the processor's CCDs, upgrading it from having 32MB of L3 cache to having 96MB of L3 Cache. This gives this CCD three times as much L3 cache as it had previously, allowing more data to be stored on chip, accelerating a variety of workloads. 

Within the consumer market, AMD's 3D V-Cache technology primarily benefits gaming workloads, enabling large power efficiency gains and performance improvements in titles that can optimally utilise AMD's added L3 Cache. 
AMD has listed their Ryzen 9 7945HX3D processor as being a 55W mobile processor, though AMD has noted that the CPU can deliver larger performance benefits when the CPU is set to lower TDP targets.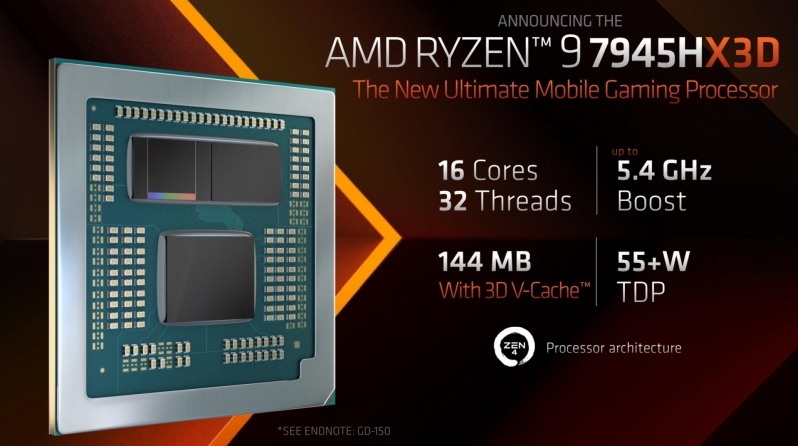 Below, we can see that at a 70W TDP, AMD has recorded an 11% performance gain in Shadow of the Tomb Raider, and a larger 23% performance gain when the processor is set to 40W TDP. This highlights the ability of AMD's 3D V-Cache technology to deliver large efficiency gains at low power envelopes, revealing he performance and power efficiency benefits of AMD's V-Cache technology. 
In power-limited scenarios, AMD's V-Cache technology can enable higher performance levels at lower power targets, a factor that could be utilised to extend the battery life of devices with AMD's Ryzen 9 7945HX3D, at least when compared to an equivalent Ryzen 9 7945HX processor.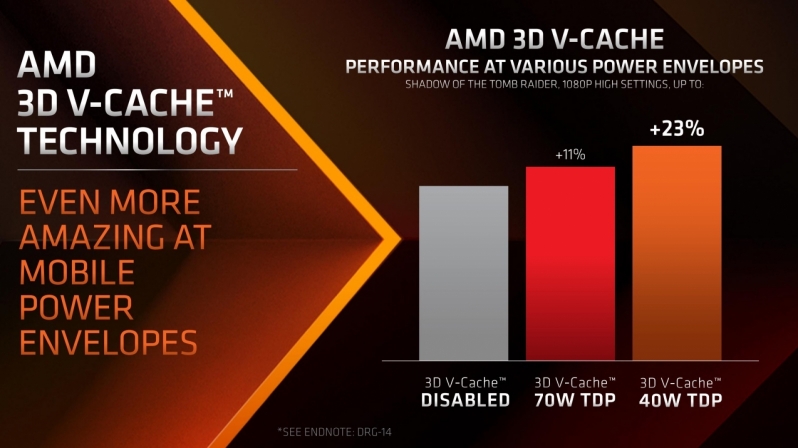 Below AMD has showcased that their Ryzen 9 7945X3D processor is more than 15% faster than this CPU's non X3D counterpart on average, with performance gains of over 50% being achievable. That said, some workloads will prefer AMD's non-X3D processor, as can be seen with AMD's performance results with Strange Brigade.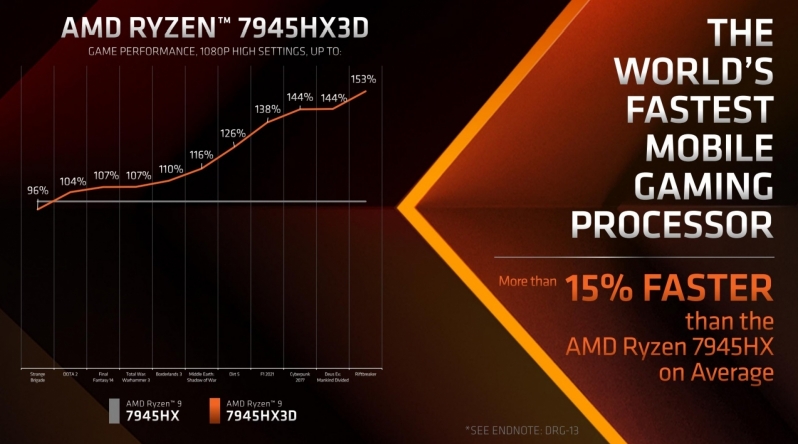 Availability
AMD's Ryzen 9 7945HX3D processor will be available first on August 22nd with ASUS' ROG Strix Scar 17 X3D laptop. AMD's Ryzen 9 7945HX3D processor will be available within other laptops at a later date, with ASUS being AMD's exclusive launch partner for this specific CPU.
At this time, AMD has not revealed any launch plans for other Ryzen 7000 X3D mobile processors, though we hope to see a more budget-oriented 8-core X3D mobile CPU at some point in the future. 
You can join the discussion on AMD bringing X3D to the mobile CPU market on the OC3D Forums.