AMD Hits 1GHz Home Run
Â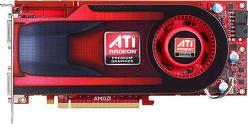 AMD have done it again! They have beaten arch rival NVIDIA to the 1GHz milestone in GPUs, just like they did to Intel in CPUs. The company today announced its new ATI Radeon HD 4890 graphics card which reportedly boasts of 1GHz clock speed.
Â
So has AMD launched an all-new HD 4890? Does not seem to be the case; the card is very much an original HD 4890 graphics card, which AMD has factory overclocked to create the world's first 1GHz graphics card. Surprisingly, AMD did not find a need to upgrade the cooling on the card and it still carries an air cooler.
Â
AMD will now also be shipping this pre-overclocked 1GHz GPU part in addition to the regular HD 4890. With a juiced-up card now officially available from the manufacturer, we can expect partners like ASUS, Power Cooler, MSI, and others to launch their own versions pretty soon. What remains to be seen is whether these partners stick to the reference air cooler or go for more high-tech cooling options.
Â