Goodbye to G70 Competition – Win a 7950GX2
News Posted 20/11/2006
Author: XMS
Source: OC3D
---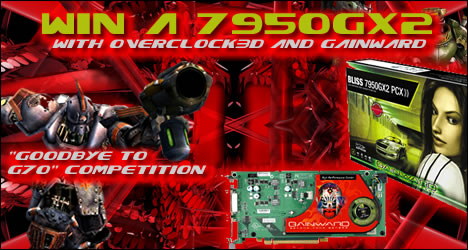 Overclock3D in association with Gainward are giving every OC3D forum member the chance to win a Gainward Bliss 7950GX2 graphics card with a massive 1gb of GDDR3 memory in our "Goodbye to G70" competition.
Recently reviewed by Overclock3D, the Bliss 7950GX2 showed to be one of the hottest graphics cards on the market, obtaining both our "Editors Choice" and "Gamers Choice" awards. Since then, nVidia have 'upped the game' and released their new G80 DirectX 10 capable GPU. What does this mean to you? Well it means that we have a blisteringly fast, ultra sexy 7950GX2 card to give away to the great members of our forum!!!
What do I have to do to win?

We're certainly not going to give up this card without a fight, so in 100 words or less we want you to tell us the EXACT reason why YOU should be the owner of this great graphics card. 5 entries will be picked at random by our post picker, and the best post out of these 5 (as judged by our admin team) will be the winner.
Only one entry can be made per person, and your post can appeal to any of our emotions (funny, sad, surprise….). In short, get down on your knee's and start begging!
Discussion of the competition should be kept to this thread, with entries ONLY being posted here.
Terms & Conditions

• Only one entry per forum member. Multiple submissions from same/different forum accounts will result in immediate disqualification.
• You must be a registered member of Overclock3D Forums. Registration is free, and can be performed here.
• Shipping to most countries is free, however, if you live in a remote part of the world, please check with us if any shipping charges will be incurred.
• Overclock3D moderators are exempt from the competition – sorry lads.
• Competition ends 04 December 2006 at 12pm GMT.
• Normal forum and website terms and conditions still apply to your entries.