Hynix Announces Speedy GDDR5
Hynix Announces Speedy GDDR5
Â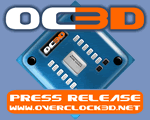 Hynix Semiconductor Inc., ('Hynix' or 'the Company', www.hynix.com) today introduced the industry's first and fastest 1 Gigabit GDDR5 Graphics DRAM.
The newly introduced 1Gb GDDR5 is built on the company's leading edge 54 nanometer process technology. It operates at the fastest speed of 7Gbps which is 40% improved compared to 5Gbps GDDR5 and processes up to 28 Gigabytes of data per second with a 32-bit I/O. In addition to its improved speed, it is also designed to minimize power consumption at 1.35V power supply. This fast speed of graphics memory product is ideal in high end applications such as game PC, game console and graphic cards.
The Company expects that it will keep its leading position in the graphics DRAM market by introducing the fastest and high density graphics memory product along with the previously developed 1Gb GDDR5 with 66 nanometer process technology.
Hynix's 1Gb GDDR5 graphics DRAM meets JEDEC standard and the Company plans to start volume production in the first half of next year to meet the increasing demand for high performance graphics DRAM.
Â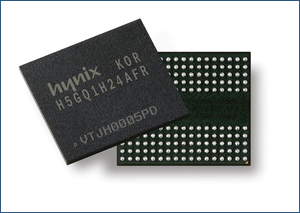 Â