RTX 3070 Ti Stock Disappears as Retailers Push Overpriced RTX 3060/3070 graphics cards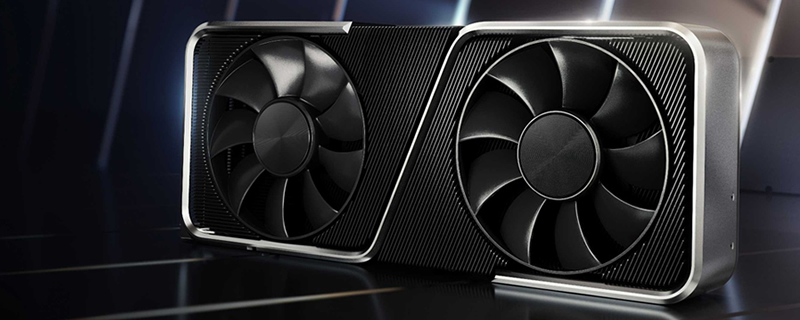 RTX 3070 Ti Stock Disappears as Retailers Push Overpriced RTX 3060/3070 graphics cards
Nvidia's RTX 3070 Ti graphics card has just launched, and they all sold out at a lightning-fast pace at all UK's largest components retailers. Nvidia and their AIB partners could not supply enough graphics cards to keep up with demand, doing little to alleviate the world's GPU shortage.Â
At launch time, we frantically refreshed the websites of all major UK retailers to see if they had RTX 3070 Ti stock and to see how much they were selling those graphics cards for. Unfortunately, we only saw visible stock at two retailers, and it was all gobbled up in moments.Â
These retail listings also highlighted startling pricing trends throughout the industry, with many retailers selling RTX 3060 and RTX 3070 graphics cards at absurd prices.
While we plan to have a deeper look at the reasons behind these crazy pricing trends, today's look will focus on which retailers had RTX 3070 Ti GPUs in Stock, which retailers sold them at MSRP, and how much they are selling their other graphics cards for. Screenshots of every website mentioned are available within this article as evidence for pricing.Â
Box UKÂ Â
When the RTX 3070 Ti's retail embargo lifted, Box's website remained unchanged. Their RTX 3070 Ti graphics card listings all have a £TBC (To Be Confirmed) price tag, and no stock was visibly available at launch.Â
Looking at Box UK's other graphics cards listings and we found some shockingly high prices. For starters, we have a £1,349.99 ASUS RTX 3070 TUF OC, which has an MSRP that is higher than Nvidia's RTX 3080 Ti. This is nothing short of insane, and we can see why this graphics card is still in stock.Â
Aside from that insane RTX 3070 price, we also found multiple RTX 2060 listings that were in stock with prices of £549.99 and £569.99. Those prices are higher than Nvidia's RTX 3070 Ti Founders Edition MSRP, and Nvidia's RTX 2060 is a last-generation part that is significantly further down Nvidia's product stack. This is shameful.Â

At CCL Computers, MSI's RTX 3070 Ti Ventus 3X was briefly for sale at £529.99. This stock quickly disappeared, and CCL later listed the graphics card as discontinued, hiding the GPU for everyone without a link to the original listing.Â
Right now, Nvidia's RTX 3070 Ti is exclusive to CCLs's custom gaming PCs, the cheapest of which is £1,999.99 at the time of writing. Most GPUs are currently out of stock at CCL, though we have spotted RTX 2060 GPU listings with prices of £449.99 or higher. We have also spotted a Radeon RX 6700 XT that is available for £816.85.Â
Credit where credit is due, CCL sold some RTX 3070 Ti GPUs at MSRP, and their other GPU listings are not as overpriced as what we have seen at Box. That said, those in-stock graphics cards are at insane prices. Â
Â
Ebuyer
At Ebuyer, we found no visible RTX 3070 Ti stock at the 2 PM (BST) retail embargo and no price listing on the company's RTX 3070 Ti graphics cards. That said, we did find RTX 2060 graphics cards that are available for £479.99/£489.99 and Radeon RX 6700 XT graphics cards that are available for over £700.Â
With prices like these at three retailers so far, it is no surprise that PC gamers are frustrated.Â
At Overclockers UK, we found no visible stock on their website when Nvidia's RTX 3070 Ti retail embargo lifted. Like the websites above, we will discuss the prices of the graphics cards that they do have in stock. Have you spotted the trend yet?Â
We looked at Nvidia's graphics cards, sorted out the websites list of GPUs by availability, and we saw multiple RTX 3060 graphics card listings with prices of £629.99 and above (as shown in the screenshots below).
Remember that Nvidia's RTX 3070 Ti has an MSRP of £529 in the UK, and between the RTX 3060 and the RTX 3070 Ti is the RTX 3060 Ti and RTX 3070. These RTX 3060 GPU prices are appalling. There is a reason why Overclockers UK has RTX 3060 stock in store…
For context, Nvidia's RTX 3060 MSRP for the UK is £299.Â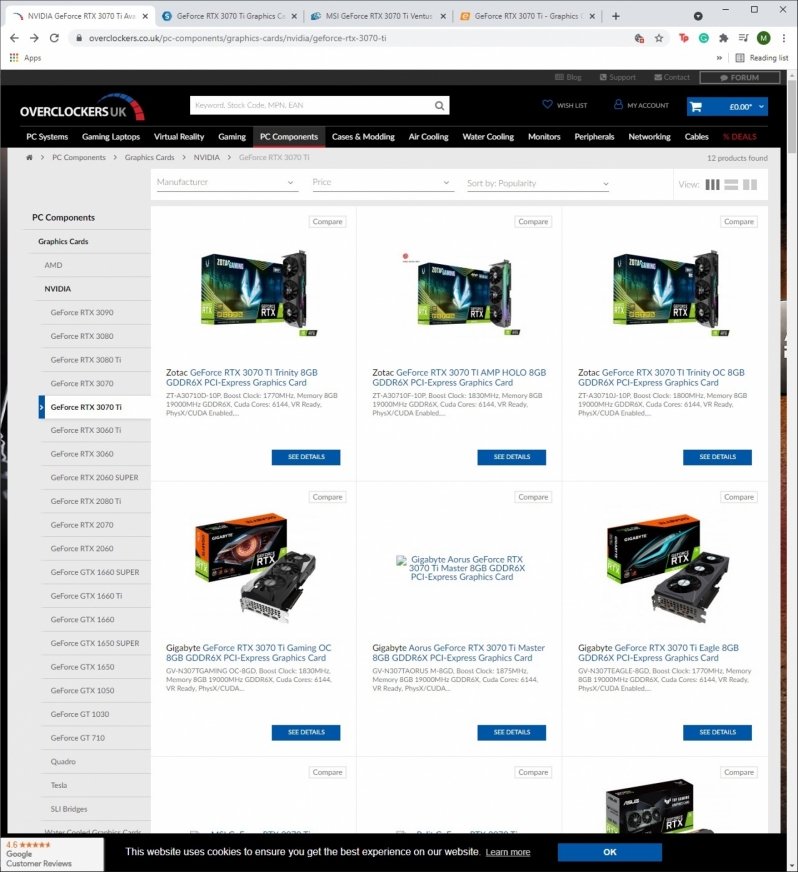 Â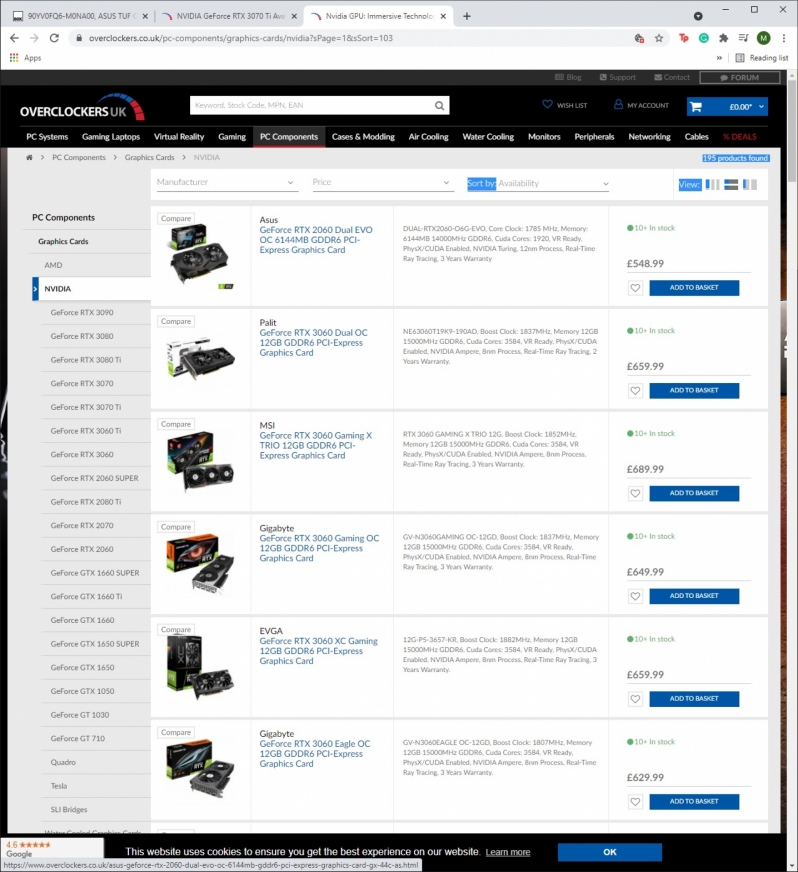 Â
Scan UK (The Best of the Bunch)
Finally, we have Scan UK, which had by far the most RTX 3070 launch day stock and the most cards available at Nvidia's MSRP price of £529. Yes, Gigabyte's RTX 3070 Ti Gaming OC and Aorus Master have much higher prices, but those prices reflect what we believe to be Gigabyte's MSRP values for both cards. Remember that Gigabyte's Gaming OC and Aorus Master models are premium models, sporting more advanced features, factory overclocks and larger cooling solutions.Â
Outside of their launch day RTX 3070 Ti stock, Scan has multiple RTX graphics card bundles available. These bundles bring together power supplies, SSDs, processors and graphics cards to help ensure that GPU stock goes to gamers.Â
One of these bundles pairs an AMD Ryzen 5 5600X, an EVGA 850W BQ PSU and a 1TB Western Digital Black SN850 SSD with a Gigabyte Aorus RTX 3060 ELITE graphics card for £949.99. Removing the bundled components at their current costs on Scan's website gives the Aorus RTX 3060 Elite a value of £416.02, which is a reasonable price given the current market situation.Â
While Scan's bundles restrict much of their limited GPU stock to those in need of full system upgrades, it offers the purchasers of these bundles reasonable GPU prices. Remember that Gigabyte's RTX 3060 Elite is a premium graphics card model.Â
In the future, we are planning to discuss the reasons behind the GPU market's bizarre retail pricing. For now, this article should give you a good indication of what the market is currently like, and how crazy the prices at some retailers are.Â
You can join the discussion on today's bizarre GPU prices on the OC3D Forums.Â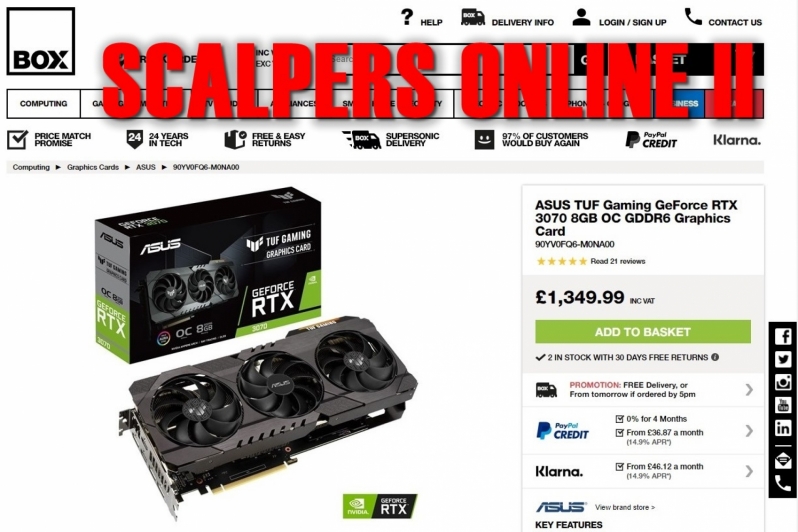 Â