A-DATA Releases DDR3-2133X v2.0 Kit
A-DATAReleases DDR3-2133X v2.0 Kit
A-DATA Technology Co., Ltd., a worldwide leader in high performance memory products, announced today that it is launching A-DATA XPG DDR3-2133X v2.0 of its X Series. These high-performance modules run at incredible 2133MHz with CL10-10-10-30 timings and are available in 1GBx3/2GBx3 triple-channel as well as 2GB/4GB dual-channel module kits.
A-DATA XPG DDR3-2133X v2.0 is engineered with heavy Aluminum heatspreaders and an additional dual-fan unit, keeping the RAMs cool. A-DATA combined two methods of heat dissipation to maximize the OC performance for its entire X Series Version 2.0.
Over the years, A-DATA has built a reputation for consistently high quality. To ensure stable operation over extended periods of usage, the X Series Version 2.0 performs rigorous testing and screening on all components to select only the best for the X Series modules.
A-DATA X Series memory represents the ultimate overclocking performance. It was developed to unleash the hidden power of CPU and motherboard by using A-DATA's latest overclocking IC sorting technology. A-DATA XPG modules are guaranteed to satisfy the needs of PC enthusiasts and gamers for high-performance, compatibility, and stability.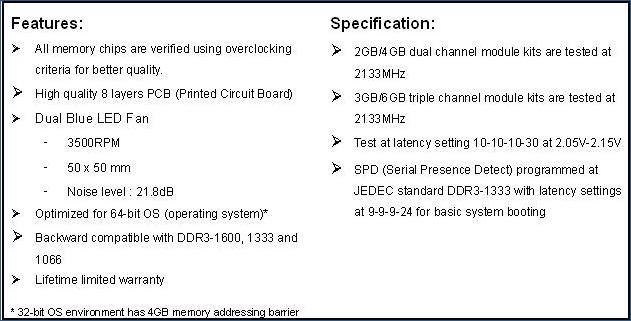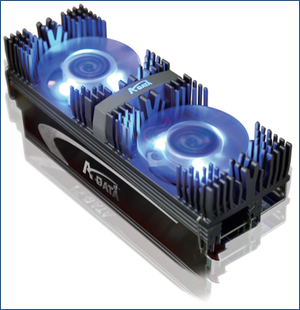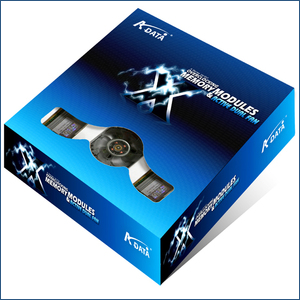 Discuss in our Forums