Qimonda Introduces High-Performance DDR3-1600 Triple Channel Kit
Qimonda Introduces High-Performance DDR3-1600 Triple Channel Kit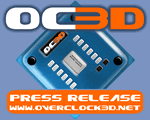 Aeneon by Qimonda, the channel and retail brand of Qimonda, announced availability of its DDR3-1600 Triple Channel Kits (CL9) with 3GB and 6GB for the new Intel® Core i7 processor and Intel® X58 Express chipset. The new kits, coming with three memory modules per kit, will bring high performance memory with standard voltage to the next generation high-end desktop platform matching exactly the needs of the new Intel flagship.
Aeneon is among the first retail memory brands to offer triple channel kits. The modules feature high speed at 1600 MHz at competitive latency of CL-9 running at standard DDR3 voltage of 1.5V. With an integrated controller supporting up to three memory module channels, the new Intel Core i7 micro-architecture fully leverages the performance of DDR3 memory to deliver exceptional memory bandwidth and a stunning high performance experience.
The 3GB and 6GB triple channel kits use very energy efficient 1Gbit DDR3 components and will be an addition to Aeneon's XTUNE portfolio of retail DRAM solutions. The XTUNE DDR3 Triple Channel Kits are available worldwide in a new stylish packaging box from November 2008.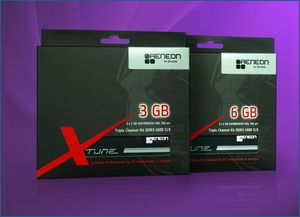 Press Release
Discuss this product in our forum