QNAP's 8-port 2.5GbE Switch makes home networking upgrades easier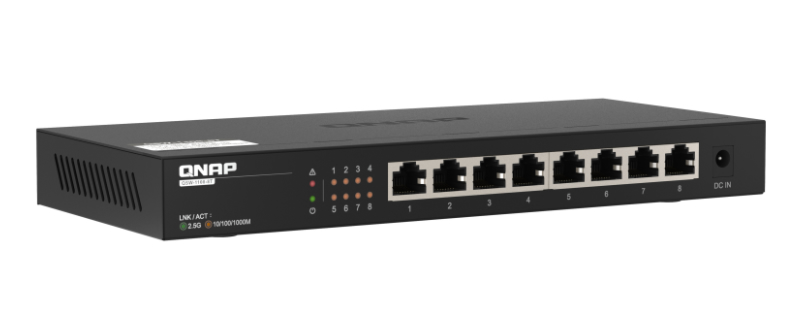 QNAP's QSW-1108-8T Unmanaged Switch makes 2.5GbE networking more accessible
2.5GbE networking is becoming increasingly common with most new motherboards featuring it over standard GbE connectors. As the name suggests, 2.5GbE (Gigabit Ethernet) is 2.5x faster than standard GbE, and unlike 10GbE, 2.5GbE equipment does not cost a fortune.Â
The perks of 2.5GbE are obvious, it's much faster than GbE (1GbE) and it is commonly used by modern devices. In the UK, Virgin Media has started to give their customs Hub 5 routers with WIFI 6 support and 2.5Gb ethernet. Soon, 2.5Gb ethernet will be the mainstream ethernet standard for most applications, especially as Gigabit Internet connections become more common.Â
To enable the 2.5Gb Ethernet standard to take hold within home offices and other small networks, QNAP has released their new QSW-1108-8T unmanaged router, offering users eight 2.5GbE ports. These ports are backwards compatible with 1Gb and 100Mb ethernet connections, allowing users to upgrade their devices at their own pace. This product is also fanless, ensuring that the switch operates in a near-silent manner.Â

With 2.5GbE, users can transfer data at a faster rate through their home networks. This could make transfers between your workstation PC and your NAS faster and enable faster data rates with future Gb internet connections. Yes, 10Gb Ethernet exists, but it remains expensive. That alone makes 2.5GbE a more viable solution to today's home networks.Â
Below is QNAP's press release about their QSW-1108-8T unmanaged network switch.Â
Â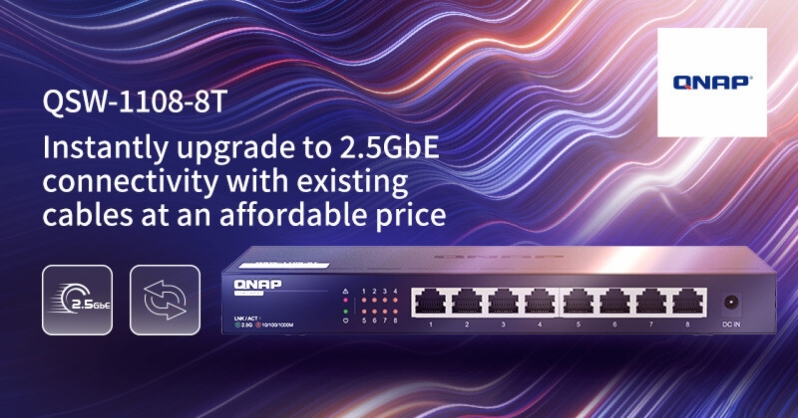 PR –Â QNAP Introduces the Eight-port 2.5GbE Unmanaged Switch for Home-Offices
QNAP Systems, Inc., a leading computing, networking and storage solution innovator, today launched the eight-port 2.5GbE unmanaged switch – the QSW-1108-8T. Featuring eight 2.5GbE ports, plug-and-play set up, automatic loop detection and blocking, and auto-negotiation functions, the QSW-1108-8T is a cost-efficient high speed network upgrade solution for homes and businesses.
"One of the major elements holding back people from upgrading their Ethernet infrastructure is the cost and availability of switches and adapters. QNAP have demonstrated a firm commitment to the 2.5GbE ecosystem, with the new QSW-1108-8T switch representing an affordable way for home and business users to take their Ethernet network to the next level," said Ricky Ho, Product Manager of QNAP.
The QSW-1108-8T features eight 2.5GbE/NBASE-T RJ45 ports that support 2.5G/ 1G/ 100M transfer speeds. With no complex settings required, the QSW-1108-8T supports auto-negotiation that optimizes transfer speeds and performance for each connected device, while its built-in management mechanism ensures smooth transmission of network packets. It also features network loop detection that can automatically lock looped ports to ensure the network environment quickly resumes normal operation.
The QSW-1108-8T features a fanless design for near-silent operation. The unique ventilated construction assists in cooling while maintaining high performance.
The QSW-1108-8T network switch is now available.
You can join the discussion on QNAP's 8-port 2.5GbE Unmanaged Switch on the OC3D Forums.Â
Â