OCCT 12.1 launches with a trio of new CPU/GPU tests for users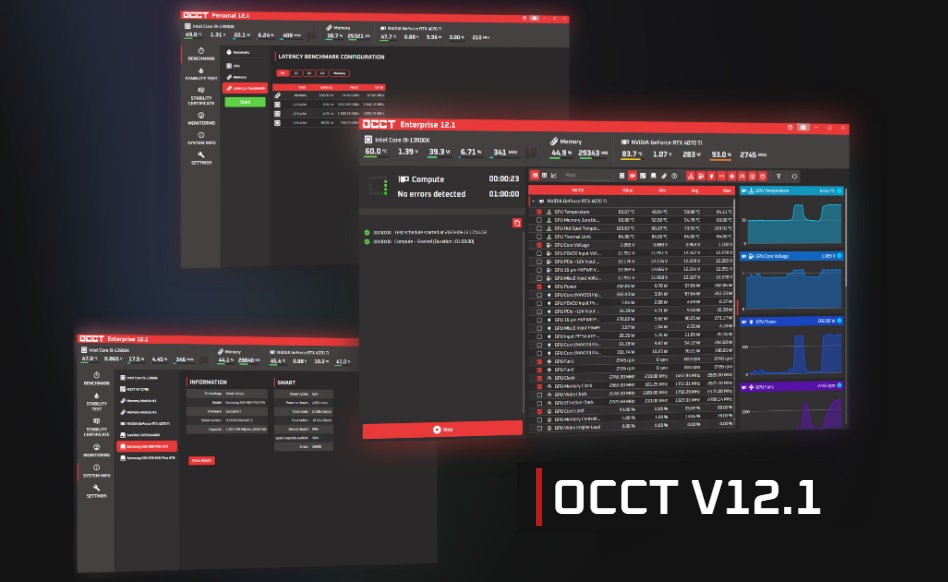 OCCT's latest update adds new tests for users to enjoy, and a dedicated AI test for enterprise users
OCCT is an incredible tool. We have used it for years as part of our CPU reviews, and the tool has only gotten better and better with every release. This year, OCCT celebrated its 20th anniversary, and the tool's progress has not stopped. OCCT 12.1 has arrived, and it features a lot of great add-ons for both free and premium users.
OCCT is best known for its CPU stress tests. We have used these tests for years as part of our CPU and heatsink reviews. OCCT 12.1 adds the tool's 3D Adaptive test as a free add-on for all users. This test starts GPU load at 20% and ramps intensity up in 5% increments. This allows GPU testing across all real-world loading levels. OCCT features automatic error detection, making this a great stress test for GPU overclockers.
Previously, OCCT's 3D Adaptive test was not available as part of the free version of OCCT. Paying OCCT users have had access to this tool for months. After receiving positive feedback from early users, Adrien Mercier, the creator of OCCT, has made this test free to all users.
CPU/Memory Latency and Bandwidth Benchmark
OCCT 12 .1 also brings to the table a new latency and bandwidth test. This tool is free for all OCCT users. This test can be used to analyse the memory bandwidth and latency of a CPU's L1, L2, and L3 caches and test the memory bandwidth and latency of a system's DRAM.

This will be a very useful tool for reviewers and hardware analysts, who will find this data informative. This tool will also be useful for memory overclockers, as they can see the bandwidth and latency impacts of their memory tweaks.
Below is the full changelog of OCCT 12.1. Since the release of version 12.1, Adrien Mercier has already released hotfixed versions of OCCT to address minor issues. At the time of writing, version 12.1.3 is the newest version of OCCT.
OCCT Enterprise Edition now features new OpenCL test for AI GPUs. Multiple GPUs using this stress test, making this an ideal test for multi-GPU datacenter systems.
OCCT 12.1 Changelog
Main: Removed dependencies to windows cryptographic functions
Main: Upgraded from avalonia 0.10 to 11
UI: Replaced the "busy" indicator with a new one to lower the UI usage by using a 2FPS animation for this indicator. Especially useful for the new memory latency benchmark
Monitoring: Updated HwInfo engine to the latest version
Monitoring: Much better support for the top-level bar for AMD GPUs (some sensors were missing previously)
SysInfo: Added storage information
Settings: OCCT now allows you to disable monitoring again, as in v11
Cpu: Revamped the advanced thread section ! The CPU test will allow you to do per-core testing, exclude core, and ecven launch several threads per core. This will definitely get you covered for all your per-core testing needs !
Gpu3DStandard: Fixed issues with multi-GPU support – will now work flawlessly
Gpu3DAdaptive: Fixed issues with multi-GPU support – will now work flawlessly
Gpu3DAdaptive: Test is now available in the Free edition of OCCT
Vram: Fixed the GPU selection algorithm and this test will now work on GPU that aren't 3D capable ( Nvidia A100, etc.)
Benchmark: New benchmark : Latency/Bandwidth ! This test will tell you latency, read and write bandwidth for Memory, L1, L2, and L3 cache
The release of version 12.1 has made OCCT a stronger and more versatile PC testing tool. OCCT 12.1 is available to download here. We look forward to see what Adrien has planned next for OCCT.
You can join the discussion on OCCT 12.1 giving new testing options to users on the OC3D Forums.