Gigabyte X58A-OC Sub Zero Review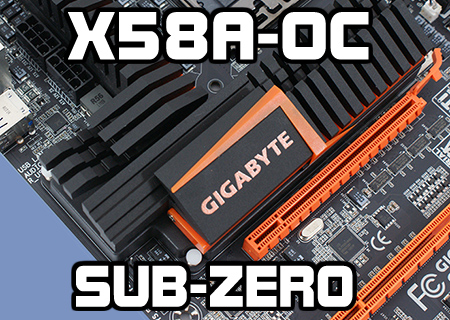 Introduction
The LGA1366 is getting near the end of its cycle now, but that doesn't mean to say that there isn't plenty of life left in the absolute performance behemoth that is the X58 Chipset.
Indeed so much potential still exists that Gigabyte have recently released a new X58 motherboard, the OC.
There might be a bit of a clue in the name because, apart from looking more desirable than Blake Lively holding a pint, this board is designed for one this above all others, overclocking. It would be very easy therefore to just slap the old Noctua NH-D14 on and go through the usual rigmarole.

However after some discussion it was decided that the proof is most definitely in the pudding. If this is the best overclocking board around, designed especially for the more exotic cooling methods available, then it should allow us to dip our toes into the sub-zero world with ease. Shouldn't it?
Technical Specifications
Initially the technical specifications look like every other high-end X58 board you've seen. Some SATA-III, some SATA-II, PCIe lanes and a couple of BIOS chips. But like so many things in life the whole is way more than the sum of its parts.
CPU

Support for an Intel® Core™ i7 series processor in the LGA1366 package

L3 cache varies with CPU

QPI

4.8GT/s, 6.4GT/s

Chipset

North Bridge: Intel® X58 Express Chipset
South Bridge: Intel® ICH10R

Memory

6 x 1.5V DDR3 DIMM sockets supporting up to 24 GB of system memory

3/Dual channel memory architecture

Support for DDR3 2200/1333/1066/800 MHz memory modules

Support for non-ECC memory modules

Support for Extreme Memory Profile (XMP) memory modules

Audio

Realtek ALC889 codec

High Definition Audio

2/4/5.1/7.1-channel




* To configure 7.1-channel audio, you have to use an HD front panel audio module and enable the multi-channel audio feature through the audio driver.

Support for S/PDIF Out

LAN

1 x Realtek RTL8111E chip (10/100/1000 Mbit)

Expansion Slots

2 x PCI Express x16 slots, running at x16 (PCIEX16_1, PCIEX16_2)




* For optimum performance, if only one PCI Express graphics card is to be installed, be sure to install it in the PCIEX16_1 slot; if you are installing two PCI Express graphics cards, it is recommended that you install them in the PCIEX16_1 and PCIEX16_2 slots.

2 x PCI Express x16 slot, running at x8 (PCIEX8_1, PCIEX8_2)




* The PCIEX8_1 slot shares bandwidth with the PCIEX16_1 slot and the PCIEX8_2 slot with PCIEX16_2. The PCIEX16_1/PCIEX16_2 slot will operate at up to x8 mode when the PCIEX8_1/PCIEX8_2 is populated.




(The PCIEX16_1, PCIEX16_2, PCIEX8_1, and PCIEX8_2 slots conform to PCI Express 2.0 standard.)

1 x PCI slot

Multi-Graphics Technology

Support for 3-Way/2-Way NVIDIA SLI technology and 4-Way/3-Way/2-Way ATI CrossFireX™ technology

Storage Interface

South Bridge:

6 x SATA 3Gb/s connectors (SATA2_0~SATA2_5) supporting up to 6 SATA 3Gb/s devices

Support for SATA RAID 0, RAID 1, RAID 5, and RAID 10

1 x Marvell 88SE9182 chip:

2 x SATA 6Gb/s connectors (GSATA3_6, GSATA3_7) supporting up to 2 SATA 6Gb/s devices

Support for SATA RAID 0 and RAID 1

USB

South Bridge:

Up to 4 USB 2.0/1.1 ports (2 on the back panel, 2 via internal USB header)

1 x Etron EJ168 chip:

Up to 2 USB 3.0/2.0 ports on the back panel

Internal I/O Connectors

1 x 24-pin ATX main power connector

2 x 8-pin ATX 12V power connectors

2 x PCIe power connectors

2 x SATA 6Gb/s connectors

6 x SATA 3Gb/s connectors

1 x CPU fan header

6 x system fan headers

1 x North Bridge fan header

1 x front panel header

1 x front panel audio header

1 x S/PDIF Out header

1 x USB 2.0/1.1 header

2 x heatsink LED power connectors

1 x clearing CMOS button

1 x power button

1 x reset button

1 x PWM frequency switch

1 x onboard voltage measurement module

1 x 4G Ready button

1 x OC Gear button

1 x CPU BCLK Down button

1 x CPU BCLK Up button

1 x CPU Ratio Down button

1 x CPU Ratio Up button

1 x BIOS switch

Back Panel Connectors

1 x PS/2 keyboard port

1 x PS/2 mouse port

2 x USB 2.0/1.1 ports

2 x USB 3.0/2.0 ports

1 x RJ-45 port

3 x audio jacks (Line In/Mic In/Line Out)

I/O Controller

iTE IT8720 chip

H/W Monitoring

System voltage detection

CPU/System temperature detection

CPU/System fan speed detection

CPU overheating warning

CPU/System fan fail warning

CPU/System fan speed control




* Whether the CPU/system fan speed control function is supported will depend on the CPU/system cooler you install.

BIOS

2 x 16 Mbit flash

Use of licensed AWARD BIOS

Support for DualBIOS™

PnP 1.0a, DMI 2.0, SM BIOS 2.4, ACPI 1.0b

Unique Features

Support for @BIOS

Support for Q-Flash

Support for Xpress BIOS Rescue

Support for Download Center

Support for Xpress Install

Support for Xpress Recovery2

Support for EasyTune




* Available functions in EasyTune may differ by motherboard model.

Support for Smart 6™

Support for Auto Green

Support for eXtreme Hard Drive (X.H.D)

Support for ON/OFF Charge

Support for Cloud OC

Support for Q-Share

Bundle Software

Norton Internet Security (OEM version)

Operating System

Support for Microsoft® Windows® 7/Vista/XP

Form Factor

ATX Form Factor; 30.5cm x 26.4cm
Let's grab a look at the board shall we.