OverKILL3D – MSI GTX 980 Gaming Quad SLI and SLI Bridge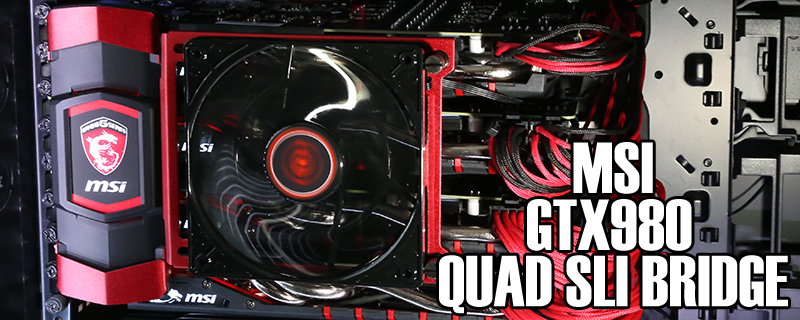 Conclusion
Sometimes a product is so simple there is almost nothing to be said. The MSI SLI Bridge just does two things. Only of them successfully.
The least successful part has to be the fan. If you're running four GPUs but haven't bothered to sort out your airflow then you need to go to the back of the class. When you couple this to the already spectacular cooling available on the MSI Gaming range of graphics cards then adding an indirect extra fan makes no difference to the temperatures mainly due to the way GPU Boost works, you really are better off just manually turning the GPU fans up if you are worried about temps. We saw the same whether the fan was installed or not. So if you're expecting to beef up your GPU Boost results with the addition of a slimline 120mm fan then you'll be disappointed. For a single fan to really make any noticeable different to the card temps you would need something with some serious balls like a 220CFM delta that will also make you deaf. The MSI slimline fan really isnt man enough to make any difference at all.
Treating this like a cooling solution though is entirely missing the point. What it is is a supremely attractive way to bridge your four GTX's. So often you go to the effort of creating a beautiful, show quality, system with carefully matched colours and outstanding design, only to be let down at the last with an average looking SLI Bridge. With the MSI Gaming SLI Bridge you get something which perfectly matches the red and black MSI Gaming aesthetic and actually enhances your system rather than detracts from it.

Naturally something that is best suited to an audience who've already got four GTX graphics cards is one that is a niche product. However, if that person is you and you've bemoaned the lack of SLI Bridge options then the MSI solves that problem for you, which is why it is awarded our OC3D Aesthetic award. Oh and one last thing, if you're in the market to buy one of these we have two words for you. Water Cooling.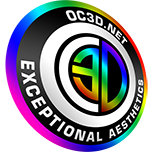 Â
You can discuss your thoughts on the MSI Mentalist Quad SLI Bridge in the OC3D Forums.