CoolIT Release Domino A.L.C Cooler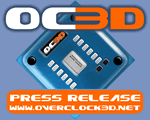 CoolIT releases Domino  A.L.C Cooler – Water cooling for the masses.
Today CoolIT have announced a radical new water cooler which promising high end cooling for far less £££. The new cooler, named Domino A.L.C supports Intel sockets 775 and 1366 as well as AMD AM2+. Here is what they have to say about the Domino:
Domino's Features and Benefits include…
* Simple Installation – Compact and light plug and play design with an innovative retention mechanism allows for quick installation into even the most crowded chassis supporting a 120mm fan. Domino ALC is universally compatible with Intel and AMD processors including Intel's next generation Nehalem-based Core i7 processors
* Advanced Control and Configuration – Configurable options range from whisper quiet operation to extreme cooling for overclocking…all at the touch of a button. The micro-controller auto-regulates the system in all modes of operation to ensure continuous protection.
* Intuitive LCD Display – Conveys system status and issues a visual/audio alert notifying the user should the system require attention
* Whisper Quiet Operation – Allows gamers to hear their games…not the cooler
* Highly reliable – Advanced design and highly reliable components provides over 50,000 hours of maintenance-free quiet cooling
* Other Benefits – High efficiency design allows for minimal power consumption (8W max). Lightweight build places up to 70% less weight on the motherboard than heat sink/fan solutions thus removing risk of damage to vital components
 
You can view the full product page here.

Discuss in our forums.