Intel's new LGA1700 socket has been pictured – It's big!
Intel's new LGA1700 socket is familiar but different
Over on
Bilibli
, via
Videocardz
, Intel's new LGA1700 socket has been pictured for the first time, showcasing the company's new, elongated socket design and a new yet familiar CPU retention mechanism. 
Intel has made a lot of changes with their LGA1700 socket, but the major alterations can be summed up by saying that the socket is physically larger and that the socket features more pins than the company's last-generation LGA1200 Rocket Lake socket. Aside from that, Intel has made changes to socket geometry and heatsink retention, creating the need for new mounting kits for most of today's CPU coolers. 
Intel's LGA1700 socket is reportedly 7.5mm longer than LGA1200 while retaining the same overall width of 37.5mm. While this change will make Intel's CPU physically larger, Intel has shrunk the size of its retention mechanism to allow the socket to take up the roughly same amount of space as today's LGA 1200 socket. This is great news for motherboard makers, as it frees up motherboard space for them to use for other components.  
By using a socket design that's physically larger, Intel has been able to significantly increase its socket pinouts, giving the company more ways to deliver power and move data to and from their future processors. This space also allows Intel to create larger processors, which could be useful as Intel starts to utilise 3D packaging technologies within their mainstream x86 product lines. 
With Intel's LGA1700 socket being marked as "LGA-17xx/LGA-18XX", it is possible that Intel's LGA 1700 socket has unused pins that could be used with future processor designs. Currently, LGA1700 is expected to support Intel's Alder Lake series processors and their planned 13th Generation Raptor Lake processors. At this time it is unknown how long Intel plans to support their LGA1700 socket. 
(Image from Videocardz)  
 
Manufacturers of CPU heatsinks are already working to create LGA1700 mounting kits for their existing CPU coolers, with many revealing plans to offer free upgrade kits to those who upgrade their systems to Alder Lake. 
One change that Intel has delivered with Alder Lake is a lowering of Z-height on their LGA 1700 socket, which will force CPU heatsink manufacturers to mount their heatsinks closer t the surface of motherboards. This change requires Intel to create thinner processors and thinner processors. This will likely force Intel to place thinner Integrated Heat Spreaders (IHS) on their processors, which should help to make their CPUs cooler. Thinner IHS' decrease the distance between a CPU's silicon and the user's heatsink, facilitating faster thermal transfers and more efficient cooling. 

You can join the discussion on Intel's LGA1700 socket on the OC3D Forums.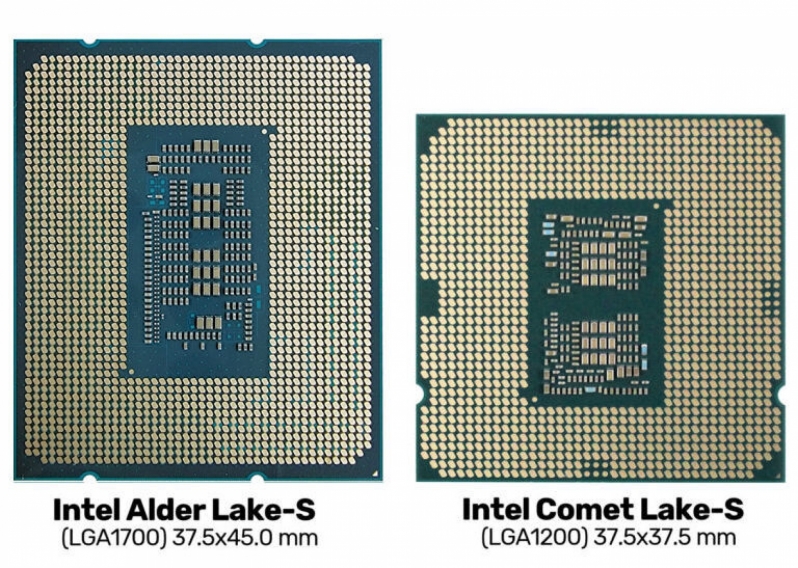 (Image from Videocardz)