SK Hynix creates incredibly fast DDR5 MCR DIMMs with Intel and Renesas
These modules are at least 80% faster than standard 4.8 Gbps DDR5 products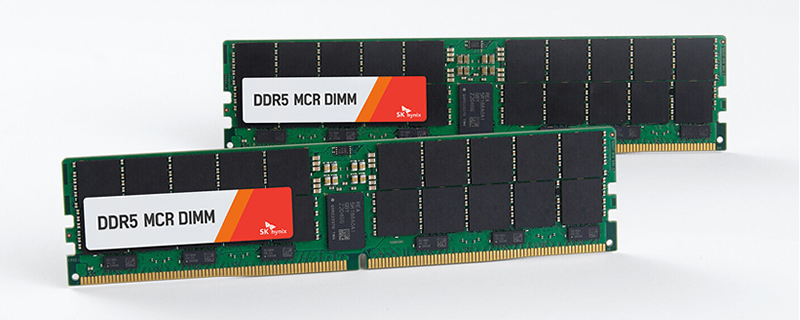 SK Hynix has created the "World Fastest Server Memory Module" with their MCR DDR5 DIMMs
SK Hynix, Intel, and Renesas have worked together to create DDR5-8000 MCR-DIMM DRAM modules, what SK Hynix calls the 'World Fastest Server Memory Module'. These new MCR DIMM modules are designed to offer users simultaneous operation for two DDR5 memory ranks, effectively offering connected processors two times as much data during any given clock cycle. 
In effect, MCR DDR5 DIMMs can offer 128 bytes of data to a processor at once instead of the 64 bytes that conventional DRAM modules can deliver. SK Hynix's new DDR5 DRAM can offer users a data rate of a minimum of 8 Gbps, making their modules 80% faster than the 4.8 Gbps DDR5 memory products that are available today.

Renesas has stated that the company has been developing the 128 byte data buffer chips used within SK Hynix's DDR5 MCR DIMM modules for the past three years, with SK Hynix confirming that their MCR DIMMs are based on Intel's MCR technology. 
It is believed that Intel initially developed their MCR concept as a way to increase the performance of Optane memory modules, but now that Intel has abandoned Optane, the idea can be explored with more traditional DRAM technology.
    SK hynix Inc. announced today that it has developed working samples of DDR5 Multiplexer Combined Ranks (MCR) Dual In-line Memory Module, the world's fastest server DRAM product. The new product has been confirmed to operate at the data rate of minimum 8 Gbps, and at least 80% faster than 4.8 Gbps of the existing DDR5 products. MCR DIMM is an achievement coming from out-of-the-box thinking with an aim to improve the operation speed of DDR5. Challenging the prevailing concept that the operation speed of DDR5 relies on that of DRAM chip itself, engineers sought to find a way to improve the speed of modules instead of chips for development of the latest product.

SK hynix designed the product in a way that enables simultaneous operation of two ranks by utilizing the data buffer installed onto the MCR DIMM based on Intel's MCR technology. By enabling simultaneous operation of two ranks, MCR DIMM allows transmission of 128 bytes of data to CPU at once, compared with 64 bytes fetched generally in conventional DRAM module. An increase in the amount of data sent to the CPU each time supports the data transfer rate of minimum 8 Gbps, twice as fast as a single DRAM.

A close collaboration with business partners Intel and Renesas was key to success. The three companies worked together and cooperated throughout the process from the product design to verification.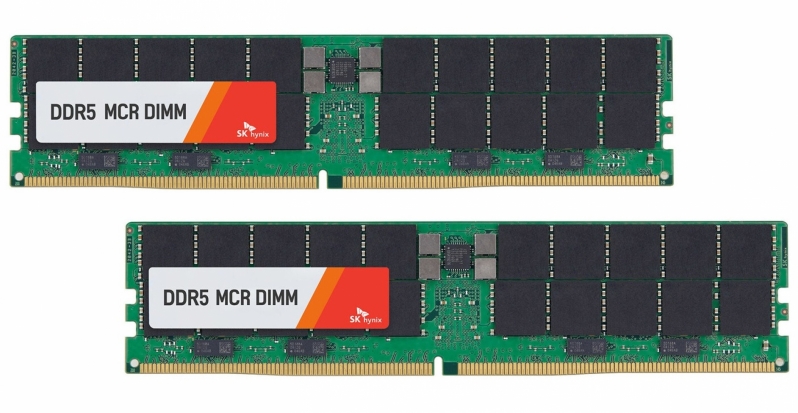 MCR DIMMs use a data buffer to handle data from two DDR5 memory ranks, and this data can then be accepted by Intel server processors. This technology can effectively double DRAM performance, increasing memory bandwidth without requiring faster DRAM chips. SK Hynix plans to start mass producing MCR DIMM modules in the future. 
MCR memory DIMMs will be highly sought after for high performance computing workloads where DRAM bandwidth could become a limiting factor.  At this time it is unknown if this memory technology could have a future within the consumer memory market, or how much more expensive these new DRAM modules are than standard dual-rank DDR5 memory DIMMs.
You can join the discussion on SK Hynix's DDR5 MCR memory DIMMs on the OC3D Forums.