Just Cause 3's Multiplayer mod has now entered public beta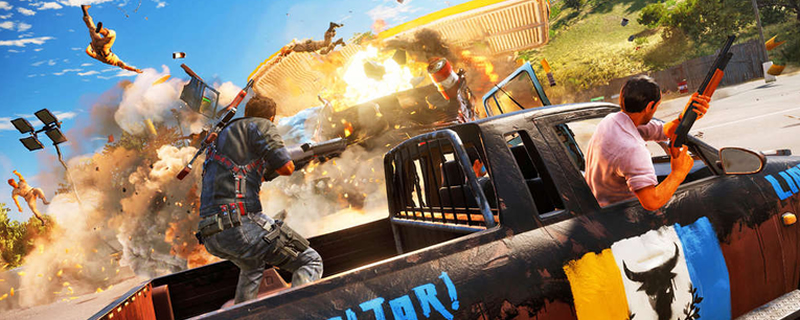 Just Cause 3's Multiplayer mod has now entered public beta
Just Cause 3's Multiplayer mod has now entered public beta, allowing PC players to host their own game servers and script custom game modes.
Significant progress has been made on Just Cause 3's Multiplayer Mod since it was first announced in early 2016, with the games latest trailers showcasing parachute and wingsuit synchronisation and the ability to play a multiplayer game for several hours without crashing. 
In the past, the mod's development team has already shown off on-foot synchronisation, PVP combat and the ability for players to interact with other player vehicles, making vehicle surfing a possibility.   
The team behind the mod is also working towards allowing you to change your player model, allowing players to play as characters other than Rico in Multiplayer games and to improve weapon synchronisation. 
    Exactly one year after the initial development blog on JC3:MP we are now finally able to ship our very first public version. After hours and hours of developing, testing and keeping all of you up to date we are extremely happy to celebrate this release with you.

First of all, we would like to say "thank you" to all our testers and all the various YouTubers sharing our development: You have have always been supporting us in the background since the first preview and constantly gave us really valuable feedback.

Secondly we would also like to thank Square Enix and Avalanche Studios for their tremendous support: It's an honor working together with you.

Last but not least we would like to thank the whole community for their patience and passion: Seeing you guys always eagerly waiting for the next devblog on Discord shows some real dedication towards our project and kept us going forward even in the harder weeks and months of development. To simply put it in words: You guys & girls rock!
Below is Nanos Framework's Multiplayer Beta release trailer, showcasing what is possible in Just Cause 3's multiplayer mod. 

Ther PC system requirements for Just Cause 3 Multiplayer are the same as the base game, so if you can play Just Cause 3's singleplayer, then multiplayer should work for you. 
Below are some notes for Nanos IO's FAQ section. 
How to install the modification?
Simply download the installer from our website and install it in any directory. Then simply launch the newly created launcher.
Can I download this mod directly from Steam?
This Beta release is only available on our website. Future versions may be available on Steam.
The game does not launch. What can I do?
You can try running the modification as an admin and try to delete the "cache" folder in your JC3:MP installation directory. If that does not help be sure to check out our support forums.
My server is not announced on the masterlist
.
You need to generate an auth-key and then add it to your masterlist package. Your server won't be listed otherwise.
My server is immediately crashing when loading the plugins
Steam must be running for the server to properly start. To set up a server on linux consult our docs.
Just Cause 3's Multiplayer Mod is available to download here. 
You can join the discussion on Just Cause 3's multiplayer mod on the OC3D Forums.