Samsung Unveils Mini-Card PCIe SSDs
Samsung Unveils Mini-Card PCIe SSDs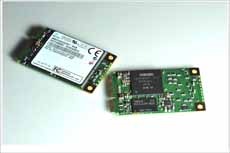 Samsung yesterday unveiled a new line of SSDs that has the potential to bring in a new era in the SSD market; the Samsung Mini-Card SSDs are sized almost exactly the same as a PCIe card. Designed for netbooks, the cards are about 80% the size of the typical 2.5in drives currently available.
At just 1.8in x 2.01 x 0.15in, the new SSDs are perhaps the smallest ones around. While the dimensions are those of a mini-PCI Express card, the Samsung Mini-Card SSDs feature a SATA 3.0Gb/s interface. This allows it to function at sequential read and write speeds of 200MB/s and 100MB/s respectively. While these might not be at the same level as other high-end SSDs, they are still impressive. Random read and write speeds on the other hand are comparable to other standard SSDs currently available.
The small size and high performance of the new SSDs make them ideal for netbook manufacturers to develop even thinner and lighter netbooks. The size also makes the SSDs perfect secondary devices for desktop computers with dual-SATA drive enclosures. Users can keep the integrated HDD as a mass storage device, while using the SSD to run applications.
Explaining the virtues of the new drives, Samsung's product marketing manager Brian Beard said, "The drives could easily attach to the motherboard and don't need to be plugged special slots. They consume about 0.3 watts of power, compared to an average of about 1.1 watts for 2.5-inch SSDs."
The only limitation of the drives is their comparatively lower storage capacities of 16GB, 32GB and 64GB. Samples of the new drives have already gone out to manufacturers, though Samsung is keeping mum on the pricing side of things.