SanDisk To Make SSDs More Affordable
SanDisk to bring 3bit/cell NAND to SSDs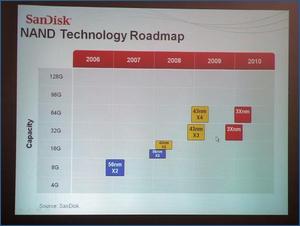 Solid state memory manufacturer, SanDisk, is looking towards implementing 3bit/cell NAND into its next generation SSD's. Currently, 2bit/cell NAND flash memory is more expensive to produce and suffers from restrictions on density, where 3bit/cell NAND is cheaper to produce and allows for increased density. However, 3bit/cell NAND is not without its own problems, which unfortunately, are lower rewrite speeds and times.
According to Don Barnetson, senior director of Marketing, Solid State Drive Business Unit of SanDisk, "…it is difficult to incorporate the current 3bit/cell products in SSDs in view of their rewrite speeds and times…We are now preparing a technology to solve those issues". The company seemed to be planning to introduce 3bit/cell NAND flash for SSDs sometime in 2009 or 2010.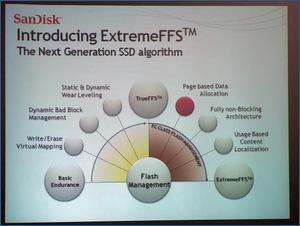 SanDisk, though it seems, are well on the way towards perfecting the new technology:

SanDisk is ahead of its rival manufacturers in miniaturization and multiple level cell (MLC) technologies, which hold the key to reducing NAND flash memory cost. The company has already started to mass-produce its 56nm 3bit/cell product and 43nm 2bit/cell product, planning the volume production of its 43nm 3 to 4bit/cell products at the end of 2008. And it will advance the process technology to 3Xnm in the second half of 2009.
As well as 'cheaper to produce' NAND flash memory, SanDisk has a new new file management system dubbed "ExtremeFFS". According to the source article, ExtremeFFS can accelerate write speeds by up to 100 times compared with existing systems, while increasing rewrite endurance at the same time.
If SanDisk can deliver on cheaper 3bit/cell NAND flash memory and faster write/rewrite speeds, I think we'll all be happy…
Discuss this article in our forum