Dell Shows Off New Studio 14z Notebook
Dell Shows Off New Studio 14z Notebook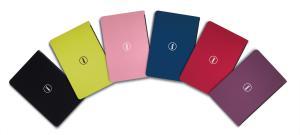 Netbooks might be the order of the day, but notebooks are still very much in and Dell's new Studio14z notebook affirms this fact. The svelte 14in notebook is sexily slim and available in six different colours.
The Studio 14z comes with two CPU options in the form of a dual-core Intel Pentium or Core 2 Duo up to the T9550 processors. The big 500GB HDD provides loads of storage space, while NVIDIA's GeForce 9400M GPU provides high quality graphics for the best gaming and movie experience.
The new notebook is also the first to feature the FailSafe theft prevent technology, which keeps data on the machine safe by allowing deletion via the internet even after it is lost or stolen. On the dimensions side, the 14in notebook is pretty slim, with thickness ranging from 0.79in to 1.2in. The LED-backlit display with a 720p/900p resolution provides excellent viewing without draining the battery.
Also included are a 1.3MP webcam and standard 6-cell battery; users also have the option to upgrade to an 8-cell battery for an extended run time of 6:46 hours. The Studio 4z comes with standard Wi-Fi, Bluetooth, eSATA connectivity and up to eight USB 2.0 ports. Entertainment comes through the 4W SRS 2.0 sound system with a woofer, which delivers thumping music and sound. To achieve the light 4.3 pounds weight, Dell has removed the optical drive and is offering it as an external option.
Dell has priced the hip and stylish notebook at an attractive $649 and will be donating $5 from the sale of each machine to the Susan G. Komen for the Cure foundation.