CM Storm Sirus Review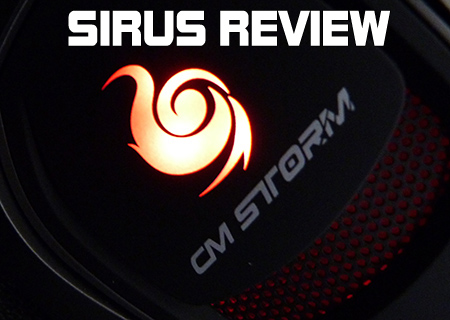 Introduction
The CM Storm offshoot of the Cooler Master brand has given us some excellent products, from the Sentinel mouse to the Sniper case.
Now they've put their talents into the headset market with the Sirus, a beast of a headset which, on paper at least, has everything you could possibly desire, being a true 5.1 headset with multiple connection methods.
The part that really differentiates the CM Storm Sirus from nearly every other headset out there is the 'Tactical Mixing Console' which is an on-desk adjustment for everything from the volume of each individual channel, to the standard muting functions.

So does the Sirus complete your ability to run nothing but CM Storm branded gaming peripherals or have they extended themselves too far?
Technical Specifications
Certainly looking at the specifications we find all the boxes are ticked. Good sized speakers with decent response and impedance should hopefully ensure we have an enjoyable listening experience whilst the microphone sensitivity ought to mean we can get away with whispering if necessary.
Headphones

Channel: True 5.1 surround sound

Driver: F/R/C: 30mm Sub: 40mm

Impedance: F/R/C: 32 Ohms Sub: 16 Ohms

Transducer principle: Dynamic closed

Ear coupling: Circumaural

Ear cushions: Detachable micro fiber

Sensitivity: >105dB

Frequency Response: 10Hz – 20,000Hz

Distortion: Less than 1%

Microphone

Pick-up pattern: uni-directional

Frequency Response: 100Hz – 10,000 Hz

Impedance: 2.2k Ohms

Sensitivity: -46 dB ±3dB
Let's get a look at it shall we.