Aerocool V12XT 4-Channel Touch Panel Fan Controller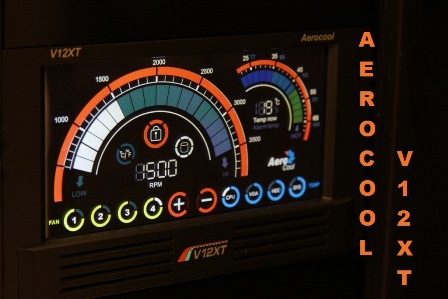 Introduction 
Fan controllers in themselves have something of a marmite following. There are those that swear by them, there are those that swear at them. I think a great deal depends on the build and the cooling requirements of the kit. It's fair enough to say that if there are times when you thrash your kit and times when you just want it quietly ticking over then it's nice to have a way of stepping up and stepping down both the cooling and the noise. And lets be honest with ourselves, one of the attractions of PC ownership is the gadget factor. Sure the PC in itself is a gadget, but what if we can enrich our experience by adding gadgets to our gadgets!!!
Aerocool are well known for their range of bay fan controllers.  Producing designs that vary from the sublime futuristic simplicity of the F6XT to the pseudo steam punk/art deco influences evident in the Gate-watch series.
Here we take a look at the V12XT. A 4-Channel unit with a design that sits somewhere in the middle. not too in your face, but different enough to make you smile.

Tech-Spec 
Large LCD screen
LCD backlight on/off
Switch between Celsius and Fahrenheit
Overheating alarm temperature warning
HDD working display
"Lock" function provided to prevent careless miss-touch
Dimension:                                  149.5 (W) x85 (H) x 70(D) mm
LCD viewable area:                      115 (W) x 57 (H) mm
Connectors:                                4 x 3-pin connectors / 4 x heat sensors
Material:                                     ABS front bezel w/ steel bracket
Max wattage per fan channel:      6W