Be Quiet Dark Rock Pro Review
Â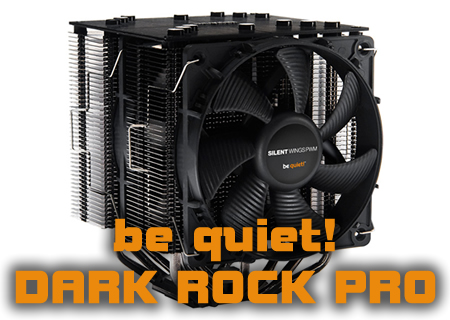 Â
Introduction
Be Quiet have been around for some time and are better known for their range of high quality power supplies. As with many companies of late they have recently felt the need to enter new markets, with their Silent Wings fan range it doesn't take a descendant of Einstein to work out that at some point they would release a heat-sink to use them on.
One of the first to hit the market is the Dark Rock Pro, a twin tower cooler featuring two of the SW fans and a design much a like to the big boy twin tower coolers on the market today. Twin tower cooler, with two fans aimed at overclockers and silent system users alike? Sounds very familiar doesn't it…….

Enough's enough lets look at the specs:
High-end CPU Cooler for the toughest demands
The Dark Rock C1 range of coolers is designed for the enthusiastic PC user who expects a great deal from their computer: performance, reliability and a very quiet operation.

The be quiet! Dark Rock PROC1 combines maximum cooling efficiency with a pleasantly quiet operation. With an extremely low noise level, efficient cooling is provided for gaming, multimedia and CAD systems even at maximum processing power. This CPU cooler is enhanced by the high-quality materials used, as well as its attractive design.

Extremely efficient
•The seven three-dimensional moulded heat pipes work rapidly to transport the heat with the help of an oxygen-free copper layer (OFC) to the optimum point within the cooling lamellas.
•The double-tower layout with seven heat pipes enables the best heat dissipation from every single cooling lamella.

Nice and quiet
•Two 120-mm SilentWings PWM fans guarantee the best ratio of cooling efficiency to noise level.
•The wave-shaped contour of the cooling lamellas prevents noises and optimises the airflow.

High-quality materials
•The fan surfaces are coated in dark nickel.
•The brushed, fully aluminium cover connects the fan to a closed unit.
•The stable backplate ensures a shockproof attachment, even when transporting the computer.
Â
It makes for very good reading, the proof is in the testing though so lets move on to the famed OC3D heat-sink abuse bench!
Test Setup
Gigabyte UD3R V2
Intel i7 950
Mushkin Radioactive 2000MHz
Cooler Master 690 II Advanced White Edition
Mushkin 650W PSU
Testing
For the first test we set our i7-950 overclocked to 200×20 @ 1.25v for a clock speed of 4.0GHz. We allow the system to idle for 10 minutes and then run Prime95 'maximum heat maximum stress' setting for a further 30 minutes.
After 30 minutes we note the temperatures of all cores and the ambient temperature of the room. An average of all cores is taken, then the ambient temperature is removed from this figure and this gives us the delta temperature. Delta is the temperature difference above ambient which is a truer reflection of the heat-sink performance rather than mere maximum figures. Testing in an Igloo or the Sahara would give vastly different maximum temperatures, yet the Delta could be the same.
Â
Â
The second test follows all steps from above but with a 200×21 @ 1.35v for 4.2GHz overclock, the extra voltage in this test allows us to see if the heat-sink can cope when extreme loads and overclocks are applied.Â
Â
Â
Video Review
Conclusion
Lets start with the positives because to be fair there are some very good features on this cooler. First of all this is a very quiet cooler, all our tests were run at 12v and even at maximum fan speed the cooler wasn't loud or intrusive at all. This alone is worth praise as it seems to be an area other manufacturers struggle with in a big way. Second of all the design or aesthetics if you've had your Collins Cornflakes this morning is top drawer. I'd go as far as saying this is the best looking twin tower cooler available, the neutral black fans is something many many of you on YouTube and the forums have been crying out for the other big two manufacturers to do for months – Kudos to Be Quiet for listening and not joining the cream fan brigade. Thirdly the top plate on the cooler is not just there to be pretty, twin tower coolers can be bent out of shape quite easily by those of us still in touch with our Neanderthal side yet with this simple plate you wont have a problem with this (while its fitted at least) and the extra bonus is it looks pretty awesome. Going off topic though lets see who is the first person to paint the top white and get it in a white case, it's ripe for a bit of modding!
Now lets move on to the not so positive parts and yes, yes they do have to be brought up that's what we are here for. Sadly Be Quiet went with the same OEM manufacturing company as Scythe, worse still they took the easy option and used the same mount as Scythe did. So in short they both share the same basic mounting system. Congratulations you made a great looking cooler feel cheap in an instant, its practically a 2 man job to fit it. You can do it alone but be prepared to have several attempts and have to clean the CPU paste off and start again a few times to make sure you get a decent seat between the cooler and the paste as continually moving it about to get it mounted has a tendency to push the paste all over the place and you may find yourself with uneven core temperatures.Â
Next and most importantly is the performance. Many readers and watchers were excited to see if this would take the performance cooling crown, after all BQ have had more time to develop this right? Well it is a good performer but its not a good as you all were hoping. In our 4GHz tests it was 10c hotter than the D14 or Silver Arrows delta temperature, this increased to 12c when we upped the anti to 4.2GHz. A 51c Delta temperature is not to be sniffed at though, but it just becomes very difficult for us to recommend a cooler that is the same style as the D14 and Silver Arrow, the same price yet is still 10 degrees hotter.
A valiant effort Be Quiet and an effort that just about scrapes in with a silver award. If you change that mount and drop the delta at least another 5c and you'll have gold next time. The challenge has been set.
   Â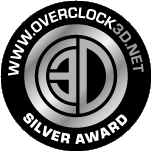 Thanks to Be Quiet for the sample on test today, you can discuss your thoughts with the OC3D Forum Family