CM Storm Trooper Review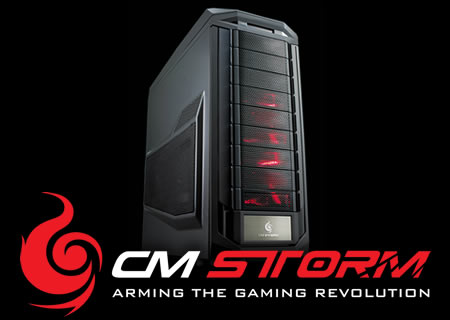 Introduction
We pretty much all know that CM Storm is the gaming arm of Cooler Master but lets take a look at what they say about them selves:
Owning the PC trenches for almost two decades, Cooler Master 's veterans present their scars from battles past as claims of triumph over the competition. United with a new generation of eSports athletes and engineers, now marching under the flag of CM Storm, the time has come to reveal truly ground-breaking, military grade hardware for the gaming revolution.

Through long-standing research programs, CM Storm is co-developed with the world's most prolific enthusiasts and eSports prodigies. Thanks to intensive testing and continuous feedback, the CM Storm division has been able to encompass and improve upon gamers' needs and their tough to handle scenarios.

By working directly with the gaming community we have injected our Storm Tactics into each and every product we make. Storm Tactics, with a heavily dedicated focus on Strength, Security and Control, will keep your most vital gear fortified and well tuned at all times.

2008 marks a new era for Cooler Master, as its fierce Storm Gear stands ready at bay to mobilize and back up your gaming skills.
So without further adue lets take a look at the much anticipated latest case to come from the CM Storm stables the Trooper.
Specifications

Model Number
SGC-5000-KKN1
Available Color
All Black
Material
Steel body, Front Mesh / Plastic bezel
Dimensions
(W) 250 x (H) 605.6 x (D) 578.5 mm
(W) 9.8 x (H) 23.8 x (D) 22.8 inch
Net Weight

 13.7 KG / 30.2 lbs

M/B Type
Micro-ATX, ATX, XL-ATX
5.25″ Drive Bay
9
3.5" Drive Bay
8 (converted from 5.25" bay by two 4-in 3 HDD modules)
2.5" Drive Bay
13 (converted from 5.25" bay by two 4-in 3 HDD modules)
Cooling System

| | |
| --- | --- |
| Front: | 120 mm LED fan x2 (1200 RPM, 17dBA) |
| Top: | 200 mm fan x 1 (1000 RPM, 23 dBA) |
| Rear: | 140 mm fan x1 (1200 RPM, 19 dBA) |
|   | (converted to 120 mm fan) |
| Bottom: | 120 mm fan x 2 (optional) |
| Side: | 120 mm fan x 2 (optional) |

Expansion Slots
9+1
I/O Panel
USB 3.0 x 2 (internal), USB 2.0 x 2, e-SATA x 1, Audio In and Out ( Supports HD audio)
Power Supply Type
Standard ATX PS2 / EPS 12V
Maximum Compatibility
CPU cooler height: 186 mm / 7.3 in
GPU card length: 322 mm / 12.7 in
Video Review
Conclusion
Its epic, End.
If only it was that easy! Lets try and start from the top then, the handle on the roof of the case is not only very sturdy and secure but it also has a nice rubbery feel top with soft rubber fins somewhat similar to a mountain bike handle bar grip underneath so that its much more comfortable when carrying your rig around. The I/O panel is a work of art to be honest with you, the first thing that catches your eye is the large power button that lights up red with the CM Storm logo. Below that there is the fan controller which bleeps as you press the buttons to increase or decrease the speed but this is also backed up with lights to indicate what speed you have the fans set to out of a possible 6 options. Other things to point out are 2 USB3 ports, 2 USB2 and a tidy button to disable the LEDS in the two from fans that come with the case which will please those of you out there that sleep with your PC on….. Prefer pyjama's myself.
The front of the case has a total of 9 optical bays, 6 of which are consumed by the 4 in 3 hard drive cages, these cages are also able to have the fans run across the front of the case or have them pulling air in from the very front of the case which is a very nice touch. Talking of hard drives there is a dedicated 2.5″ hard drive mount for a total of 4 drives should you need it, if like us you don't like the look of it then its just 4 screws to remove it!
Yet more features showing you CM Storm mean business with this case is shown with the 9 total PCI slots at the back of the case meaning that even monster boards like the Gigabyte G1 Assassin, meaning multiple GPU configurations are easy peasey.
Another feature any LAN gamer or for that matter anyone that wants to hide something 'valuable' will love is the concealed drawer in the front of the case that is lockable so you can not remove it or have access to it from the inside either. Its practically a hidden safe deposit box! Perfect for putting your phone, wallet, MP3 player or any other valuable contraband and being able to lock it away out of sight.
Right heat sinks, it will gobble everything thanks to the 140mm rear exhaust fan giving the case some extra girth but this wouldn't be one of my reviews if I did not mention water cooling… Its got 2 grommets at the top of the back panel should you wish to use some kind of external solution. The top of the case has support for 2x 120mm and 2x 140mm fans, both of these will support radiators up to 60mm thickness if you install the fans on the outside of the case (underneath the top panel). Going on from this it also means you would be able to fit a Corsair H100 in a push pull config, radiator and one set of fans inside then the second set on the outside underneath the top panel. The top panel may take some time to remove as the handle is integrated but it can be done should you have the time and patience to do it.
Going on from the top of the case it is also possible to fit a 240mm radiator in the floor of the case towards the front, its not officially support but you could easily bolt in a 50mm thick 240mm radiator. If you got your tools out and cut a blow hole or trimmed the case a bit you could fit a 60mm rad with fans down there if you were prepared to move the hard drive cages up so it could breathe. Talking of the hard drive cages if you remove those all together you could fit a 360mm radiator in the front of the case if you got handy making some mounts. So in total that's 2x 240mm radiators AND a 360mm radiator all possible should you be willing to put a bit of effort in? Now you might understand why this case is epic!
Without a doubt this is the best CM Storm case to date, but in the right hands this could be the best case to EVER be released from Cooler Master as a whole. Big words for a case that delivers big. I love it, we love it, you will love it. All the other case manufacturers stand up and take note. This is how its done, and that's why we have bestowed the case with nothing short of the OC3D Gold award, if there was ever a case that has made me think gold was not quite worthy… Its this.
Awesome.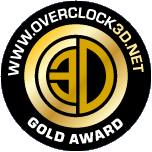 We would like to thank CM Storm for the Trooper we reviewed today, you can discuss the review in our Forums