Cooler Master HAF 932 Advanced Review
Â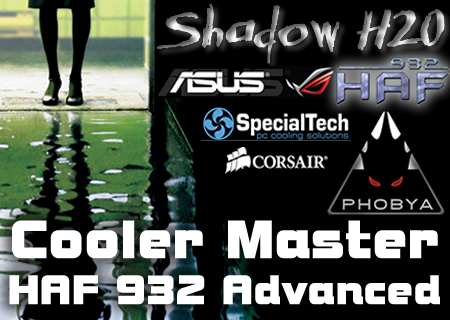 Â
Introduction
This is where the HAF or 'High Air Flow' range started, the old faithful 932. Which was originally released a few years back now. If I'm honest I can remember reviewing the original back in the days of the man shed and very bad video quality! Back then the 932 brought 360mm water cooling support and massive of room to the table, plus the option of running it as a very good air chassis. Cooler Master have decided to make a few changes to bring the 932 up to date.Â
Specifications

– USB 3.0 Internal Connector

– Rugged Black coated interior

– The HAF932 Advanced features a fully-rugged appearance and is housed in a tough casing to offer outstanding protection.

– A rugged HAF932 Advanced comes equipped to operate with unparalleled thermal performance

– Patented finger-press buttons for quickly maintaining or upgrading 5.25 inch drive devices

– Removable HDD racks and cable management system for better cable routing and neatness

– Easy access to liquid coolant fills port

– Meshed back slot for providing passive cooling

– Independent air intake designed for bottom-mounted PSU or installation of two 120mm fans

– Retaining holes for easy installation of CPU coolers

Â
Available Color
BLACK
Â
Â
Material
SECC, Plastic
Â
Â
Dimension (W / H / D)
(W) 243 x (H) 560 x (D) 564 mm
(W) 9.6 x (H) 22.0 x (D) 22.2 inch
Â
Â
Weight
13.4 KG / 29.5 lbs
Â
Â
M/B Type
Micro-ATX / ATX / E-ATX
Â
Â
5.25″ Drive Bay
5 (without the use of exposed 3.5 inch drive bay)
Â
Â
3.5″ Drive Bay
5 Hidden
1 Exposed (converted from one 5.25″ drive bay)
Â
Â
I/O Panel
USB 3.0 x 2
USB 2.0 x 4, IEEE 1394a x 1, eSATA x 1, Mic x 1, Audio x 1 (supports HD audio)
Â
Â
2.5″/3.5″- SATA HDD Drive Bay
4 (converted from two 3.5″ drive bay)
Â
Â
Expansion Slots
7
Â
Â
Cooling System
Front: 230 x 30 mm red LED fan x 1 / 700 rpm / 19 dBA
Side: 230 x 30 mm standard fan x 1 / 700 rpm / 19 dBA (supports 120 mm fan x 4)
Top: 230 x 30 mm fan x 1 / 700 rpm / 19 dBA (supports 120 mm fan x 3 / 120 mm fan x 1 + 230 x 30 mm fan x 1)
Rear: 140 x 25 mm fan x 1, 1200 RPM, 17 dBA (supports 140 mm fan)
Â
Â
Power Supply
Standard ATX PS2 / EPS 12V (optional)
Â
Â
Maximum Compatibility
VGA Card length :320.7mm
CPU cooler height:172.1mm
Â
Video Review
Â
Conclusion
Lets start by taking a look at Shadow H2O as a complete system, aesthetically it looked the dogs hoo-haaaa's and anyone that says it's not my reply in my best TOWIE accent is "you're just jell babe". Harsh reality is that it looked epic with the side panel off staring at what looked living a living system inside but fitting the side panel did instantly date the rig. This in my eyes is a great shame. I fully understand why Cooler Master haven't made any major changes but I can't help but be left feeling that I wish they would bring out a windowed panel as an optional extra.
The USB3 panel in the front does look like an after thought. The bezel does not even match the rest of the optical bay covers. This in my opinion is somewhat lazy from Cooler Master and I think that this should be rectified. If this was my own rig I would probably remove it because it would annoy me that much, maybe even try and mod it into one of the other bezels just so it looked like it was a standard item and not something I'd picked up for £9.99 from a computer fair. I honestly think that the USB3 ports should have gone next to the USB2's in the main I/O panel at the top. If this had been done then you would not have the problem of the missing toolless clip in the side of the optical bays. This again is something that annoys me because there is a blatant gap and just looks like something is missing rather than it being part of the OEM design.
Native 360mm water cooling radiator support is a bonus, but also being able to have a 60mm thick rad and still have the option at least of running push pull without any worries of it fouling the motherboard is perfect. You will have to play your system carefully to get the reservoir in and hosed up neatly, but if you are willing to give it some thought the results will be very much worth it.
Aside from the few niggles seeing a 932 all in black does work very well, and as you can see with the system we built with some careful choices you can really make a looker. You could pretty much take the whole spec list we have and just change the coolant and fans to any colour you wish to make it your own and it would look the nuts.
The basics are the 932A is a very spacious and capable case that will house pretty much any system and cooling configuration you should want and it will work very well. At just £109 is very competitively priced too. Its only drawback is that it is starting to look dated and the USB3 add-ons have done nothing but make the changes look like an after thought. The case with a few tweaks could have made the Gold award especially because of the price. But taking the niggle into account we have decided to give the 932 Advanced the OC3D Silver award.
Â
   Â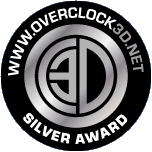 Thank you to Cooler Master for the HAF 932A on test today, you can discuss your thoughts in the forums.