Corsair 400C Compact ATX Case Review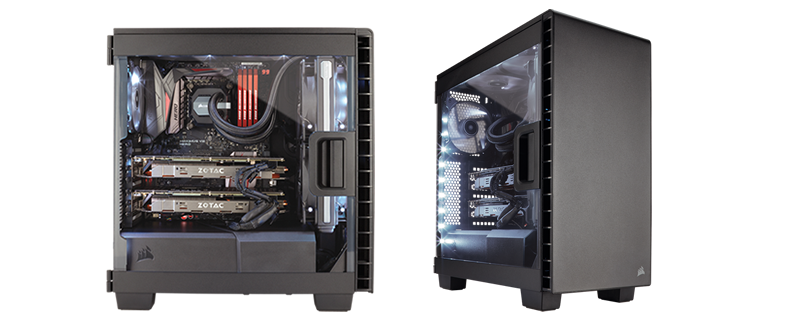 Corsair 400C Compact ATX Case Review
For a long time now a secret war has been raging between PC enthusiasts, a war which has divided us against each other, brother against brother, the war of the drive bay. 
Yes for many years the 5.25″ drive bay was a necessity for PC gaming, with DVDs and CDs serving as the only medium for us to install games and software, but now that time has passed and the age of digital download is here, allowing us to discard our old optical drives and start afresh with cleaner looking, more compact systems. 
While many of us still like using optical media, a growing number of PC builders are taking increasingly large steps to avoid them, with many case manufacturers going so far as to completely remove them from some of their newer cases, opening room for better water cooling support or simply to make their cases cleaner and more compact. 
Corsair has just released their new 400C and 400Q, their first case without an optical drive bay, offering a more compact design, more extensive water cooling support and better airflow than an equivalent case with an optical drive bay.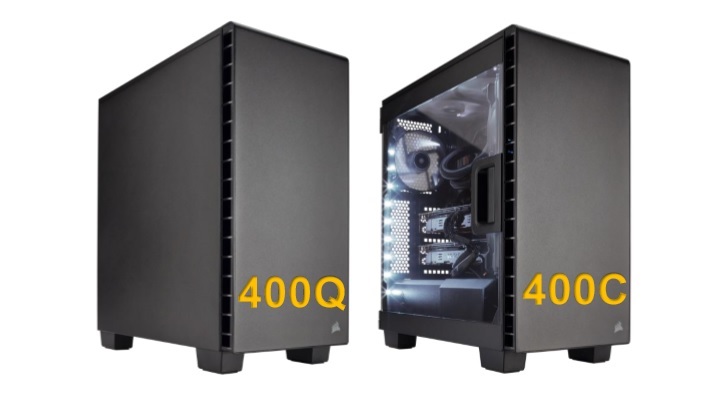 This case will be available in two flavors, Windowed and Non-Windowed, allowing users to choose between a standard, more professional looking non-windowed design and the windowed version which still has the professional feel, but has that little bit more to show off inside. 
The window design on this case is very similar to that of the Corsair 760T, using the same mechanism and design aesthetic, bringing a feature from a £145 case down to a more affordable £79.99 pricepoint and is certainly one of the best selling points of this case.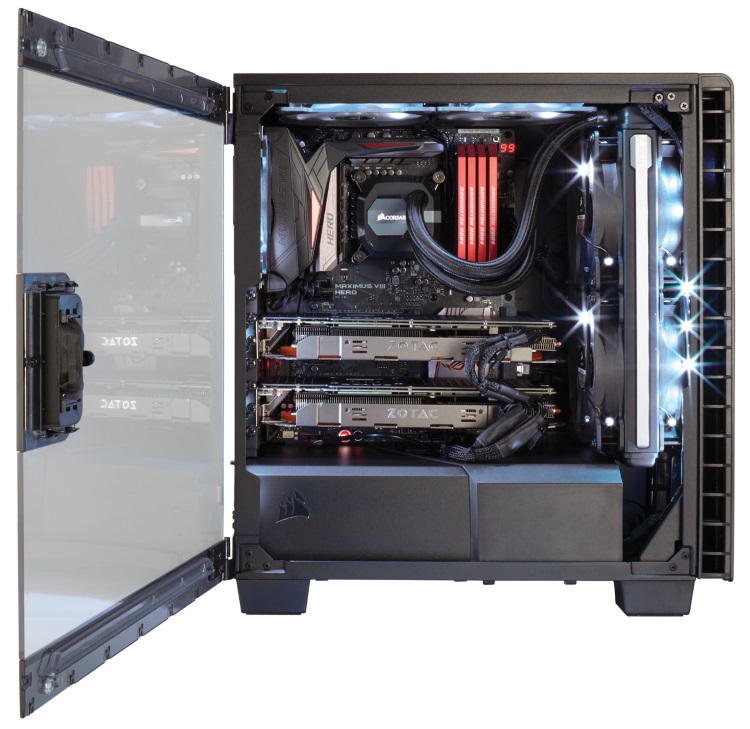 The generously sized window gives us an excellent view of the hardware inside the case, which does mean that you will need to take a lot of care when it comes to cable management, but as you can see in the picture above you will be rewarded with a great looking system if you take the time and effort to do it properly. 
One thing that Corsair has added to this case is a PSU covering shroud, which is removable and allows you to cover up the cable clutter coming from your power supply and makes the case look much nicer when viewed from outside the window.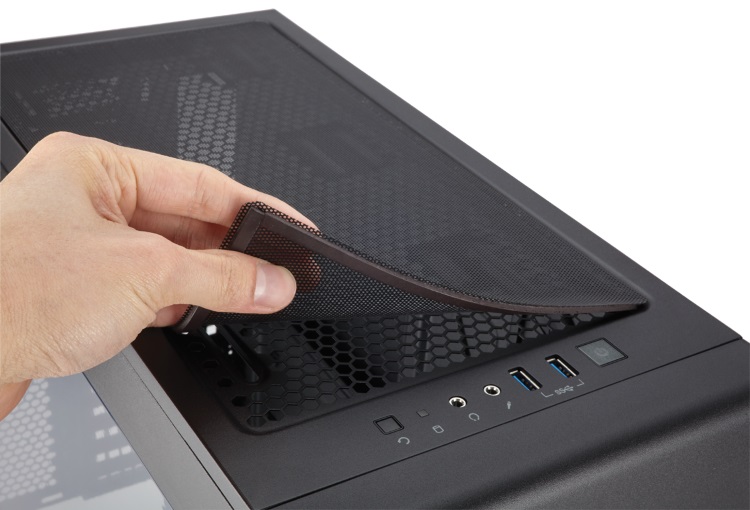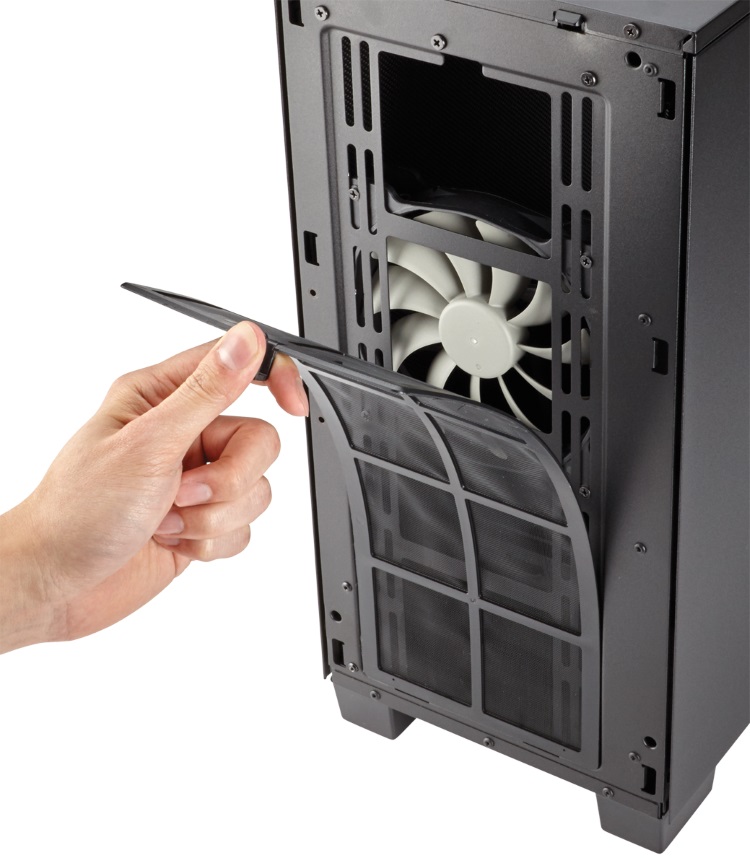 There are not many placed where dust can enter in this system, which is certainly one of the major benefits of this case using a drive-bay-less design, meaning that the two major dust entry points for the system are covered by the cases two dust filers, which are easily removable thanks to their magnetic lock.
The front cover of this case is a little hard to get off to access the front dust filer, requiring you to remove both side panels, but provided that you keep a tidy room or office you shouldn't need to clean you dust filters too often.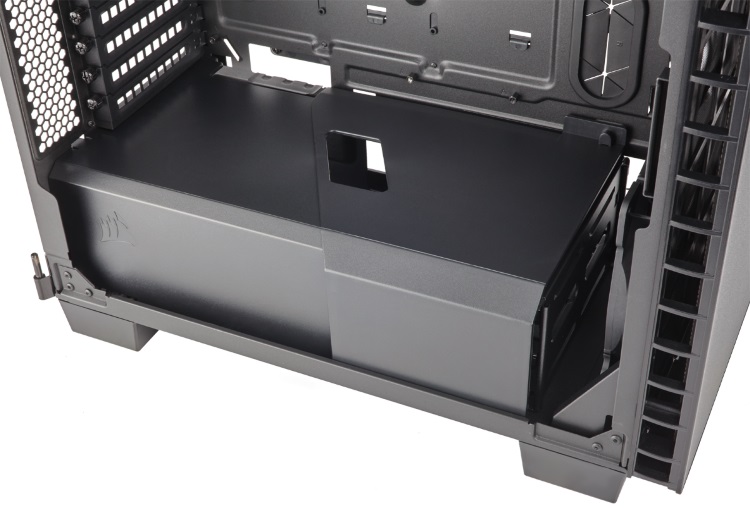 The bottom PSU cover when removed reveals two 3.5″ drive bays, which will be more than enough for the majority of users and the rear of the case has room enough for 3 2.5″ drives or SSDs, giving this case plenty of storage options. 
The 3.5″ drives are all removable from the rear and the drive bay slots themselves can be removed entirely if the user wishes, giving this case plenty of user customization options.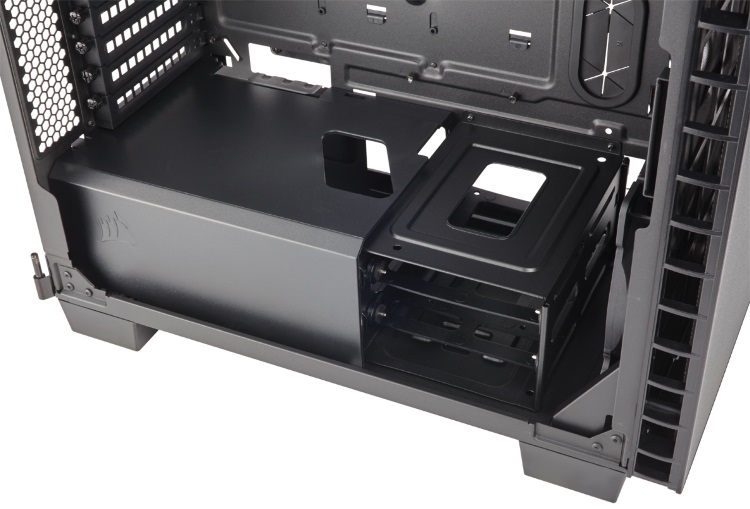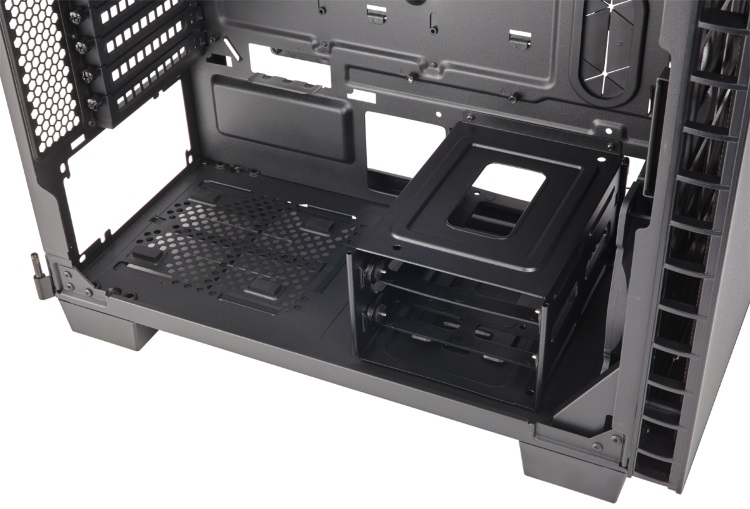 Conclusion  
When looking at this case you will either love it or hate it, though if you find the lack of drive bays to be a major fault you are really missing the point of this case entirely. The lack of drive bays on this case is something that gives this case such great support for water cooling, allowing for up to a 360mm radiator at the front, which is a rare thing to see in such a compact case and is what makes such a large window on the case viable. 
This case has a lot of similar design features to the NZXT H440 and the S340, though that is simply due to the lack of optical bays. Being priced right between these cases you would think that this new offering from Corsair would be in a very tricky position, but in all honesty it sits almost exactly in the middle in terms of features, which is exactly where it is priced.
Given some time and effort anyone who uses this case will be rewarded with a great looking PC, that is compact, clean and would simply look fantastic at a LAN event. 
While this case does have it's qwerks,  none of them are really deal-breakers, and can be easily rectified with some good cable management and taking your time when building, which is why we will be giving this case the OC3D Gold Award. As Tom has said in the video though we cant help but think this isnt quite up to Corsairs usual standards when it comes to the finer details which is an interesting mistake to make when all of the other manufacturers seem to be upping their game recently. The 400C beats the S340 based on feature set but it is still left in the shadows of the H440 when it comes down to something as basic as cable management. The 400C does have better airflow but if you make that argument your missing the point of the H(hush)440. Lets not make this a face off though or we will be here all day.
What Corsair have provided us with today is a case that provides us with everything a PC gamer really needs at a very reasonable price, offering us room enough to fit long GPUs and a large AIO watercooler in the front or top, and enough drive space for the storage needs of almost anyone in a smart looking compact chassis.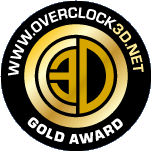 You can join the discussion on the Corsair 400C Compact ATX PC Case Review on the OC3D Forums.