Fractal Meshify 2/ Meshify 2 XL Review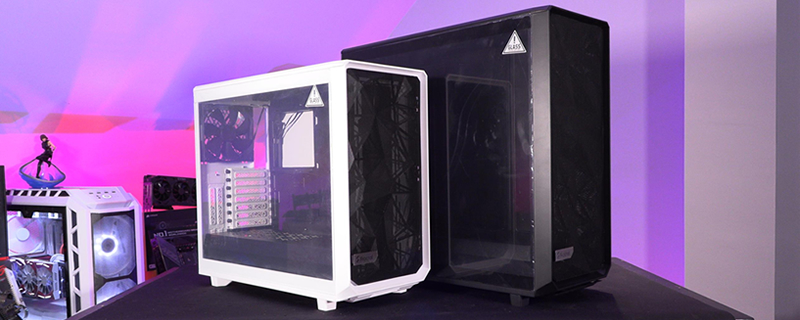 Fractal Meshify 2/ Meshify 2 XL Review
Following the success of their new Define series, Fractal has decided to remodel its Meshify lineup, offering PC builders a robust design which focuses on airflow over noise dampening. 
Meet the Fractal Meshify 2, the first major iteration for the Meshify line, offering PC builders a modernised feature set, support for a larger number of HDDs/SSDs and a new front panel design which features a less restrictive nylon filter. 
The Meshify 2 series is designed to offer PC builders more airflow and fewer restrictions, with Fractal adding a new XL model to their product line for those who plan on building larger PCs with beefier components. 
The Define 7 Redefined? 
Having reviewed PC cases for many years, we know when we see reused design elements within new enclosures. Yes, practically all cases must adhere to the same ATX standards, but we feel that it is appropriate to point out that most of Fractal Meshify 2 design are copy/pasted from the Define 7 and Define 7 XL. That said, both of those enclosures are fantastic designs, making the reuse of their design elements a good thing for the most part. 
Where the Define 7 series focused on noise dampening and support for legacy features like optical/5.25-inch drive support, the Meshify 2 focuses on airflow. This is great news for those who loved the Define 7 but would like to give their fans more breathing space.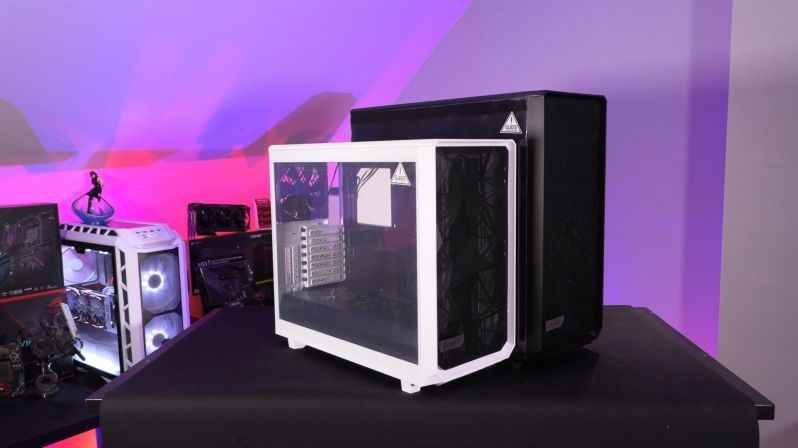 Meshify 2
When compared to the older Meshify S2, the new Meshift 2 offers users support for more 3.5/2.5-inch storage drives, supporting up to nine total drives out of the box and 18 total drives if users purchase Fractal's storage-related add-ons. 
While many of this case's specifications are similar to the Meshify S2, the Meshify 2 features a new Nylon filter to increase system airflow and supports several new cable management options. These features will make the Meshify 2 an easier case to build in and allow the enclosure to deliver more airflow to the components within. The new design of the enclosure also gives PC builders more flexibility when creating their systems.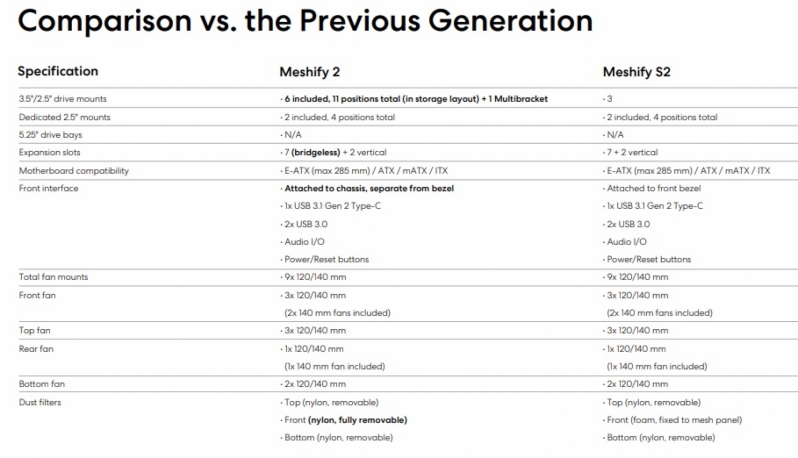 Meshify 2 XL
The Meshify 2 XL is a new addition to Fractal's Meshify line, offering users a larger enclosure design which can contain large E-ATX, EE-ATX and SSI-EEB motherboards. This chassis also supports a maximum of 23 drives with add-on accessories and 10 drives out of the box (6x 3.5-inch + 2x 2.5-inch + 2x 3.5/2.5-inch). 
This case is, for the most part, a Define 7 XL with a high airflow front panel and dropped 5.25-inch drive support.