InWin 909 Case Review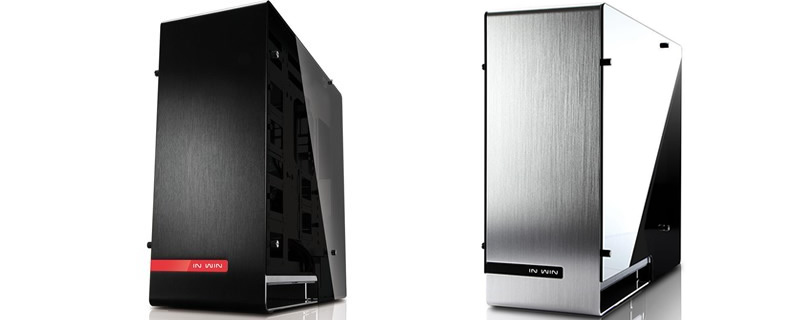 InWin 909 Case Review
InWin is well known for making solidly built premium cases, offering a very unique style and a level of quality that can only be seen with a case of this price tag. 
This case is an InWin case for the modern day, offering extensive liquid cooling support, a USB 3.1 TYPE-C port and a plate glass smoked window on each side that just oozes quality and gives this case a significant amount of weight. 
Water cooling is what this case was made for, offering support for a full size 60mm radiator at the rear with enough room to spare to even put push/pull fans into consideration, though radiator breathing room will be a little bit limited here. 
What the InWin 909 offers is a level of external cleanliness that is almost unparalleled, with all cables coming out of a single location in the rear of the case, be it your GPU cables, your keyboard/mouse or any other external connections, with the exception of your power cable at the base of the case.
To achieve this the rear IO of your motherboard becomes much harder to use, but with plenty of USB 3.0 ports and even a USB 3.1 Type-C port on the side of the case we do not see this as being that huge of a issue after you fully setup four PC.
When it comes to Storage space this Case supports 4 3.5″ drive bays and up to 6 2.5″ hard drives or SSDs, though using some of these mounting points for 2.5″ SSDs will limit some of your cable management options for your motherboard.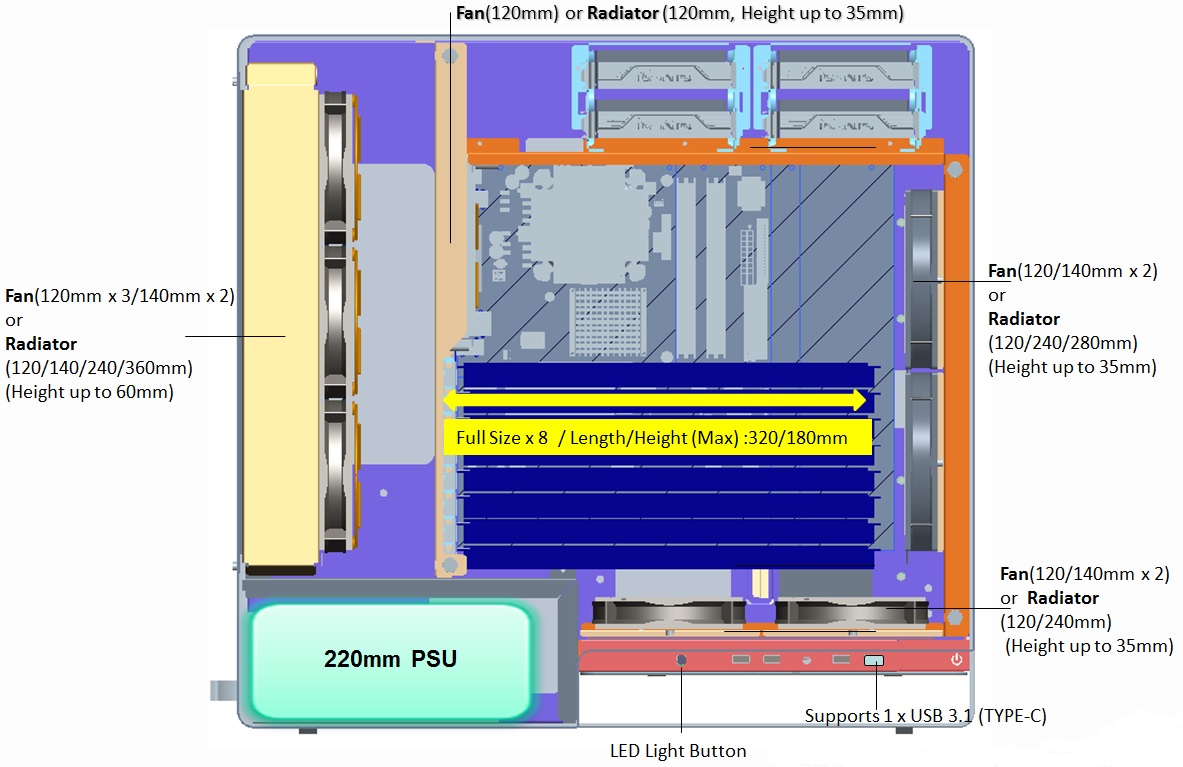 The main intake of the case is at the base, under the USB 3.1 and 3.0 connectors, which is channeled so that airflow can be accessed from the bottom and the front of the case through a single dust filtered location. This allows adequate airflow to go to all locations inside the case, while still allowing this case to have a solid Aluminium front and top.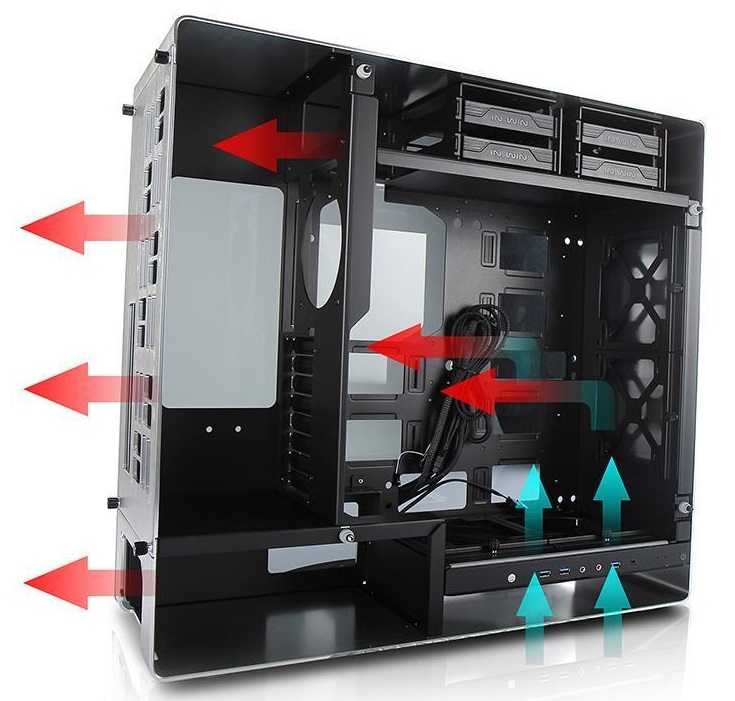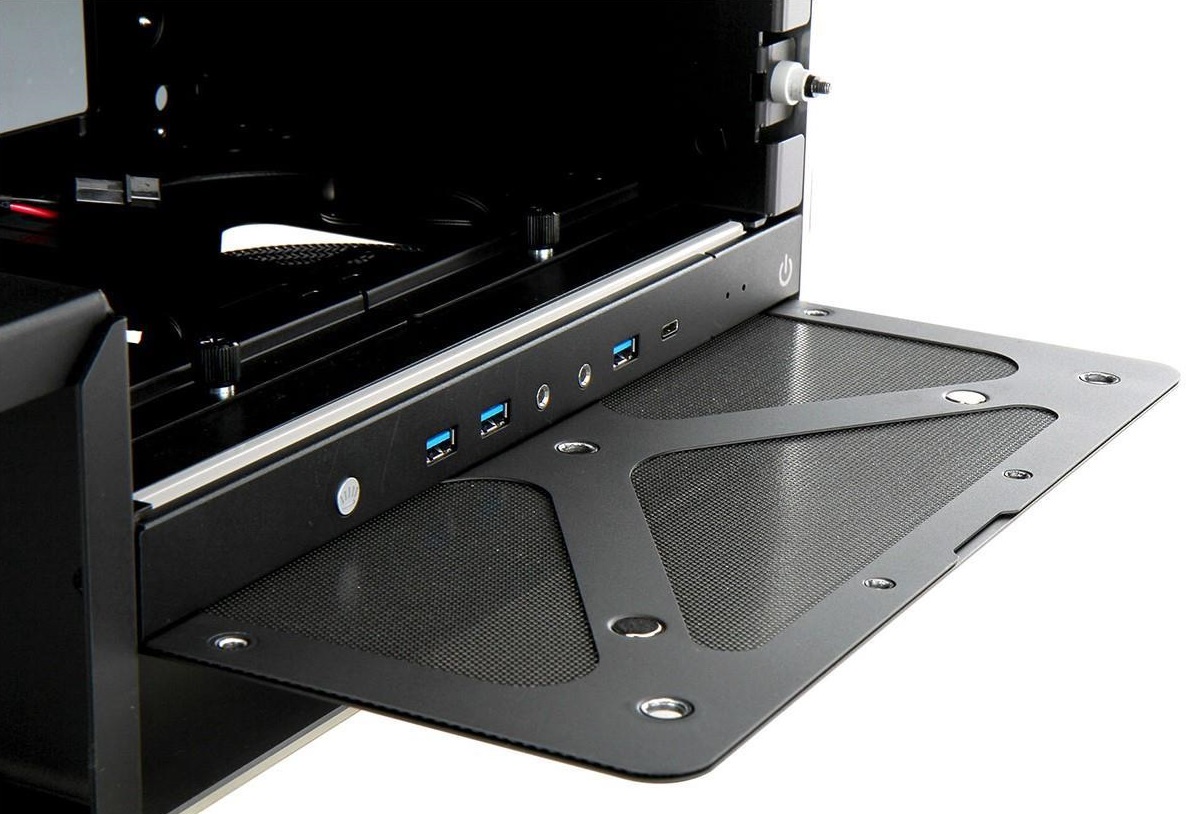 Conclusion
This is a case that is by no means perfect, but it offers the perfect canvas for you to make a system that is. We see a lot of people taking this case and creating something that is not just beautiful, but also unique. With the ability to place s full size 360mm water cooling radiator in the rear we can see the high end water coolers going nuts for this case, especially since you can mount a 240 or 280mm radiator at the front or bottom of the case (not both).
InWin are asking for a lot of money for this case, but that is what you need to pat in order to get something that is pretty much as high end as you can go. Not many cases are all aluminium, not many cases has plate glass windows and not many cases have such good water cooling potential right out of the box.
I can see great things out of this case, as even now I am imagining all the little possibilities that this case provides, none of which can be done on the cheap. This case is a premium case, but it is made for the premium PC. For those that buy this case I can see rigs which are fully water cooled with Rigid tubing, braided cables and all those little custom touches that can really make a PC your own. 
What InWin provides us is a blank canvas, an expensive canvas for sure, but one that can be used to create a true masterpiece of a PC. For these reasons and for it's innovative radiator and water cooling support we will be giving this case the OC3D Innovation  Award.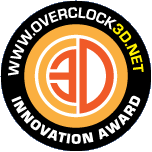 You can join the discussion on InWin's 909 Case on the OC3D Forums.