MSI MPG GUNGNIR 300R PC Case Review
Introduction – A feature-rich case for MSI fans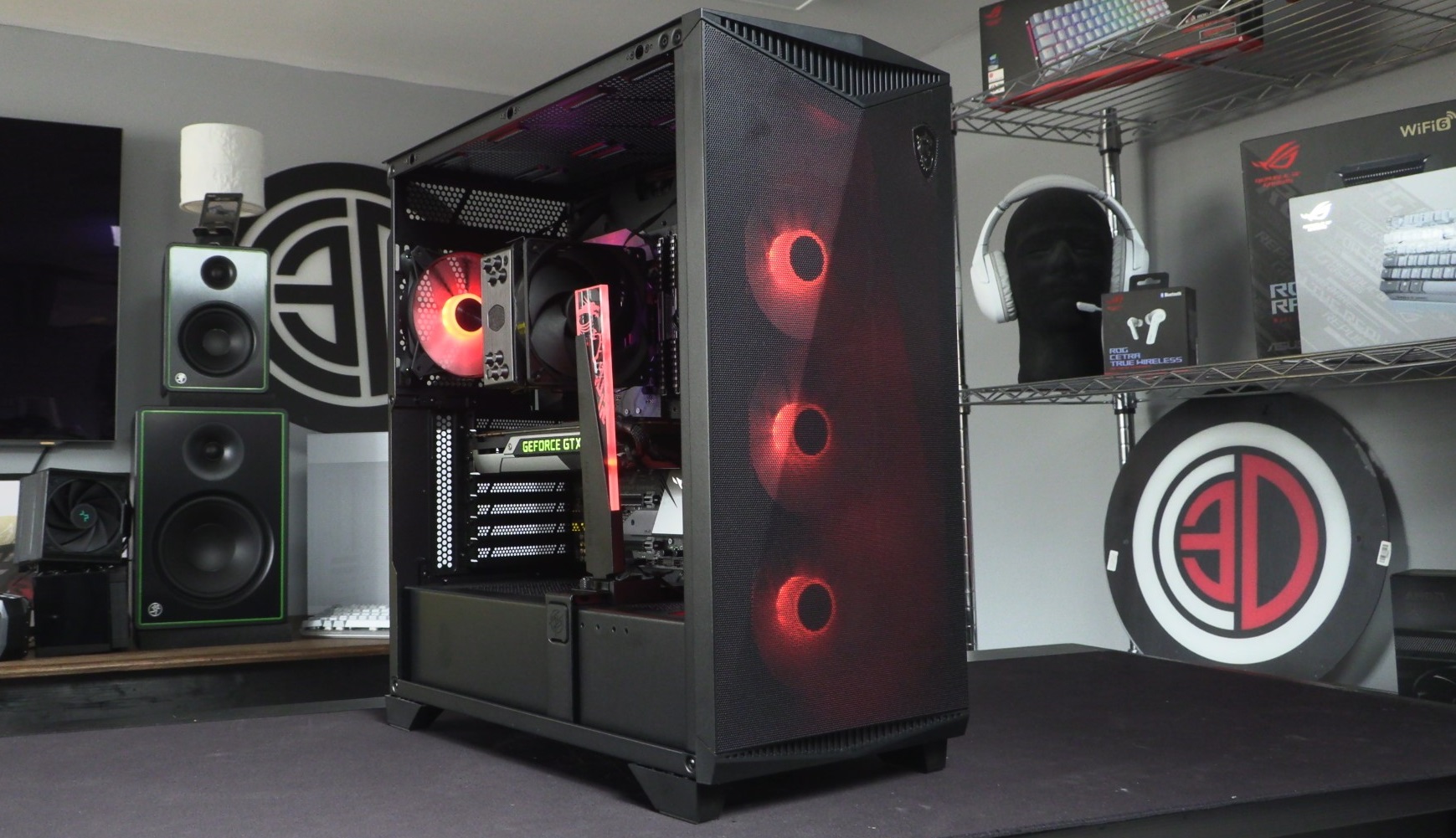 The ultimate case for MSI fans? Presenting the MPG Gungnir 300 series
Today we are reviewing the MSI MPG GUNGNIR 300R Airflow, the company's latest gaming case. As an MSI branded case, this product is designed for hardcore MSI fans, those who want as many matching components as possible. These days, you can almost build an all-MSI system. I think the only MSI component we are missing is MSI DRAM, as we already have MSI motherboards, coolers, power supplies, GPUs, SSDs, and accessories.
Why do I see this as a case for MSI fans? I don't know about you, but it feels wrong to me to put non-MSI hardware within an MSI branded case. Slapping an ASUS motherboard or a Gigabyte graphics card inside this chassis just isn't right. That said, if you don't mind mis-matched components, why not mix things up a little?
MSI's GUNGNIR 300 series features three case models. There is the standard black 300R Airflow, which we are reviewing today, the 300R's slightly more expensive white version, and the case's non-RGB 300P version, which ships with a PCIe riser cable and some extra fans for vertical GPU users. Wouldn't this case's white version look great with MSI's white RTX 4070 Ti Gaming X Trio?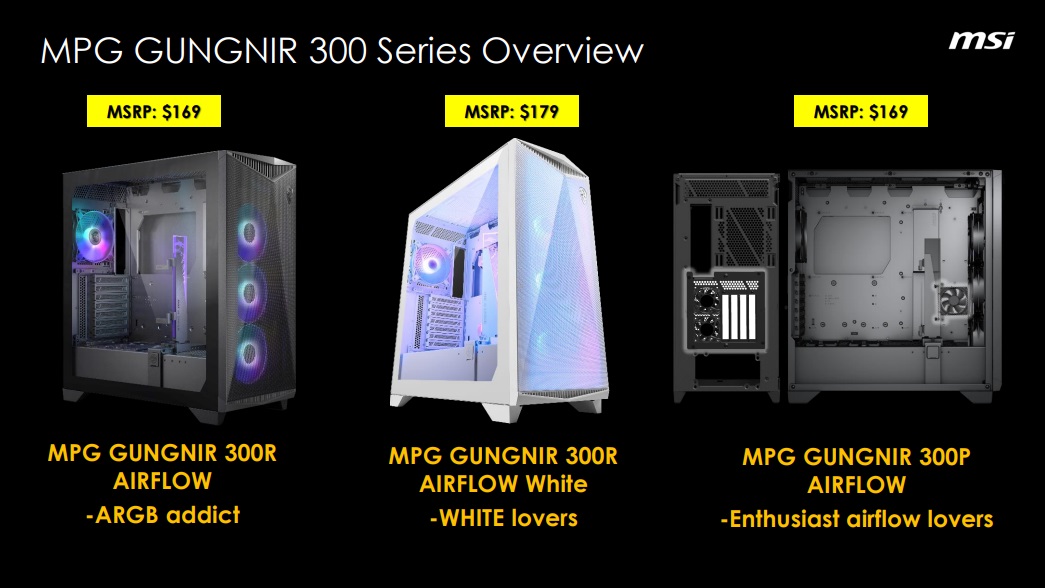 All three models of MSI's 300 Airflow series ship with a vertical GPU mounting bracket, but only the 300P ships with a riser cable out of the box. If you want to use a vertical GPU with the 300R, you will need to buy your own riser cable.
With the 300P lacing RGB fans, the case also excludes the case's RGB control hub add-on. All models of this case ship with a GPU support bracket, and an L-shaped screwdriver to help with component installation.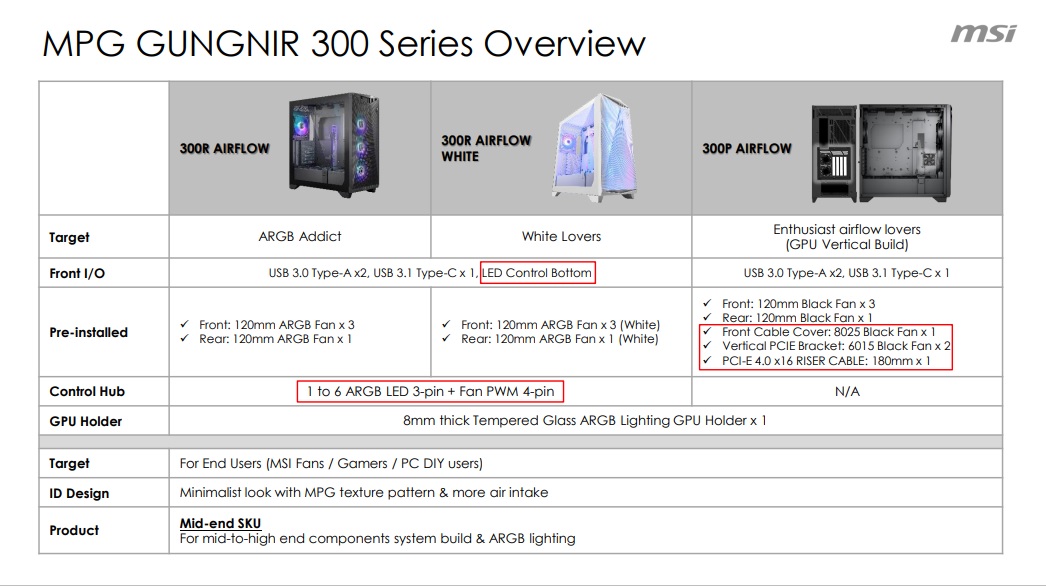 Vertical GPU mount
Both the GUNGNIR 300R and 300P ship with both standard PCIe brackets and vertical GPU brackets. MSI's vertical GPU mount supports up to 4-slot graphics cards, and their bracket has space for two 60mm fans to provide airflow around your GPU's backplate. MSI's 300P case ships with two included 60mm fans, while the 300R lacks these fans.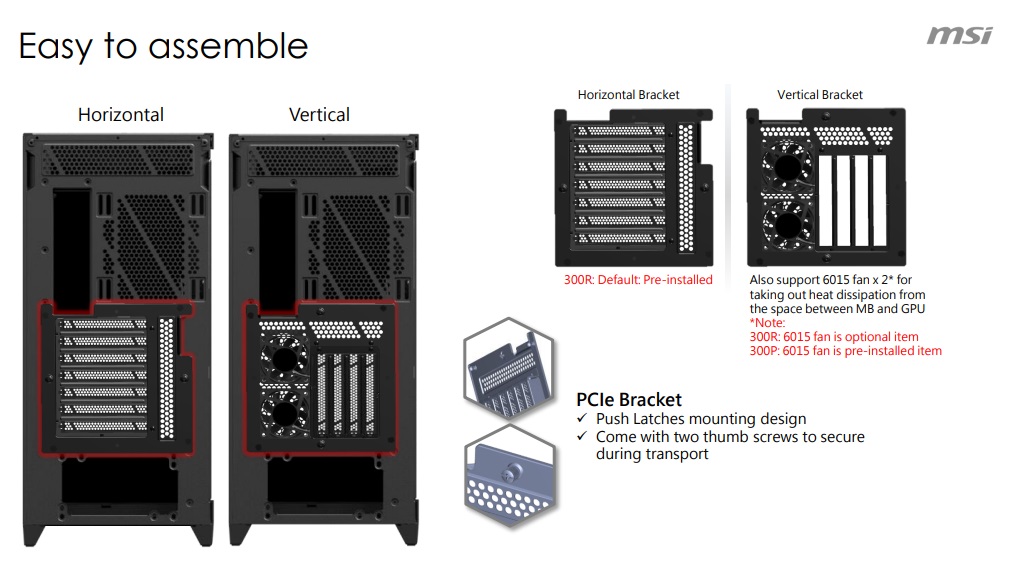 CPU Support
All of MSI's GUNGNIR 300 models ship with a GPU support bracket, which can support both the top and bottom of graphics cards. This support can be used on horizontal, or vertically mounted graphics cards. The support is also movable and feature ARGB lighting.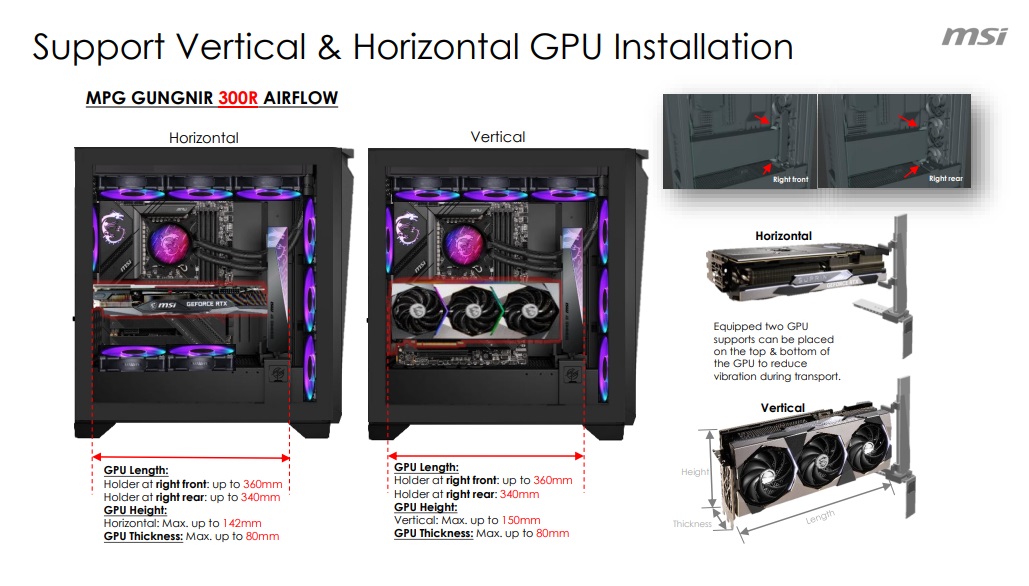 Building a new all-MSI PC? Look at this!
MSI have just launched their new MAG CoreLiquid E series of CPU liquid coolers, and we hope to test their new 360mm model soon. If you are building a new all-MSI PC with their latest hardware, you should look into this new AIO.