NZXT H2 vs Fractal Designs R3 Review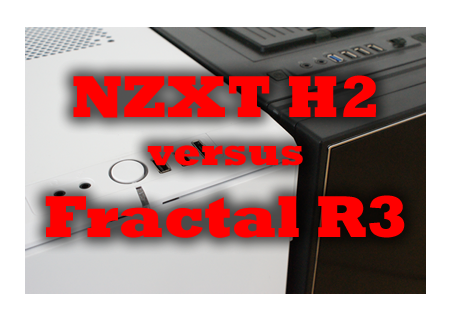 Introduction
Well well well look what we have here, the NZXT H2 gracing the front page of OC3D! This was not part of the plan originally, we did a brief video of the case over on the OC3D.tv YouTube channel and because we were not all that impressed we were going to be nice and not bother with it on the main site. After that very raw video that basically skimmed over our thoughts on how we felt NZXT had dropped a clanger with this one the response was somewhat of an eye opener. 
NZXT decided to reply by using the public forum of their Facebook page and the reassignments of advertising budgets to demonstrate their unhappiness. We take our journalistic integrity very seriously and so hopefully this will clear the matter up by showing that we don't just throw baseless comments about, but rather condense our considered opinion into a format that is readily digestible by our readers.
So a few weeks on, the dust has settled and all seems well…. Until now that is. Because we dug the H2 out of the store room and have got the case that we feel the H2 is trying to imitate the Fractal Designs R3 in for a face to face show down. With the 2 cases side by side we can really explain why we felt the NZXT H2 was a cost cutting exercise too far. This is the point where we explain exactly why we didn't like the H2 and go that step further to explain why the R3 from Fractal is actually the case you should be buying. Get the comfy chair, make that tea and have plenty of snacks on standby guys and girls because this isn't going to be a short one!

Lets first take a look at the specifications from the manufacturers websites before moving on to the video.
NZXT H2 Specs:
Manufacturer
NZXT
Model Number
H2-001-BK
Specification
 
Case Type
Mid Tower
Motherboard Support
ATX
Micro-ATX
Baby-AT
Power Supply Support
ATX
Maximum GPU Length
310mm Without HDD, 270mm With HDD
PCI Expansion Slots
7
External 5.25″ Drive Bays
3
External 3.5″ Drive Bays
N/A
Internal 3.5″ Drive Bays
8
Internal 2.5″ Drive Bays
N/A
Front I/O Panel
1 x USB 3.0
3 x USB 2.0
1 x e-SATA
1 x HD Audio/Mic
Colour
Black
Removable Motherboard Tray
No
CPU Mounting Hole in Motherboard Tray
N/A
Materials
Steel
Plastic
Dimensions
215 x 466 x 520mm

Cooling

 
Front
2 X 120mm @ 1200rpm (Included)
Rear
1 X 120mm @ 1200rpm (Included)
Top
1 x 140mm Fan (Optional)
Bottom
1 x 120mm Fan (Optional)
Side
N/A
Watercooling Support
Yes
Radiator Support
N/A

Additional Info

 
Special Features
Touch powered fans with fan filter for easy maintenance and fan swapping
Noise dampening foam and a top magnetic fan cover for minimal PC noise
8 Front facing HDDs for optimal airflow
Ample 25mm space behind motherboard for cable management
Weight
8.90KG
Warranty
24 Months
Fractal Designs R3 Specifications:
Manufacturer
Fractal Design
Model Number
Define R3 White
Specification
 
Case Type
Mid Tower
Motherboard Support
ATX
Micro-ATX
Mini-ATX
Power Supply Support
ATX
Maximum GPU Length
290 mm
PCI Slots
7
External 5.25″ Drive Bays
2
External 3.5″ Dive Bays
1 (converted from 1 x 5.25″ drive bay)
Internal 3.5″ Drive Bays
8
Internal 2.5″ Drive Bays
8 (converted from 3.5″ internal drive bays)
Front I/O Panel
2 x USB 2.0
1 x E-Sata
1 x AUdio I/O
IR Reciever
N/A
Colour
White
Materials
Steel
Cooling Front
1 x 120mm Case Fan (support for 2)
Cooling Rear
1 x 120mm Case Fan
Cooling Top
support for 2 x 120mm Fans (not supplied)
Cooling Bottom
support for 1 x 120mm Fan
Cooling Side
N/A
Watercooling Support
Yes
Dimensions (W x H x D)
207 x 440 x 521 mm
Special Features
Sound Dampened Case
White Internals
PCI Fan Controller for 3 Fans
Video Review  
Conclusion
Right then fellow enthusiasts, we hope now we have explained our thoughts about the two chassis in enough depth that at least most of you can understand why we feel the way we do. To be honest this is a big shame for NZXT because they really were on the right path with the Phantom, it was perfect but by NZXT's standards it was the best chassis they had ever produced. All of the OC3D team really did hope that the H2 was going to follow in the Phantoms footsteps and emerge an amazing chassis that you would all be falling over each other to buy or, as normally happens, win in an OC3D competition.
OC3D Competition? Yes lets not forgot that we are not here to just bash NZXT as a brand because we are big fans of the Hale90 power supplies, the MATX Vulcan chassis and of course the Phantom which we did the public release for last year at i40. So the stage has been set, we have explained all the things we have worked on with NZXT before, so hopefully you will understand that when we go over the H2's short comings when compared to the R3 there will be no childish fan boy comments!
There's so many points to cover so I will try and keep it brief. The attention to detail on the Fractal R3 for a case that costs from £75 is nothing short of amazing. The fact the foam and bitumen sound deadening is also covered with a fabric material just ads that extra bit of quality and just emphasises how cheap the H2's 99p microphone foam really feels.
This attention to details is very apparent on the roof of the R3. The hexagon stamped mesh really does look the part and all the engineers out there will sit back with me and understand that that's not the simplest or the cheapest thing to do at all. It looks the part though and really suits the case, add to this the fact the grills are blanked off from behind and those blanks also have sound deadening foam on them as well! See what we mean about the details? That's why when you look at the roof grill and dust cover on the NZXT it looks and feels so cheap and basic in comparison we almost can't believe it made the final design. The dust cover looks like something you would find on a Fisher Price toy rather than on a high quality PC chassis.
The layout of the R3 is superior not just for the fact it looks so much tidier, but also the fact that you can fit larger graphics cards and most importantly even though it comes fitted with one less fan in the front it still performs a significan't amount better thermally as well. Both the CPU and GPU temperatures were cooler in the Fractal. This is mainly down to the fact that the front door on the NZXT is practically suffocating the air flow, insufficient airflow just means you end up with a box that will just get warmer and warmer. To make matters worse what little air that gets in then has to fight its way past the cables front your hard drives which are right in the main compartment of the case.
We have to admit we do like the hot swap fans in the front of the NZXT, that is a very nice touch. We can't help feeling though that it would have been nicer to have had hot swap hard drives too just to make that whole switch out experience much better. It does feel like somewhat of an oversight when that's the only reason we can see that the hard drives in that orientation would actually make sense, they could have even saved some space for graphics cards that way as well.
The long and short of it is the price, they are now pretty much the same money, but after all the points raised here today would you honestly choose the NZXT over the Fractal? We know we would not and we would honestly advise you not too as well. The Fractal R3 is the more superior of the two in every possible way. it's because of this clear gap between the two on every level that we are happy to award the Fractal R3 the coveted OC3D Gold award. We also felt that the R3 deserved a higher score for the price because of the must higher quality it delivers for the same price.
NZXT H2
Fractal Designs R3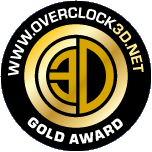 Thanks to the guys at QuietPC for supplying the Fractal case we used in comparison here today. Discuss in the OC3D forums.