Phanteks PH-TC14PE Review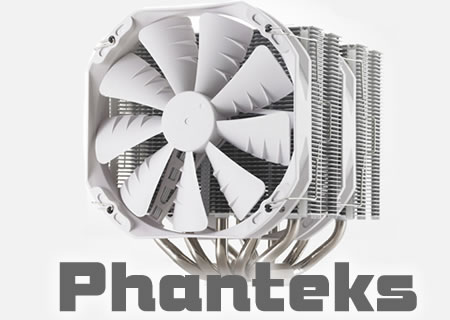 Introduction
There has been a lot of chatter on the web over the past few weeks about a new company called Phanteks, lots of rumours about the new cooler they have released being a contender for the best cooler crown have been getting thrown around but we obviously needed to give it the OC3D heat sink torture treatment before we were willing to make any statements!
Anyway, this is what Phanteks have to say about themselves:
Phanteks, is a company with more than 20 years international experience in providing thermal solutions. From specialists in providing thermal solutions we have now expanded to a company offering multiple product solutions.

With our thorough technical skills and marketing expertise, we fully optimize the products with thermal possibilities and capabilities. We have always been able to achieve the maximum due to our passion in finding and discovering new technical developments. Phanteks design team which has a base in Europe situated in Holland, consists of creative researchers, designers and developers have always been successful in spotting the exact needs of gamers. This results in our quality products.

Our expertise means no job is impossible, and that every customer is given a professional and personal service that is rare in today's marketplace. We meet our customers expectations with superior products, customer service and industry knowledge.
Specifications

---
---
---
| | |
| --- | --- |
| Compatibility | Intel Socket LGA1155,1156, LGA 1366, LGA775 and AMD AM2/2+/AM3 (stock backplate required) |
---
---
Material
.Copper ( Base and 5 x ψ8mm Heat-pipes), Nickel Plated.
.Alum. ( cooling Fins / Top Cover) with Patented P.A.T.S (Physical Anti-Oxidant Thermal Shield) to increase cooling performance.
.Patented C.P.S.C Technology (Cold Plasma Spraying Coating Technology) to enhance thermal conductivity.
---
| | |
| --- | --- |
| Fan Model | PH-F140 Premium Fan. |
---
| | |
| --- | --- |
| Fan Size | 140x140x25 , Dual Fans includes. |
---
| | |
| --- | --- |
| Fan Compatibility | 140x140x25mm x 3 pcs, (120 x 120 x25mm x 3 pcs).    (Third fan clips and accessory included). |
---
| | |
| --- | --- |
| Bearing Type | UFB bearing (Updraft Floating Balance bearing) |
---
| | |
| --- | --- |
| Blade Geometry | 9 White colored Blades with MVB (Maelström Vortex Booster) Design |
---
---
| | |
| --- | --- |
| RPM with Q.S.A | 900 RPM ± 10% |
---
---
| | |
| --- | --- |
| Max Air Flow with QSA | 60.1 CFM |
---
---
| | |
| --- | --- |
| Max Air Pressure with QSA | 0.69 mm H2O |
---
---
| | |
| --- | --- |
| Acoustical Noise with Q.S.A | 15.2 dBA |
---
---
---
---
---
| | |
| --- | --- |
| Heatsink Dimension (LxWxH) without fan | 134*140*160mm |
---
| | |
| --- | --- |
| Heatsink Dimension (LxWxH) with Dual Fans | 159*140*171mm |
---
| | |
| --- | --- |
| Heatsink Weight without fan | 970g |
---
| | |
| --- | --- |
| Heatsink Weight with fan | 1100/1250g (single/Dual) Fan |
---
| | |
| --- | --- |
| Package Dimension | 167x214x190mm(LxWxH) |
---
Scope of Delivery
.1x PH-TC14PE Heatsink
.2x PH-F140 Premium fan, (Maelström Air Fort Optimization drive)
.PH-F140 Fan accessory
.6 x rubber bar, 12x fan clip adaptor, 6x fan wire clip, 16x rubber pad
.1x Quiet- Speed- Adaptor. (Q.S.A.)
.SoliSku mounting kits for Intel LGA 1155/1156/1366/775 and AMD AM2/AM2+/AM3 (stock backplate required).
.1x Y Fan Splitter
.1x PH-NDC Thermal Compound
.Phanteks PH-TC14PE User's manual.
---
Test Setup
Gigabyte UD3R V2
Intel i7 950 @ 4GHz 1.25v
Mushkin Radioactive 2000MHz
HIS 6850
Corsair Carbide 400R
Corsair AX750w
Testing
For the first test we set our i7-950 overclocked to 200×20 @ 1.25v for a clock speed of 4.0GHz. We allow the system to idle for 10 minutes and then run Prime95 'maximum heat maximum stress' setting for a further 30 minutes.
After 30 minutes we note the temperatures of all cores and the ambient temperature of the room. An average of all cores is taken, then the ambient temperature is removed from this figure and this gives us the delta temperature. Delta is the temperature difference above ambient which is a truer reflection of the heat-sink performance rather than mere maximum figures. Testing in an Igloo or the Sahara would give vastly different maximum temperatures, yet the Delta could be the same.
The second test follows all steps from above but with a 200×21 @ 1.35v for 4.2GHz overclock, the extra voltage in this test allows us to see if the heat-sink can cope when extreme loads and overclocks are applied. 
The last test is at 4.4GHz, 200×22 @ 1.45v and is an extreme test that only extreme coolers will ever pass. Any cooler in this graph is a one of the elite few that has the cooling ability to dissipate the heat created during this grueling test.
Video Review
Conclusion
Right so I've got money on you all being here to see if we have a new king of cooling, well the answer is basically… No not in our testing. The Phanteks only really pulled ahead in the most extreme of tests. In the tests that load the cooler in the way 99% of you will be in your own rigs the Phanteks was actually a few degree's behind the big two. Even when a few degree's behind the big 2 the results were still brilliant and up there with the best of the best dedicated air coolers.
The mount is a 2 stage affair much like the SA and D14, however I cant help but think this one felt cheap, and I'm certain with the regular abuse we put our D14 through that the Phanteks screw heads would fail on the centre bracket at least. The amount we fit and remove our cooler is what can only be described as an extreme level of use so for an average user that is careful and uses the right sized screw driver the Phanteks should be fine.
When it comes to noise levels with the fans at 12v it is very quiet, but all of the OC3D team agree it is louder than both the of the big two. With the low voltage fan adapter in place its the same story, quieter than 12v but still louder than the big two.
The case and RAM compatibility gets very complicated because both fans included are 140mm, the fan over the RAM with the Mushkin RAM we used in our tests should fit most cases because it is relatively low profile, but if we had used Corsair Dominators even with the tops removed the fan would stop the door being able to be fitted on most normal sized cases with a 120mm rear exhaust. Basically keep the RAM small (Vengeance LP, RipjawsX, Radioactive, Ridgeback) then you should be fine, use any larger RAM and you'll either need a bigger case, or a new heat sink entirely because you only have a maximum room of 50mm before it wont fit under the cooler fins in the first place.
The price is higher than the others as well, the cheapest white version is set to hit the stores around the £70 mark with the coloured (blue, red and gold) versions more likely to be £75 – £80.
The Phanteks ace card is obviously the aesthetics, the cooler is a very good looking unit and available in 4 colours with matching fans. How long have we been saying we needed a heat sink that performed well but also looked amazing. BeQuiet came close but the performance was lackluster and the mount was shocking. The Phanteks has come within a whisker of the big 2 but yet has done so with an amazingly sexy looking cooler that's available in 4 colours. Bam head shot!
So it's a few degrees behind on the tests that matter, costs a few quid more and is a smidgen louder if you want to be picky about it. But I'd put large sums of money on the fact this will fall of the shelves at the shops because mainly of the fact there is a cooler that will match most rigs, if they bring a black version out they'll have every base covered.
Thank you Phanteks for bringing aesthetics to CPU cooler design, on this basis and the fact that its joined the very limited 4.4GHz club and the mount really is very good we could not give it anything less than the coveted OC3D Gold Award.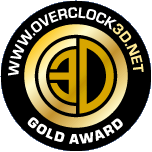 Thanks to Phanteks for the cooler on test today, you can discuss your thoughts in the OC3D forums.