Scythe Kama Thermo (Wireless)
Introduction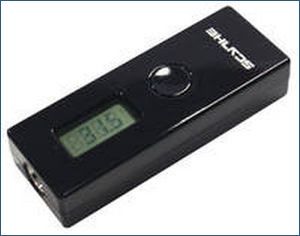 Not so long ago we were asked by Scythe to review their
Kama Thermo
digital thermometer, and it performed more than admirably by earning itself a 'Recommended' award for its accuracy and very attractive price. This time around the Scythe Kama Thermo has received an update in form as well as by name.
The
Scythe Kama Thermo (Wireless)
boasts features such as portability, a 2-way power source and non-contact temperature measuring method (wireless). The older Kama Thermo used a thermal probe to measure temperatures; the new wireless version dumps the probe in favour of an infra-red sensor.
So without further ado let's take a look at the Scythe Kama Thermo (Wireless) specifications.
Specifications
The specifications were taken directly from Scythe's Kama Thermo (Wireless) product page:
Model Name:
Kama Thermo Wireless
Model #:
SCKTW – 1000WH (White)
SCKTW – 1000BK (Black)
Manufacturer:
Scythe Co., Ltd. Japan
Dimension:
29.5 x 80.0 x 16 mm (W x H x D)

Temperature Unit:
Celsius / Fahrenheit
Temperature Range:
0~100C / 32~212F
Usage Ambient Temperature:
-10C~50C / 14 ~122F
Response Time:
1 Second
Measurement Accuracy:
+/- 2C
Measurement of Vision Range:
10 / 100mm(D:S=1:1)
Emittance:
0.95
Power:
Button Lithium Battery CR2302 x 1 or USB
Storage Temperature:
-20C~+65C
Weight:
35g (Incl. Battery)
I see that the Scythe Kame Thermo (Wireless) is now available in black as well as white – this may make the unit a little more appealing for those with a penchant for all things dark.
Let's head over the page to see the Kama Thermo (Wireless) in a little more detail.