ThermoLab Trinity Review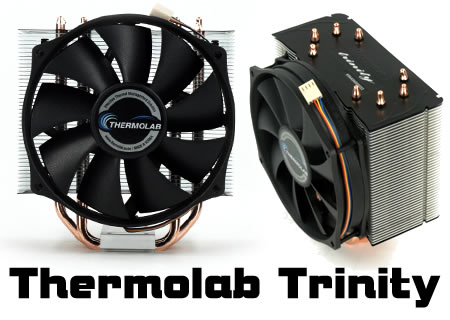 Â
Introduction
——————————-

EDIT 04/03/2011 When this review was first published one of our main concerns was the Trinity's pricing, £5 either way would have swung our views quite considerably about the coolers value. We have finally received some news on the coolers UK pricing though thanks to the guys at www.quietpc.com – go down to the conclusion for more information.

——————————-
This one is easy but hard… Yeah great start Tom. This is my first time testing any of ThermoLab's products both professionally or back in the days of me wearing 'L' plates. The difficult part arises when the information about ThermoLab as a company is very limited on their own website. All I can really tell you is they have released several CPU coolers over the years and the Trinity is the latest and is aimed at a compact, quiet, yet well performing cooler with a custom designed 130mm fan.
We were sent the Trinity as an early sample from the guys over at Quiet PC because they wanted it to be put through the OC3D heat sink torture testing! I know you really don't give a monkeys anyways so lets just move on to the specifications!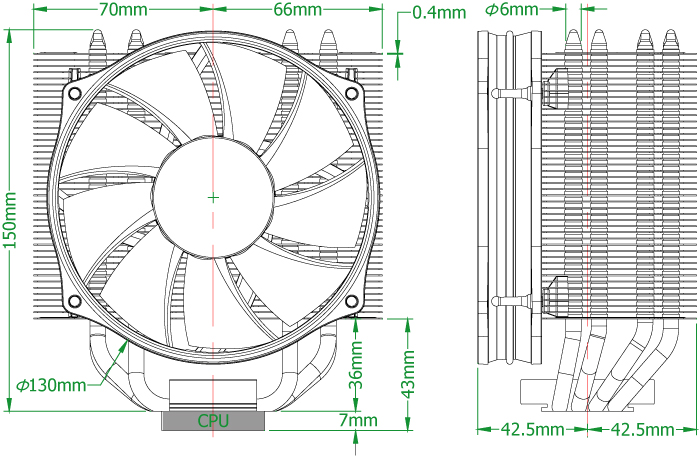 Â
Â
Product Name
TRINITY
Dimension
150 × 136 × 85mm (H x W x L)
Weight
735g
Material
Pure Copper and Pure Aluminum
Heat Pipes
Four 6mm diameter copper Heat Pipes(Sintered powder type)
Dissipation Area
7,050 cm²
Thermal Grease
Color : Gray / Thermal Conductivity : 4.0W/mK / Specific Gravity : 2.6 / Operating Temperature : 0~150℃ / Capacity : 2g
Fan Dimension
130 x 130 x 25mm, 4-pin PWM type
Fan Bearing Type
Long Life Hypro Bearing
Fan Speed (PWM Duty)
600 – 1,800rpm ± 10% (0-100%) / Performance Mode
600 – 1,200rpm ± 10% (0-100%) / Silent Mode : +SC3
Fan Noise Level(1)
16-32 dBA / Performance Mode
16-24 dBA / Silent Mode : +SC3
Â
Â
Test Setup
Gigabyte UD3R V2
Intel i7 950
Mushkin Radioactive 2000MHz
Cooler Master 690 II Advanced White Edition
Mushkin 650W PSU
Testing
For the first test we set our i7-950 overclocked to 200×20 @ 1.25v for a clock speed of 4.0GHz. We allow the system to idle for 10 minutes and then run Prime95 'maximum heat maximum stress' setting for a further 30 minutes.
After 30 minutes we note the temperatures of all cores and the ambient temperature of the room. An average of all cores is taken, then the ambient temperature is removed from this figure and this gives us the delta temperature. Delta is the temperature difference above ambient which is a truer reflection of the heat-sink performance rather than mere maximum figures. Testing in an Igloo or the Sahara would give vastly different maximum temperatures, yet the Delta could be the same.
We would normally at this point test at 4.2GHz but within minutes of starting the tests even with the fan on 12v the temperature on two cores had exceeded 90c so I decided to abort the test as we had obviously reached the limits of the cooler.
Â
Video
Conclusion
The Trinity is a surprisingly small cooler and shouldn't cause any ram, motherboard, heatsink or case issues on pretty much anything that has a 120mm exhaust fan. Considering its size it performs very well. Normally at this point I would harp on about the fact that due to its small size it needed an industrial leaf blower to keep the temperatures down. I did say normally because not this time. Even with its compact size and quiet fan it still managed to perform very well in our 4GHz testing. 4.2GHz @ 1.35v was a step to far for this cooler sadly so its definitely not designed for serious overclockers.
At the time of testing we had no official idea on price, but comparing it to other Thermolab coolers available at Quiet PC we would hope that it comes in around £35 to £40. Saying that if this did come in at £34.99 when QPC do finally get stock this would be an absolute cracker, for a stock or reasonably (1.25v max) clocked 1366 system or because of the lower heat output on 1155 chips we would bet that this would probably keep any sandy system up to 1.4v perfectly happy and in the low 70c's at very worst.
The long and short of it is if the price is right, for its size and how quiet it is this would come with a heavy OC3DÂ Silver Award endorsement with the only draw back being the mounting which if it was better would have meant it got an easy gold. Its really down to how the price looks when Quiet PC finally get stock.
——————————-
Edit 04/05/2011 – I have just heard from QuietPC about the price for this cooler, but let me recap some of the points I mentioned above originally. We were hoping for a £35 to £40 RRP, with a rough price of £34.99 we said it would be a solid Silver award. The good news is the cooler is now available in the UK for an amazing £29.99! Because of the mount I cant let this slip through with a gold award, but its definatelly getting a 10/10 for price so we have decided to give it the VFM award aswell.
Its also worth noting that the boys at QuietPC could have easily just listed this at £34.99 and they still would have got their silver award, the fact they drove the price down even further really does deserve a tip of the cap in respect.
Thanks to Quiet PC for the sample on test today, you can discuss the results in our forums.