XIREX Stealth Waterblock
Introduction
The rombus Group is a little known, but expanding IT company based in Büren, Germany. For more than 10 years now rombus has manufactured server-, notebook-, PC-systems and home entertainment products. Xirex, a subsidiary company of the rombus Group specialises in providing effective cooling hardware for today's high-end hardware. Let's hear a little of what Xirex has to say about themselves:
XIREX Liquidcooling department is committed in designing and manufacturing the best quality liquid cooling products, addressing a new market segment which is rapidly growing and is demanding products with high cooling performance, noise reduction and easiness of use/installation. XIREX Liquid cooling is all this, and much more.
XIREX Liquidcooling is constantly developing new solutions for the newest high end gaming and professional video cards, being the first to have developed a full liquid cooling system exclusively dedicated to high end professional graphic workstations, capable to deliver exceptional cooling performance, extreme low noise operation and outstanding quality and security for the hardware..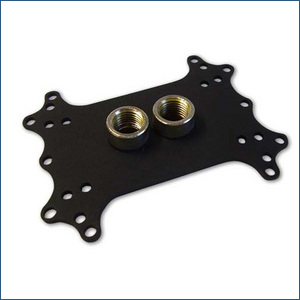 Today I have been fortunate enough to have been given the opportunity to review the
Xirex Stealth Waterblock
, which is an universal full copper wateblock for Intel Sockets 775, 771 and AMD Sockets 939, 940, AM2. Based on "flat cooler" technology, the Stealth promises exceptional performance at a very low price, compared to the competition.
Let's begin the review by taking a look at the Xirex Stealth's specifications…
Specifications
Materials: completely made in electrolytic copper
Installation method: installation screws + nuts + washers + springs
Compatibility: INTEL (Sockets 775, 771, 478) and AMD (Sockets 939, 940, AM2)
Connectors: 2x G1/4″ threaded holes (fittings not included)
Nothing out of the ordinary here so let's take a closer look at the review specimen on the following page…