Zalman CNPS 9900 Max Video Review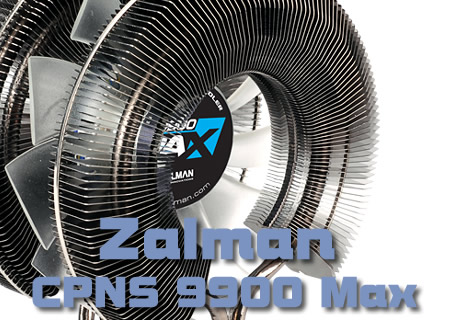 Introduction
Zalman is a name we have all heard of whether your first thought is the Reserator passive water cooling tower, their fans or even there ever growing range of heat sinks really depends on your own personal experiences with their products. The single factor that unites all products across the range is Zalman's self confessed obsession with "noiseless computing" and "silent cooling products".
Lets take a look at the specifications for the cooler on test today.
| | |
| --- | --- |
| Compatibility | Intel LGA1366, LGA1155/6, LGA775 and AMD AM3, AM2+ and AM2 |
| Cooling Capacity | Compatibility300W |
| Dimensions | 94(L) x 131(W) x 152(H)mm |
| Weight | 755g |
| Materials | Pure Copper/Black-Pearl Nickel Plated |
| Dissipation Area | 5,402 cm2 |
| Fan Bearing | Long life bearing |
| Fan RPM RC7P Connected | 900 – 1500 RPM ±10% |
| Fan RPM RC7P Not Connected | 900 – 1700 RPM ±10% |
| Fan Noise RC7P Connected | 18 – 27 dBA ±10% |
| Fan Noise RC7P Not Connected | 18 – 30 dBA ±10% |
| Accessories | RC79 PWM Resistor and ZM-STG2 thermal compound |
| Warranty | 24 months |
A main feature on the 9900 is "Composite Heat pipes" the image below will better explain what this is but Zalman claim up to 50% better heat transfer than traditional heat pipes. We are looking forward to seeing how this turns out in our testing.


Test Setup
Gigabyte UD3R V2
Intel i7 950
Mushkin Radioactive 2000MHz
Cooler Master 690 II Advanced White Eddition
Mushkin 650W PSU
Testing
For the first test we set our i7-950 overclocked to 200×20 @ 1.25v for a clock speed of 4.0GHz. We allow the system to idle for 10 minutes and then run Prime95 'maximum heat maximum stress' setting for a further 30 minutes.
After 30 minutes we note the temperatures of all cores and the ambient temperature of the room. An average of all cores is taken, then the ambient temperature is removed from this figure and this gives us the delta temperature. Delta is the temperature difference above ambient which is a truer reflection of the heat-sink performance rather than mere maximum figures. Testing in an Igloo or the Sahara would give vastly different maximum temperatures, yet the Delta could be the same.
Sadly the cooler was not capable to withstand our testing at 4.2GHz @ 1.35v, lets move on to the video for a detailed look and explanation of our thoughts on the cooler.
Conclusion
The video was lengthy enough to cover pretty much every point of the cooler, but we will just cover the main points here quickly. A major plus point of this cooler is you will not have any issues what so ever with ram height compatibility, this is a major sticking point on many coolers but not with the 9900 Max. Performance at 4GHz was acceptable but we can not help feeling that for the £49 asking price when purchasing this cooler is a little steep for a 55c Delta, it would be much more desirable at £35 to £40.
Yes this section does require its own paragraph! As stated in the introduction Zalman prides itself of "noiseless computing" but sadly the 9900 Max really doesn't deserve the CNPS affiliation as unlike the earlier coolers this one isnt quiet at all. Don't get us wrong this isn't as deafening as the Thermaltake Frio but its far from quiet either. It could easily be drowned out with some headphones but there are a great number of us that use our PC's for more than gaming and when compared to some other coolers on the market we would suggest the noise performance of this cooler was borderline acceptable rather than being awarded the word silent. 
Thanks to Quiet PC for the sample on test today, you can discuss your thoughts in the forums.