Gigabyte X58A UD3R V2 Review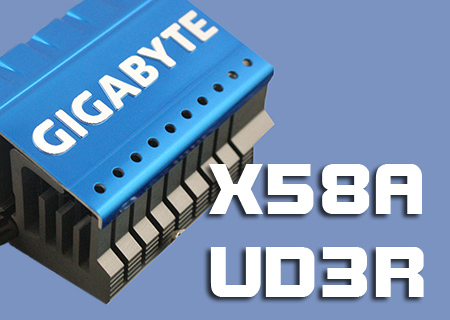 Introduction
When Gigabyte first released their batch of X58 motherboards it contained three models representing the value, mid-range and high-end markets. They were the UD3, UD5 and UD7 respectively.
The main differences between each model were the "extras" that you got with each one. Although the UD3 did have a reduced amount of power phases compared to its two bigger brothers.
Power-phases have two main uses. Firstly to ensure that the power delivery is smooth and stable from idle through to heavy loading. The second, and to us almost more important, aspect is that the ability of a motherboard to supply plenty of amps and retain stable voltage is key to overclocking.

Sadly the original UD3 was quickly found wanting in this department and so the budget overclockers moved on to other boards with more potential. Having honed their skills on the UD9 and various P55 platforms Gigabyte are back to bring the UD3 up to the standards it should have been from the start, by giving it the increased power phases that the overclocking community demands.
Technical Specifications
With the main change being those power phases, here is the list of specifications. As you can see the UD3R is compatible with the "333" technologies and 32nm Intel Hexcore processors.
CPU

Support for an Intel® Core™ i7 series processor in the LGA1366 package
(Go to GIGABYTE's website for the latest CPU support list.)
L3 cache varies with CPU

QPI

4.8GT/s, 6.4GT/s

Chipset

North Bridge: Intel® X58 Express Chipset
South Bridge: Intel® ICH10R

Memory

6 x 1.5V DDR3 DIMM sockets supporting up to 24 GB of system memory(Note 1)
Dual/3 channel memory architecture
Support for DDR3 2200/1333/1066/800 MHz memory modules
Support for non-ECC memory modules
Support for Extreme Memory Profile (XMP) memory modules

(Go to GIGABYTE's website for the latest memory support list.)

Audio

Realtek ALC889 codec
High Definition Audio
2/4/5.1/7.1-channel
Support for Dolby® Home Theater
Support for S/PDIF In/Out
Support for CD In

LAN

1 x Realtek RTL8111E chip (10/100/1000 Mbit)

Expansion Slots

2 x PCI Express x16 slots, running at x16 (PCIEX16_1/PCIEX16_2) (Note 2)
2 x PCI Express x16 slot, running at x8 (PCIEX8_1/PCIEX8_2) (Note 3) (The PCIEX16_1, PCIEX16_2, PCIEX8_1 and PCIEX8_2 slots conform to PCI Express 2.0 standard.)
2 x PCI Express x1 slots
1 x PCI slot

Multi-Graphics Technology

Support for 2-Way/3-Way ATI CrossFireX™/NVIDIA SLI technology

Storage Interface
South Bridge:

6 x SATA 3Gb/s connectors (SATA2_0, SATA2_1, SATA2_2, SATA2_3, SATA2_4, SATA2_5) supporting up to 6 SATA 3Gb/s devices
Support for SATA RAID 0, RAID 1, RAID 5, and RAID 10

Marvell 9128 chip:

2 x SATA 6Gb/s connectors (GSATA3_6, GSATA3_7) supporting up to 2 SATA 6Gb/s devices
Support for SATA RAID 0, and RAID 1

* SATA3 RAID 0 4x and SATA3 2x performance are maximum theoretical values. Actual performance may vary by system configuration.
* SATA3 SSDs are not recommended for use in RAID 0 mode on Marvell SE9128 ports.

GIGABYTE SATA2 chip:

1 x IDE connector supporting ATA-133/100/66/33 and up to 2 IDE devices
2 x SATA 3Gb/s connectors (GSATA2_8, GSATA2_9) supporting up to 2 SATA 3Gb/s devices
Support for SATA RAID 0, RAID 1, and JBOD

JMicron JMB362 chip:

2 x eSATA 3Gb/s connectors (eSATA/USB Combo) on the back panel sup- porting up to 2 SATA 3Gb/s devices
Support for SATA RAID 0, RAID 1, and JBOD

iTE IT8720 chip:

1 x floppy disk drive connector supporting up to 1 floppy disk drive

USB
Integrated in the South Bridge

Up to 10 USB 2.0/1.1 ports (6 on the back panel, including 2 eSATA/USB Combo, 4 via the USB brackets connected to the internal USB headers)

NEC chip:

Up to 2 USB 3.0/2.0 ports on the back panel

* USB 3.0 10x performance is a maximum theoretical value. Actual performance may vary by system configuration.

IEEE 1394

T.I. TSB43AB23 chip
Up to 3 IEEE 1394a ports (2 on the back panel, 1 via the IEEE 1394a bracket connected to the internal IEEE 1394a header)

Internal I/O Connectors

1 x 24-pin ATX main power connector Connectors
1 x 8-pin ATX 12V power connector
1 x floppy disk drive connector
1 x IDE connector
8 x SATA 3Gb/s connectors
2 x SATA 6Gb/s connectors
1 x CPU fan header
3 x system fan headers
1 x power fan header
1 x North Bridge fan header
1 x front panel header
1 x front panel audio header
1 x CD In connector
1 x S/PDIF In header
1 x S/PDIF Out header
2 x USB 2.0/1.1 headers
1 x IEEE 1394a header

I/O Controller

iTE IT8720 chip