Gigabyte Z87X-UD4H Review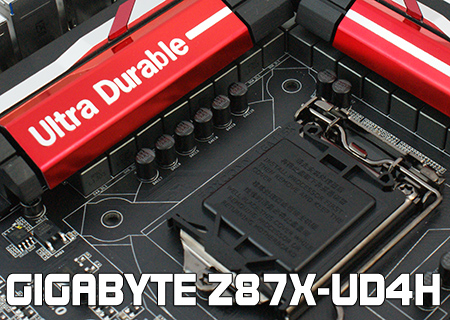 Introduction
It seems that £150 is the sweet spot for the Z87 motherboards, with a veritable plethora of options ranging from some mATX boards all the way up to some feature-rich offerings.
We've already seen a couple of motherboards from Gigabyte at a little above this price, the Sniper M5 and the Z87X-OC both were extremely high performers. If you fancy a model a that's a little cheaper and a bit more generic than the bright orange or bright green available from those particular boards then the UD4H could be just the ticket.
Long-time hardware fans will remember that the X58-UD3R was one of the best price/performance motherboards, and the X68 UD5 and Z77 UD5 both had a lot to offer. Lately the mid-range model from Gigabyte has been the UD4, and that's what we have up for review today, in UD4H guise. Indeed all of the main Gigabyte models now have an H on the end of their name.

We already know that the Z87 is extremely robust and nearly any model from any manufacturer will be worthy of purchase, so let's find out what the UD4H has to offer to tempt your wallet.
Technical Specifications
Casting your eye down the specification table shows that the Z87X-UD4H is very much a regulation Z87 motherboard with all the standard features one would expect to find and no particular quirks or additions to it. For a lot of us this can be a good thing as a more well-rounded offering allows you to mould it to your own needs, rather than having to rein it in from a particular direction dominating proceedings.
CPU

Support for Intel® Core™ i7 processors/Intel® Core™ i5 processors/Intel® Core™ i3 processors/Intel® Pentium® processors/Intel® Celeron® processors in the LGA1150 package
L3 cache varies with CPU

(Please refer "CPU Support List" for more information.)

Chipset

Intel® Z87 Express Chipset

Memory

4 x 1.5V DDR3 DIMM sockets supporting up to 32 GB of system memory
Dual channel memory architecture
Support for DDR3 3000(O.C.) / 2933(O.C.) / 2800(O.C.) / 2666(O.C.) / 2600(O.C.) / 2500(O.C.) / 2400(O.C.) / 2200(O.C.) / 2133(O.C.) / 2000(O.C.) / 1866(O.C.) / 1800(O.C.) / 1600 / 1333 MHz memory modules
Support for non-ECC memory modules
Support for Extreme Memory Profile (XMP) memory modules

(Please refer "Memory Support List" for more information.)

Onboard Graphics
Integrated Graphics Processor:

1 x D-Sub port, supporting a maximum resolution of 1920×1200
1 x DVI-D port, supporting a maximum resolution of 1920×1200
* The DVI-D port does not support D-Sub connection by adapter.
1 x HDMI port, supporting a maximum resolution of 4096×2160
* Support for HDMI 1.4a version.
1 x DisplayPort, supporting a maximum resolution of 3840×2160
* Support for DisplayPort 1.2 version.
Maximum shared memory of 1 GB

Audio

Realtek® ALC898 codec
High Definition Audio
2/4/5.1/7.1-channel
Support for S/PDIF In/Out

LAN

Intel® GbE LAN chip (10/100/1000 Mbit)

Expansion Slots

1 x PCI Express x16 slot, running at x16 (PCIEX16)
* For optimum performance, if only one PCI Express graphics card is to be installed, be sure to install it in the PCIEX16 slot.

1 x PCI Express x16 slot, running at x8 (PCIEX8)
(The PCIEX16 and PCIEX8 slots conform to PCI Express 3.0 standard.)
* The PCIEX8 slot shares bandwidth with the PCIEX16 slot. When the PCIEX8 slot is populated, the PCIEX16 slot will operate at up to x8 mode.

1 x PCI Express x16 slot, running at x4 (PCIEX4)
* The PCIEX4 slot shares bandwidth with the PCIEX1_2/3 slots. The PCIEX1_2/3 slots will become unavailable when a PCIe x4 expansion card is installed.
* When installing a x8 or above card in the PCIEX4 slot, make sure to set PCIE Slot Configuration in BIOS Setup to x4. (Refer to Chapter 2, "BIOS Setup," "Peripherals," for more information.)

3 x PCI Express x1 slots
(The PCIEX4 and PCI Express x1 slots conform to PCI Express 2.0 standard.)

1 x PCI slot

Multi-Graphics Technology

Support for 2-Way AMD CrossFire™/2-Way NVIDIA® SLI™ technology
(PCIEX16 and PCIEX8)

Storage Interface
Chipset:

6 x SATA 6Gb/s connectors (SATA3 0~5) supporting up to 6 SATA 6Gb/s devices
Support for RAID 0, RAID 1, RAID 5, and RAID 10

Marvell® 88SE9172 chip:

2 x SATA 6Gb/s connectors (GSATA3 6/7) or 2 eSATA 6Gb/s connectors on the back panel, supporting up to 2 SATA 6Gb/s devices
* Use either the GSATA3 6, 7 connectors or the eSATA connectors at a time.
Support for RAID 0 and RAID 1

USB
Chipset:

Up to 2 USB 3.0/2.0 ports (available through the internal USB header)
Up to 6 USB 2.0/1.1 ports (available through the internal USB headers)

Chipset + 2 Renesas® uPD720210 USB 3.0 Hubs:

Up to 8 USB 3.0/2.0 ports (6 ports on the back panel, 2 ports available through the internal USB header)

Internal I/O Connectors

1 x 24-pin ATX main power connector
1 x 8-pin ATX 12V power connector
1 x PCIe power connector
8 x SATA 6Gb/s connectors
1 x CPU fan header
1 x water cooling fan header (CPU_OPT)
4 x system fan headers
1 x front panel header
1 x front panel audio header
1 x S/PDIF In header
1 x S/PDIF Out header
2 x USB 3.0/2.0 headers
3 x USB 2.0/1.1 headers
1 x serial port header
1 x Clear CMOS jumper
1 x Trusted Platform Module (TPM) header
1 x power button
1 x reset button
1 x Clear CMOS button
Voltage measurement points
2 x BIOS switches

Back Panel Connectors

1 x PS/2 keyboard/mouse port
1 x D-Sub port
1 x DVI-D port
1 x HDMI port
1 x DisplayPort
1 x optical S/PDIF Out connector
6 x USB 3.0/2.0 ports
2 x eSATA 6Gb/s connectors
1 x RJ-45 port
6 x audio jacks (Center/Subwoofer Speaker Out/Rear Speaker Out/Side Speaker Out/Line In/Line Out/Microphone)

I/O Controller

iTE® I/O Controller Chip

H/W Monitoring

System voltage detection
CPU/Chipset/System temperature detection
CPU/CPU OPT/System fan speed detection
CPU/System overheating warning
CPU/CPU OPT/System fan fail warning
CPU/CPU OPT/System fan speed control

BIOS

2 x 128 Mbit flash
Use of licensed AMI EFI BIOS
Support for DualBIOS™
PnP 1.0a, DMI 2.0, SM BIOS 2.6, ACPI 2.0a

Unique Features

Support for Q-Flash
Support for Xpress Install
Support for APP Center
@BIOS
EasyTune
EZ Setup
ON/OFF Charge2
USB Blocker

Bundle Software

Norton® Internet Security (OEM version)
Intel® Rapid Start Technology
Intel® Smart Connect Technology
Intel® Smart Response Technology
cFosSpeed

Operating System

Support for Windows 8/7

Form Factor

ATX Form Factor; 30.5cm x 24.4cm