Gigabyte Z87X-UD4H Review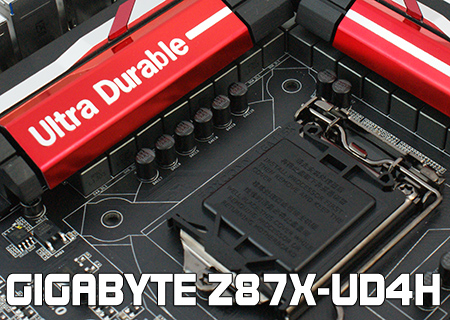 Conclusion
With the motherboard market being more crowded than the underground at rush hour, especially around this £150 price point, does the Gigabyte Z87X-UD4H have enough to make it stand out from the crowd?
Certainly the looks go a long way for it. Gigabyte have held on to their blue colouring for as long as we care to remember. Indeed you have to go back to the days when an AGP port was considered cutting edge to find their volume selling option in anything but blue. Lately things have changed and whether it's the orange of their world-record targeted OC range or the lurid green of the Sniper's, it seems that Gigabyte are finally freed from the shackles of blue plastic. The UD4H is an all-black affair with only the heatsinks getting some colour to highlight your system, and they've chosen a beautiful red. We think it looks spectacular. It would be easy to complain that the heatsinks are lacking in any artistic flair, and they are, but equally they aren't depressingly functional either. They neatly straddle the line of looking nice, without being so ornate that they limit your creativity.
Performance is a mixed bag. We know that most people purchase a motherboard and just run their system at stock settings, and for these we have to offer a certain level of caveat emptor. The 3D results are excellent but the calculation performance and even the PC Mark results are bordering on disappointing. When you're matching the vastly cheaper D3H motherboard and being spanked by options that are only a tenner more such as the Sniper M5 or the MSI GD65 then it takes a particular need for this exact colour scheme to make it worthy of recommendation over any alternative. It isn't poor, but your socks will remain firmly on and your jaw exactly where you left it.

The same cannot be said for the overclocked performance. Firstly the power issues that have plagued a few select models in the Gigabyte range have finally been banished to the history books, and the UD4H is a prize because of it. 4.9GHz was our maximum stable overclock, and that's as good as we've seen from our CPU on 24/7 voltages. It's not just a case of big clock-speed, average performance either as the UD4H was relentlessly high on our graphs. Going head to head with the very best more often than not. The overclocked performance is so good that, when at stock, you can almost feel the UD4H straining at the leash.
This isn't the first product that benefited enormously from an overclock, the Club3D Radeon cards spring to mind, and the stock performance is good enough to not detract from our final evaluation. It's worth remembering that if you plan to run it at the defaults then it's merely adequate, but boy if you overclock it then you will be left with a big grin on your face. We wouldn't go so far as to say it's a Jekyll and Hyde motherboard, because the stock isn't that bad, but it's perhaps Tony Stark and Iron Man. For that reason we'll award it our OC3D Gold Award.
   Â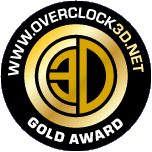 Â
Thanks to Gigabyte for supplying the Z87X-UD4H for review. Discuss your thoughts in the OC3D Forums.