Gigabyte Z87X-UD4H Review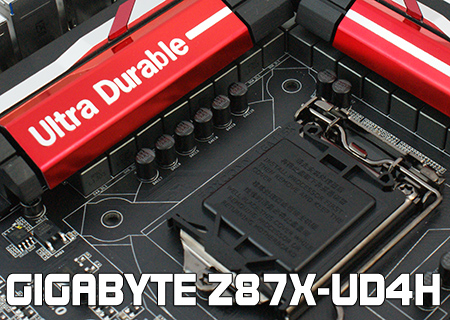 Up Close
It finally seems that Gigabyte have moved away from their white boxes, and it's definitely for the better in our opinion. The UD4H packaging also is extremely clear with the model name front and centre and the majority of the features and technology logos on the reverse.Â
Although black and red is so common as to be the default hardware colour these days we very much like the looks of the UD4H. There is a nice simplicity to it. It is a fine line between being minimalist and being plain and the UD4H nicely straddles that line.

At the top right of the PCB are the power, BIOS selector, reset and CMOS clear switches. We'd rather the CMOS clear be moved a little further away, those with chubby fingers need not apply, but it makes sense to keep them all clustered together.
The CPU area is very clear with lots of room available for even the most enormous of cooling options. The placement of the CMOS battery is rather strange, but it's still a big step ahead of just below the first PCI Express slot. Speaking of which there is a lot of room between the two, enabling a large amount of airflow in multi-GPU setups.Â
There are 8 SATA 6Gb/s ports, six from the chipset itself and 2 further ones controlled by the Marvell 88SE9172 chip.
Round the back there are six USB 3.0 ports, all four types of display output as well as a GigaLAN, combined PS2 and two eSATA ports.