Noctua Beater? Cooler Master MasterAir MA824 STEALTH CPU Cooler Review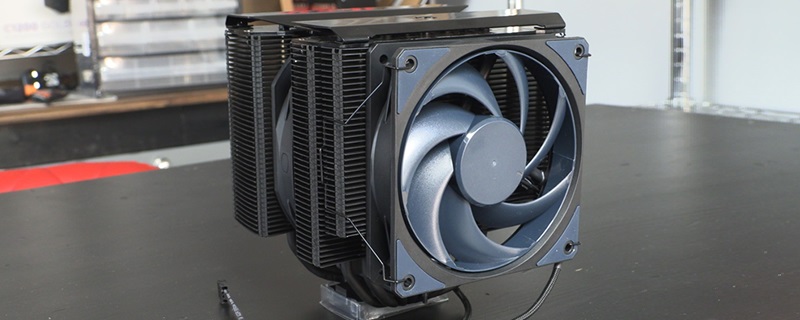 Introduction – Cooler Master goes all out with their MasterAir MA824 STEALTH CPU Cooler
When creating their new MasterAir MA824 STEALTH CPU cooler, Cooler Master wanted to develop a flagship-level CPU Cooler that could take on the best of the best. In our mind, that means that Cooler Master are aiming for Noctua's NH-D15, and for this project, Cooler Master's secret weapon is their in-house designed Superconductive Composite Heat Pipes.   
Cooler Master's new MasterAir MA824 STEALTH CPU features eight of Cooler Master's new custom heatpipes, a dual-tower fin stack setup and a push-pull fan design to offer users the ability to handle thermal loads of up to 250 watts. This allows this heatsink to cool processors like Intel's i9-13900K, while providing users with ample levels of RAM clearance and a stealthy black aesthetic. 
With their MasterAir MA824 STEALTH CPU cooler, Cooler Master has put their thermal engineers to work, fitting eight of their new in-house heatpipes to their new heatsink with positioning that is designed o deliver maximum levels of heat transfer. On top of that, Cooler Master has designed their new heat-pipes to have a D-shaped design, maximising the amount of heat that these heatpipes can conduct from their enlarged cold plate design.

Cooler Master has designed their MA824 heatsink to maximise the thermal transfer from their heat pipes to their dual fin-stacks and have optimised their fin stacks with optimised surface area and fin density characteristics to work well with Cooler Master's Mobius series fans.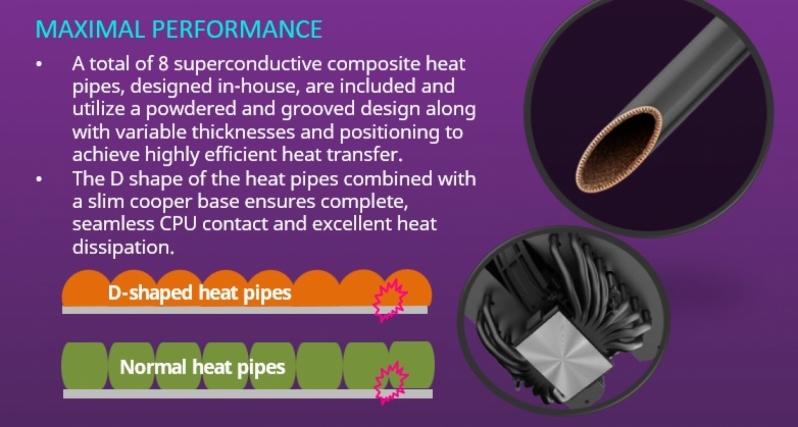 Cooler Master has designed their new MasterAir MA824 STEALTH CPU cooler deliver optimal performance levels with their provided Mobius series push-pull fans. We have tested Noctua's Mobius series fans previously, and have found them to be excellent performers, though it is a shame that Cooler Master did not make these fans all-black to suit this cooler's "STEALTH" aesthetic.
With this heatsink, Cooler Master are providing a central 135mm Mobius fan and a 120mm mobius series front fan. This smaller front fan allows the MasterAir MA824 STEALTH to support RAM kits that are up to 42mm tall without any compatibility issues.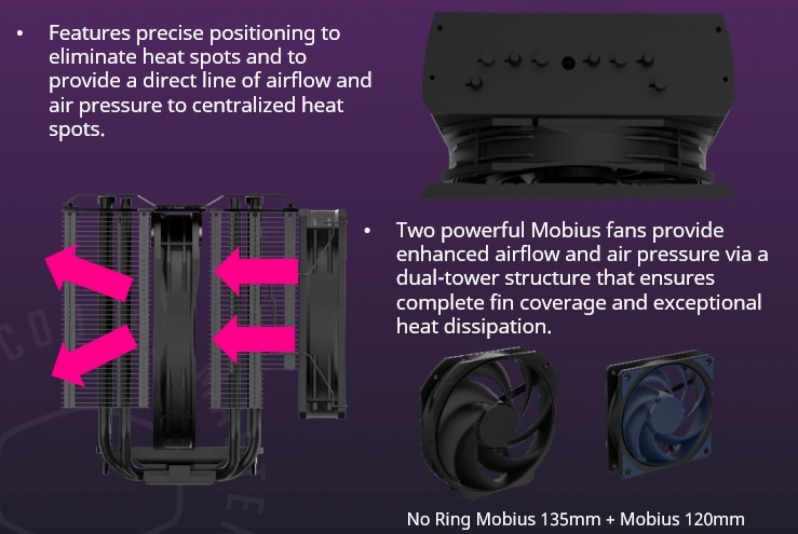 With the MasterAir MA824 STEALTH's provided 135mm/120mm fans having maximum noise levels of  24.6dBA/22.6dBA, the good news for Cooler Master fans is that the company's newest CPU cooler is a quiet one. Note that none of this heatsink's fans are RGB illuminated, so if you are looking for something with a little more flair, you will either need to replace this heatsink's fans, or buy something else. Cooler Master has made this heatsink with "STEALTH" in mind, and RGB lighting isn't stealthy. 
Cooler Master's MasterAir MA824 STEALTH supports all modern consumer-grade AMD and Intel motherboard sockets, supporting AMD's AM4 and AM5 sockets and Intel's LGA 1700, LGA 1200, LGA 1151, LGA 1150, LGA 1155, and LGA 1156 sockets. This heatsink was not designed to cool AMD's Threadripper processors, or Intel's Sapphire Rapids CPUs.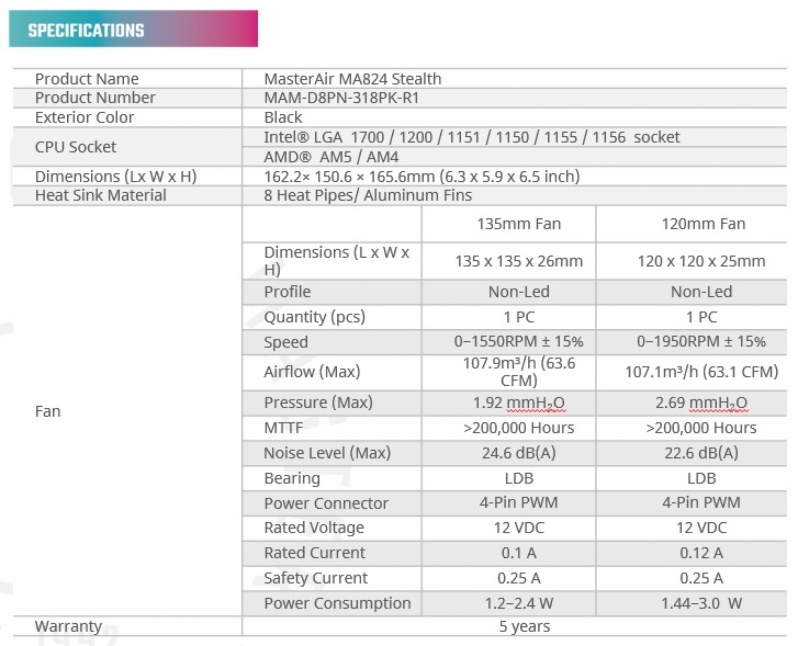 Up Close with the Cooler Master MasterAir MA824 STEALTH