Gigabyte GTX580 Super Overclock Review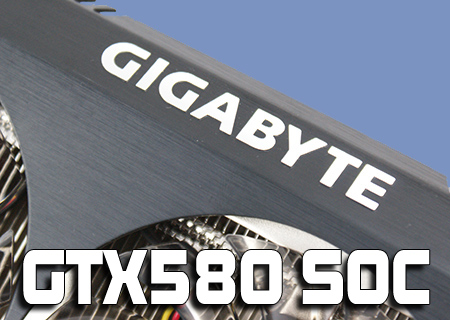 Introduction
The GTX580 is still, many months after it's release, the absolute single-GPU king.
Indeed the performance is so spectacular that if you're in the market for some hardcore performance then three of these will out-perform any quad-GPU setups such as GTX590s in SLI or Crossfire HD6990s.
So with this in mind we were excited to get the Gigabyte Super Overclock version of the GTX580 in the office. These are cherry-picked FM110 cores making sure that you get only the very best chips nVidia can produce on your card. The benefits of this are multiple. Not only does it ensure that you get a chip that will overclock like a demon, but also one that doesn't require a nuclear power plant strapped to it to do so. As if that isn't enough it also comes with Gigabytes first foray into the world of triple-fan coolers and they've gone the whole hog with a vapour-chamber as well as the massive heatpipe and fin arrangement we're used to.

You all know what the GTX580 is about by now, so we shall crack on.
Technical Specifications
As you can see out of the box it appears to be a fairly standard GTX580. Then you note those clock-speeds and get a feel that something special is going on with the Gigabyte GTX580 SOC. As is often the case though the specifications don't tell the full story. So let's grab a look at the card shall we.
| | |
| --- | --- |
| Chipset | GeForce GTX 580 |
| Core Clock | 855 MHz |
| Shader Clock | 1710 MHz |
| Memory Clock | 4100 MHz |
| Process Technology | 40 nm |
| Memory Size | 1536 MB |
| Memory Bus | 384 bit |
| Card Bus | PCI-E 2.0 |
| Memory Type | GDDR5 |
| DirectX | 11 |
| OpenGL | 4.1 |
| Digital max resolution | 2560 x 1600 |
| Analog max resolution | 2048 x 1536 |
| Multi-view | 2 |