HIS HD6950 IceQ Crossfire Review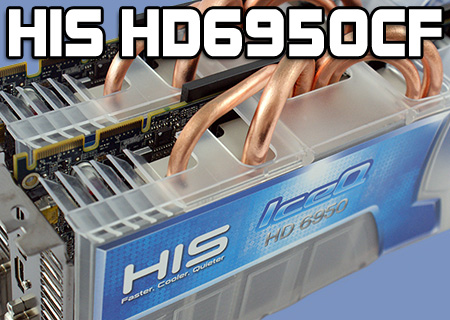 Introduction
HIS Digital have been pushing out the IceQ cooler on their Radeon cards for a while now, and every time we've seen one we've always been impressed by how well the cooler itself works, as well as the unique looks brought about by that transparent case.
So often we see coolers that are either generic black numbers, or high end all fan affairs, that it's pleasant surprise to find something that roughly follows the reference design, but twists it into a look that you don't get anywhere else.
The HD6950 is priced quite carefully to fit in between the nVidia GTX560Ti and the GTX570. When we tested the vanilla version upon release we found it good, but not stunning. However we all know that if there is one thing the Radeon cards have always been good at is scaling when you pair a couple of them up. Which is what we're going to be doing today.

Of course two of these quickly moves it into the custom GTX580 price range, so does the performance match up?
Technical Specifications
With the core clocked at the default 800MHz the really big eye-opening number is the 5GHz GDDR5. Memory speeds on Radeon cards are always impressive and the HIS is no exception.
| | |
| --- | --- |
| Product Code | H695Q2G2M |
| EAN Code | 4895139006490 |
| Cooler | IceQ |
| GPU | 6950 |
| Core Clock | 800 MHz |
| Memory Clock | 5000 MHz |
| Memory Size | 2048 MB |
| Memory Type | GDDR5 |
| Memory Interface | 256 bit |
| Interface | PCI Express x16 (PCI Express 2.1) |
| Card Dimension | 13.8 x 4.6 x 28.7 cm (HxWxD) |
Â