Sparkle X560 Ti DF Calibre Review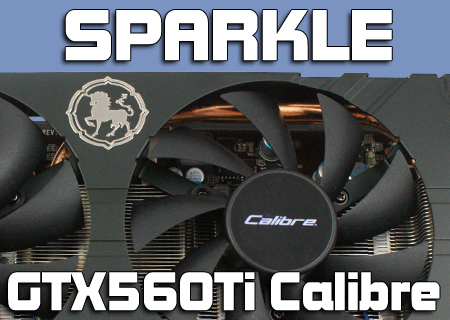 Introduction
Sparkle graphics cards have been quietly performing very well in recent years.
Whilst not necessarily the first brand you think of when choosing your next GPU, they nonetheless have been very solid, with some models being up there with the best.
Today we're taking a look at a highly modified GTX560Ti which is part of Sparkle's Calibre range. Similar to the RoG models from ASUS, or the MSI Lightning range etc., the Calibre variant has a good overclock and the de rigueur twin fan cooler.

So does it sparkle brightly or merely twinkle and fade?
Technical Specifications
Compared to the standard GTX560Ti which comes with a 822MHz core you can see that the Calibre has a hefty overclock indeed, all the way up to 950MHz. The memory too has been upped from 4000MHz to 4600MHz. With these big leaps in clock speed there should be a decent amount of extra performance when compared to the standard model, which is already a good performer.
Model Number

X560Ti DF

Graphics Processing Unit

GeForce GTX 560Ti

Core Clock

950 MHz

Memory Clock

4602 MHz

Memory Type

1024MB GDDR5

Memory Interface

256-bit

Stream Processors Cores

384

Bus Type

PCI-Express 2.0

Outputs

Mini HDMI x1




Dual Link DVI-I x2
Time to take a look at what's in the box.