XFX GTX 260 XXX SLI Performance

Â
3DMark is a popular synthetic gaming benchmark used by many gamers and overclockers to gauge the performance of their PC's. All 3DMark runs were performed a total of 5 times, with the highest and lowest results being removed and an average calculated from the remaining 3 results.
Â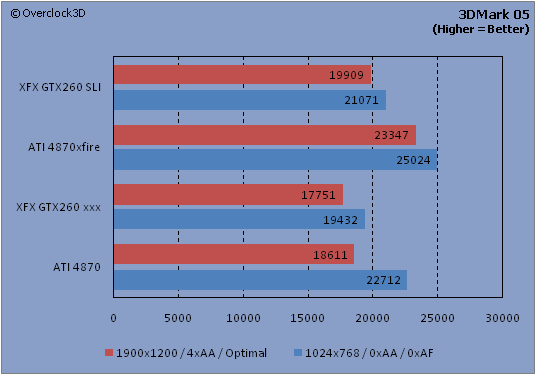 Â
ATI have always been strong in Futuremark Benchmarks and it therefore comes as no surprise that once again ATI have the upper hand comprehensively beating the GTX260 XXX at both resolutions. The ATI cards thus far also benefit from better scaling when paired up into a dual card configuration.
Â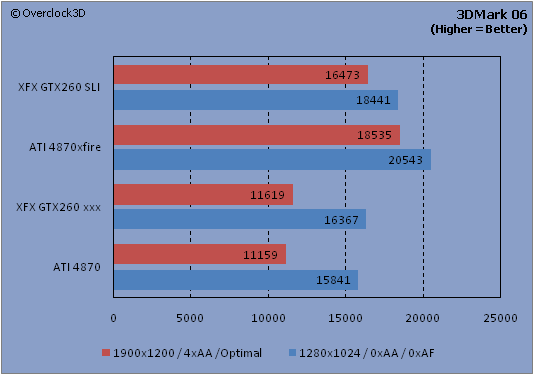 Â
A similar story was to be had with 3DMark06 but the GTX260 XXX was slightly ahead when used as a single card at both resolutions.
Â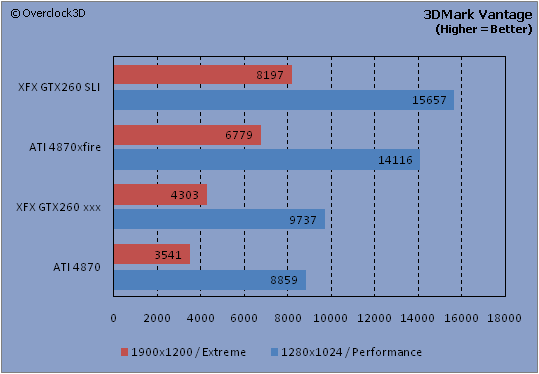 Â
3DMark Vantage is where NVIDIA take the advantage. I should point out that the difference would no doubt be larger had I made use of the Physix driver for NVidia but as ATI currently have their own Physix driver in the making I thought it best to compare the cards like-for-like on a level playing field. Despite the lack of the Physix advantage, the XFX card still took a healthy overall lead in both single and SLI configuration at both resolutions tested.