Zotac GTX590 SLI 5760×1080 Nvidia Surround Review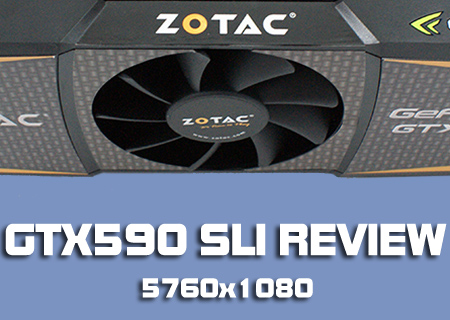 Introduction
If you're a regular reader, and if not why not, you'll have been awaiting today's review.
After dipping our metaphorical toe in the triple-screen water with the HIS HD6990, today we're back with a nVidia offering in the form of the Zotac GTX590.
Of course we could just review a single card, but as Zotac kindly offered to lend us two so we could run in SLI we'll be testing in both forms today.

Technical Specifications
Popping along to the Zotac website we find the specifications for the GTX590. Unlike the AMD solution the nVidia multi-screen setup is based off of 3x DVI connections rather than mini display ports.
Otherwise it's a standard reference design card.
Model
ZT-50501-10P
Cooler Type
Fan (Dual Slot)
Core Clock
607 MHz
Core Processors
1024 (2 x 512) Stream Processors
Dimensions
4.376in x 11in – 111.15mm x 279.4mm
DirectX
DirectX 11
Dual-Link DVI Supported
Yes
DVI
3
GPU
GeForce GTX 590
HDCP Ready
Yes
HDMI
1 x Mini-HDMI 1.4
Interface
PCI Express 2.0 x 16 (Compatible with 1.1)
Max Resolution
2560 x 1600
Memory Clock
3414 MHz
Memory Size
3072MB (2 x 1536MB)
Memory Interface
768-bit (2 x 384-bit)
Memory Type
GDDR5
Recommended Power Supply Wattage
700-Watt
Package Contents
1 x DVI-to-HDMI cable
1 x DVI-to-VGA adapter
2 x Dual 6-pin PCIe to 8-pin PCIe power adapter
1 x Assassin's Creed®: Brotherhood game bundle
1 x Driver Disk
1 x ZOTAC Boost software bundle
1 x User manual
RAMDAC
400 MHz
SLI Supported
Yes
Weight
5.3500 lb
Warranty
2-Year Standard Warranty; Limited Lifetime Extended Warranty
Â
Time to have a look at the card and bundle.