ASUS Cerberus Gaming Keyboard Review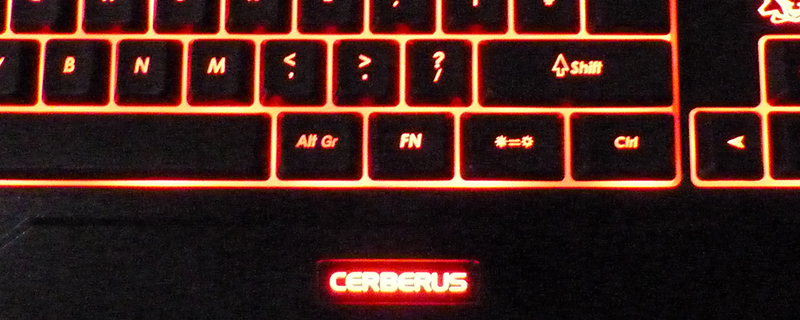 Introduction
PC Hardware is very much an aspirational thing. We've all made lists of the system that we'd build if our EuroMillions/Powerball numbers came up, and we've all spend hours poring over reviews wishing that we had the finances necessary to replicate such extraordinary results.
The reality is that most of us haven't got the money to have such extravagant builds, and one of the first areas that we cut costs on is the peripherals. To this end ASUS have released a new Cerberus line which seeks to combine the features you might desire with a price that you can afford.
We have all three items up for review, the Cerberus Gaming Keyboard, the Cerberus mouse and the Cerberus headset. The first of these we'll take a look at is today's review, the Gaming Keyboard. With two colour backlighting, dedicated media keys and a low price tag this might be just the keyboard you're looking for.

Technical Specifications
It would be impossible to produce a mechanical keyboard at this price-point, so ASUS have naturally taken the more affordable route of a membrane/rubber keyboard. This isn't the obvious negative that it might seem, as all of us have owned a membrane keyboard at one point and most of us still do. Having dedicated media keys certainly puts the Cerberus above a few of the cheaper options on the market and frees up your F-Keys for macros, should you so desire.
Anti-ghosting: 19KRO (key rollover)
Switch type: Membrane with rubber dome
Backlight: 2 colors (red/blue),4-level light setting with breathing mode
Cable /Connector: 2m Braided cable with gold-plated USB connector
Media keys: Volume control, play/pause, previous / next track
Macro keys: 12 macro keys (F1–F12) with macro enable/disable mode
Special feature: Windows key lock