CM Storm Quickfire Rapid-i Review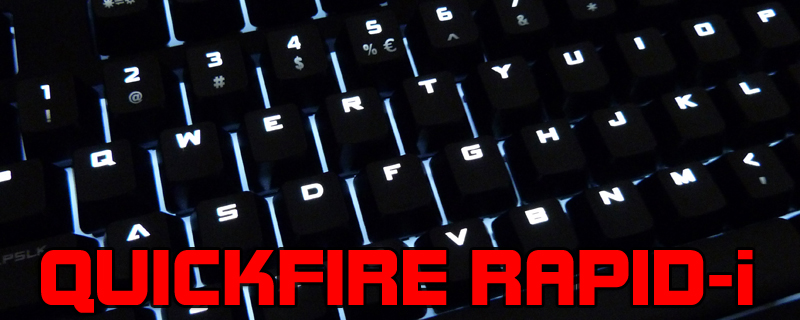 Up Close
One of the easiest ways to avoid people opening your boxes in stores is to supply a full size image of the contents on the outside, and that's what CM Storm have done. Alongside the "here is the keyboard" part we have the main five features highlighted. Inside is a small manual covering the key combinations that control the Rapid-i, as well as a key-puller to help keep it clean/swap switches.
Rather than have an attached cable the Rapid-i comes with a 1.8m braided USB. Gold plated of course. Given that there is only one place to install it, having a detachable one is something we've never fully understood beyond the ability to reduce the size of the packaging.

The Cherry MX Brown switches in all their glory. You can also see the slight texturing to the keys, as well as the clarity of the key identifier.
To say it's small is somewhat understating things. It's amazing how much smaller it is just by chopping off the numpad. It's not as tiny as an Apple style keyboard, but with full-size mechanical switches it never would be. Certainly if you're tight for desk space it's preferable to a full size option though.
Echoing the silver flash on the packaging, the rear of the Quickfire Rapid-i comes with a silver flash and CM Storm logo. At the other end we have the micro USB input for the cable.
There are plenty of lighting options. At its brightest it shines like a beacon. It could almost double as a lighthouse if you wanted. It's nice to have white lighting, given the popularity of white at the moment as a colour scheme.Â