CM Storm Quickfire Rapid-i Review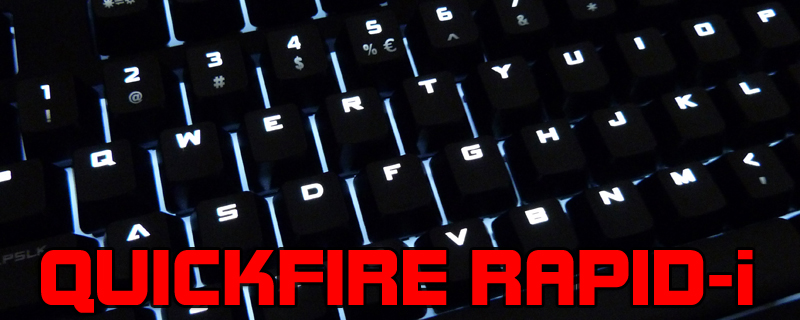 Conclusion
To a certain degree the fact that nearly all mechanical keyboards use the Cherry MX switches is both a boon and an annoyance. If you have a preference for a particular switch you can be certain that getting up to speed with a new keyboard is faster than adapting to almost any other change in device that you use so regularly. Muscle memory being what it is, the importance of getting going instantly cannot be overstated. On the negative side if you don't like any of the Cherry MX options, then the amount of choice you have in a new keyboard suddenly gets slashed to almost nothing. It also means that there is little we can tell you about the Quickfire Rapid-i in use that you aren't already aware of. It's a mechanical keyboard with Cherry MX switches. We all know what we're getting.Â
It does mean that we can concentrate on what separates the Quickfire Rapid-i from the rest though.
Primarily the big change is the removal of the numpad. This has major benefits to the footprint of the Rapid-i and if you're tight for real-estate it can be the difference between having a keyboard you like and not. On the flip-side there are many things that the numpad is hugely useful for. Symbols (° ? ♠etc) are readily to hand, and a multitude of PC titles utilise those keys for gameplay. Whether you're willing to sacrifice so much to gain a couple of inches is something only you can decide.

The other two big stars on the Rapid-i block are the lighting and the 'rapid' part. Normally with lighting you have everything on, maybe some brightness levels, and off. Very occasionally you can have a keyboard which also will only light up the WASD keys. The Rapid-i has these of course, but it also has reactive lighting which only lights each key as you activate them (which obviously is impossible to photograph but scores highly on the cool factor) and by combining the Fn key with the F keys you can activate a profile mode that lets you light only the keys of your choosing. Cue checkerboards and similar patterns. The other feature, the Rapid part of the name, allows you to pick a key repeat speed as you go. From 1x to 8x. We're struggling to think of too many titles that would benefit from a blistering repeat ability, but as with so many features it's nice to have the option.
The CM Storm Quickfire Rapid-i is one of those products which appeals to a niche audience. If you are in desperate need of a mechanical keyboard that is smaller than the majority, then obviously it's one of the better ones. If you can't live without customisable key lighting and insanely fast key repeats, this is the one for you. For us we use the numpad too much to be able to go without it and price tag around the £70 mark hardly entices us to take a punt, especially when there are many Cherry MX equipped keyboards that aren't restricted in this way, including many from CM Storm themselves. For this reason the Quickfire Rapid-i wins our OC3D Silver Award.
  Â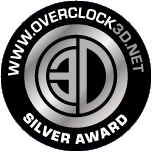 Â
Thanks to CM Storm for supplying the Quickfire Rapid-i for review. Discuss your thoughts in the OC3D Forums.