Corsair K70 Rapidfire RGB Gaming Keyboard Review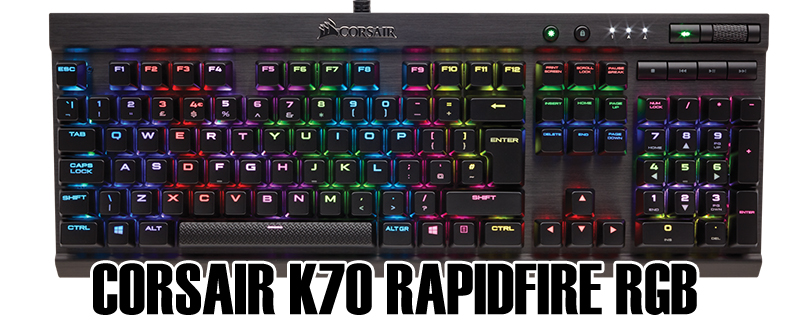 Introduction
The Corsair Vengeance line of keyboards appeared a while ago now and, like so many of Corsair's products, was almost flawless out of the gate. The history of their K range has been one of an excellent initial product and some minor tweaks along the way as new technologies took hold.
Today we're reviewing the latest iteration of this popular product, the K70 Rapidfire RGB. At the same time as this model is released Corsair have also adjusted their K65 model, which is exactly the same as this only tenkeyless for those of you who prefer a more compact design. These modifications to the K70 are probably the biggest revision since the first version as it now boasts full RGB lighting, larger lettering on the keycaps and, perhaps most interestingly, modified Cherry MX switches designed for even faster response times.
Have Corsair managed to implement these changes whilst still retaining the charm of the original Vengeance version?

Technical Specifications
Unless you've been living under a rock for the past year or so it can't have escaped your attention that fully customisable RGB lighting is very much the lighting method of choice in modern components. It speaks volumes about the attention paid to the switches of the K70 Rapidfire that the lighting isn't the biggest news.
Cherry MX switches are the de facto standard in the world of mechanical gaming keyboards and the various versions have proven their worth across dozens of products. The most popular variant has to be the Brown and Red models thanks to their low actuation force – the pressure you need to apply to get the keypress to register – of a mere 45g. The all new Cherry MX switches in the K70 Rapidfire retain this 45g actuation force and pair it to a new low actuation distance of a mere 1.2mm. Very nearly half that of a regular Cherry MX switch. The light force and high actuation point should ensure that the Rapidfire name is not merely an attention grabbing name.
Beyond that we have all the K70 hallmarks. Aluminium chassis for bulletproof build quality and lightness, including the roller volume control that we love so much. USB pass through port. Full key rollover and 100% anti-ghosting means that every key you press is sent to the computer. A long braided cable ensures it remains working no matter how many trips to gaming events you take, and the larger keycap font ensures you get full value from your lighting choice.