Roccat Kone Pure Review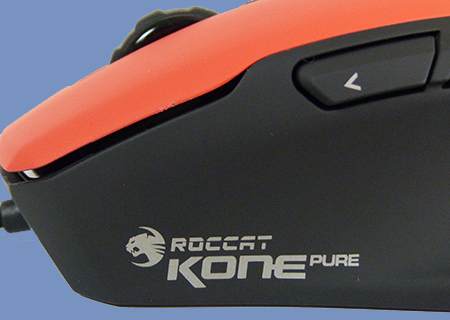 Introduction
The Roccat Kone has been around for a long while now in one guise or another. It was nearly flawless upon first release and so Roccat have been able to merely refine the formula rather than scrap they design work and have to try again.
The first Kone had a 3200DPI sensor and some light customisation options. That was followed up with the Kone[+], which boosted the sensor sensitivity significantly to 6000DPI, as well as introducing the EasyShift button, which doubles the amount of functions you can assign. The third variant was the XTD, a monster Pro Aim R3 8200DPI sensor was bundled with the ability to adjust the weight of the mouse with some optional extra weights.
This continual honing of an already winning formula has allowed the Kone to maintain its position amongst the very finest gaming mice on Earth. Today we're reviewing the Kone Pure, which is available in three versions. There is the standard Pure equipped with the 8200DPI Pro Aim R3 sensor, the Pure Optical which has a 4000DPI Optical R3 sensor for those who prefer an optical rather than laser offering, and the model we're testing today the Pure Color, which is the 8200DPI laser Pure but in some very tasty colours.

Phew.
Technical Specifications
When you compare the Pure Color with the XTD there is a hell of a lot that remains the same, despite the Pure name implying a stripped down affair. The biggest change isn't something that you'll see in a specifications table, but rather on the next page as the Pure has been reduced in size by 10%. Otherwise it has a bevy of high-end features with an extremely powerful sensor at the heart of it.
The standard Pure is available in black, with the limited edition Pure Color models in Phantom White, Inferno Orange, Hellfire Red and Polar Blue. The blue and orange models have the colour on the bottom half, with the white being completely white and the red, the one we have today, having a red top.
Pro-Aim Laser Sensor R3 with up to 8200dpi
1000Hz polling rate

1ms response time
12000fps, 10.8megapixel
30G acceleration
3.8m/s (150ips)
16-bit data channel
1-5mm Lift off distance

Tracking & Distance Control Unit
72MHz Turbo Core V2 32-bit Arm based MCU
576kB onboard memory
Zero angle snapping/prediction
1.8m braided USB cable