Zowie Celeritas Review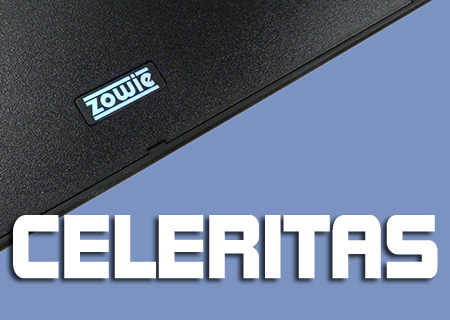 Introduction
When you reach the higher echelons of quality you always begin to come across brands that are less likely to be known by your average person.
Take, for example, jewellery. Everyone has heard of Elizabeth Duke, and most people would avoid it. You might also be aware of Samuels or Hinds, but very little from that price range until you reach Cartier or De Beers. It's always about volume vs affordability. Few of us would buy our wedding rings from Argos, but fewer still could afford a bespoke 5 carat number.
Zowie are definitely a company who tailor their products to those who demand the very best performance. Rather than expend swathes of the cost on bells and whistles that look good to the average consumer, the focus is on making the internals as brilliant as possible for the highest operational capabilities.

Today we're taking a look at one such product, the Celeritas keyboard.
Technical Specifications
Everything is focused on making sure that the gamer will always have the exceptional response that they desire to gain the edge over their competitors. At the highest levels of play even a millisecond advantage can be the difference between glory and pain.
6 keys Anti-Ghosting through USB, Full Anti-Ghosting with PS/2
18K Gold Plated mechanical switches and USB connectors
Ability to change the "Windows"-key to "Ctrl"
Multimedia controls
Highly durable metal inner chassis
Ergonomic design saves space and offer full comfort during use
Connector: USB / PS2 (by USB to PS2 converter)
Cable Length: 1.8m / 5.8 ft.
ZOWIE RTR™ technology provides 4 levels of repeat-response (normal, 2x, 4x, 8x) – PS/2
Dimensions: Width: 44 cm Length: 16 cm Height: 2.5 cm
Let's move on and see how it looks.